Here are some key features of the 2011 edition of The U-Decide Initiative:
Gamer surveys collected from July 7th to October 1st, 2010
Each survey had about 30 questions – some were in multi-part form.
Jointly partnered and promoted with Panasonic, Electronic Arts, Ubisoft, Steelseries, Zalman, Blitz Games Studios, Computer Power User, and Meant to be Seen.
Purposely targeted to gamers (console & PC)
Nearly 1,200 respondents: 735 traditional 2D gamers (non-stereoscopic) that don't own 3D equipment, 434 experienced stereoscopic 3D gamers that do.
75% of respondents are based in North America, 15% are from Europe, and the remaining 10% span the world.
This is a tiny sampling of the data collected.  The full report is nearly 125 pages in length.
According to the Entertainment Software Association, over 50% of adults play video games.
Core topics include:
Demographics of 2D and stereoscopic 3D gamers.
3D glasses, consumer willingness to use them, and leading objections.
Purchase plans for 3D HDTVs, notebooks, PC displays, mobile devices, projectors, HMDs, and more.
Obstacles preventing 3D purchases.
3D content analysis, purchase plans, and the relationship of S-3D compliance and video game sales.
Product satisfaction (3D HDTVs, displays, notebooks, projectors, video games, and more).
Demand and best pricing for alternative 3D movie theater content (sports, opera, video games, and more).
Detailed Consumer Electronics Show 2011 3D summary and analysis: announcements, hidden gems, missed opportunities.

3D Glasses or NO 3D Glasses?
While pundits and general interest 3D studies are all up in arms about the need for glasses-free technology, these statements continue to go unfounded among gamers.  According to traditional 2D gamers who don't yet own 3D equipment of their own, the use of glasses is an insignificant deterrent for 3D gaming and 3D Blu-ray movie content.  It's only for 3D sporting events and traditional television broadcasting that glasses mark a steep difference in the willingness to watch 3D content.  On condition that 3D sporting and broadcast events are made available on a regular basis, and gamers can sample the benefits firsthand, we expect the willingness to wear 3D glasses to change accordingly.

Will 2D Gamers Buy a 3D HDTV?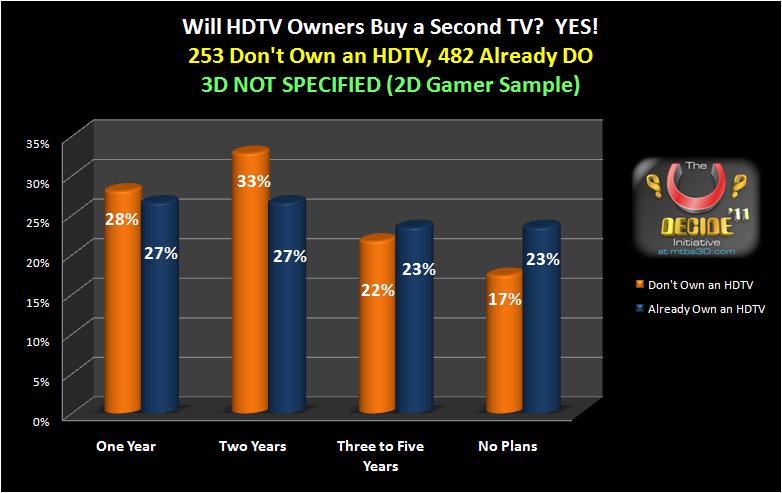 The above chart is based on the 2D gamer purchase plans for HDTVs.  This is not 3D HDTV specific.  For pundits and analysts that believe consumers won't buy a second HDTV if they already own one, U-Decide had the advantage of possessing a disproportionately larger sample of gamers that already own an HDTV.  As shown above, owning or not owning an HDTV has a very limited impact on interest levels in making a future HDTV purchase.
Stereoscopic 3D is considered a high interest HDTV feature for 57% of respondents, 19% were neutral, and 24% were at a low interest level.  The above chart is based on the 57% high interest level group combined with 50% of the neutral group.
Will 3D Impact Game Developer Bottom Lines?  YES!
If game developers think that they can wait until the last minute to be 3D Ready, they should think again.  According to almost 50% of respondents, when gamers own a 3D HDTV they will give preferential treatment to 3D Ready games.  In fact, 8% say they will only buy 3D games.  We expect this trend will grow more and more dominant as 3D gaming awareness increases.
Is There Money to be Made For Game Developers?
One of the leading issues for stereoscopic 3D game developers is whether or not there is money to be made from having a special 3D mode, and whether or not gamers would be willing to spend a premium on this mode.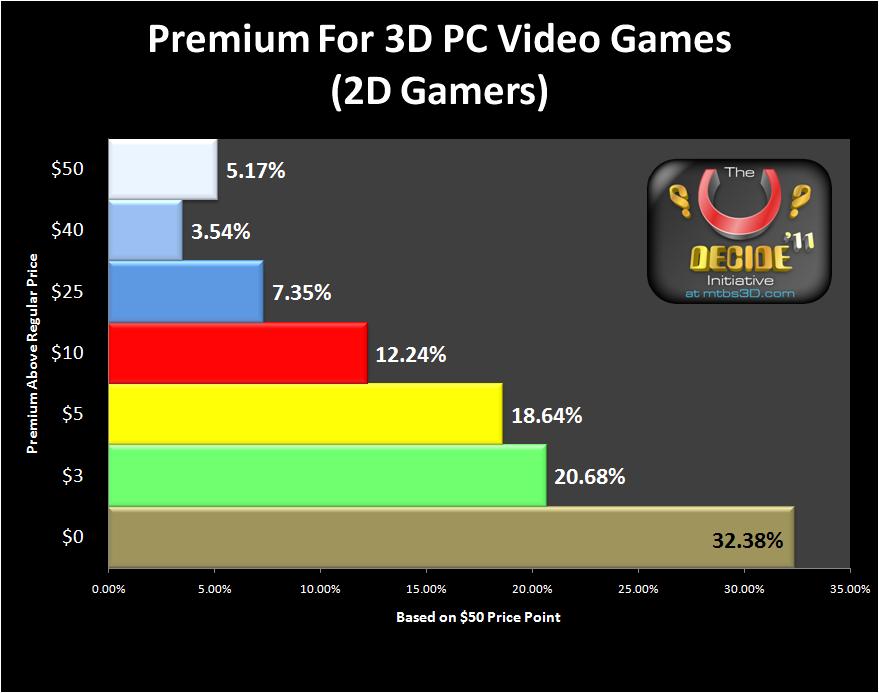 According to traditional 2D gamers, there is a clear willingness to spend a bit more for 3D compatibility (if they owned a 3D display).  Approximately 40% of respondents are willing to spend anywhere from $3 to $5 more on a $50 game title on PC.  Another 12% is ok with playing as much as $10 more.  Over 15% suggest premiums as high as 50% to 100% more for their video games.  We are unconvinced that premiums this high would sell very well with gamers, but it's a good indicator that 3D compatibility has measurable value associated with it.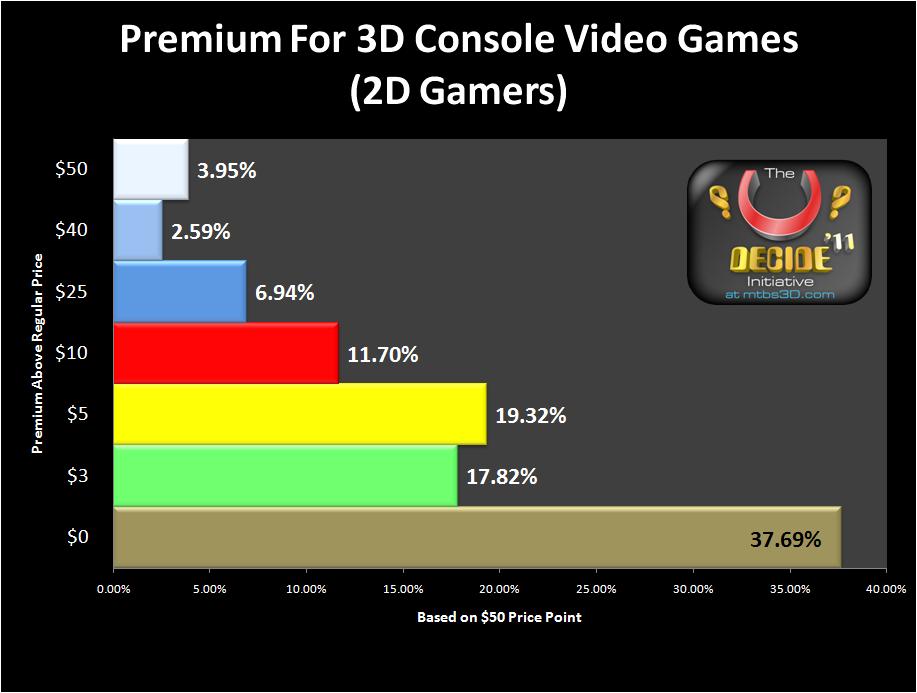 Willingness to pay a premium for 3D compatibility is a bit less for console gamers versus PC gamers, but not by much.  Just under 40% are comfortable with the $3 to $5 range, and almost 12% will go as high as $10.  As with PC, we aren't big believers in the $25 to $50 premium range for console 3D games, but almost 14% of 2D gamers suggest this as a possibility.
The full report can be purchased now, and multiple discount programs are available.