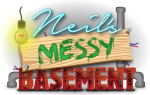 Welcome to MTBS' ULTIMATE Virtual Reality Holiday Shopping Guide!
http://www.mtbs3d.com/articles/editoria ... ping-guide
Where better to do it than from Neil's Messy Basement?!?  What a mess indeed!
This guide was specially designed for people that don't know the first thing about virtual reality or computers and want to learn more.  We think this will help VR shoppers at all technical levels, and as messy as Neil's basement looks (ok, it's not THAT messy), this won't require a mad scientist's understanding to get the most out of this.  You'll be jumping into the metaverse in no time!
Read full article...