This site:
http://www.apolloarchive.com/apollo_gallery.html
has a lot of pictures from Apollo 11 (first man on the moon) and all the other missions.
There's actually a anaglyph 3D closeup picture of a footprint (AS12-57-8448.jpg).
The astronauts were shooting a lot of pictures so with a little luck You can find 2 to make a 3D photo.
I made some (16) and uploaded them: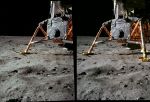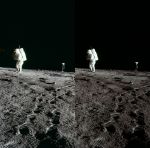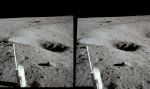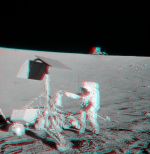 but there are many many pictures to go through. Lets make some 3D photos from the moon! Lez doit!
Post here if You make some.
Also great wallpapers!
For downloads use the corrected ones in AWoods posts a few posts down and here:
http://www.3d.wep.dk/3D_NASA_pictures.html