We were talking in another thread and Fredz brought up this little device - the Lorea 3D Lens Cap which fits into a standard mono camera lens slot and converts a mono camera into a stereo camera.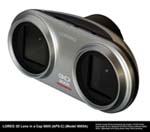 The funny thing about it is that it produces images which are very similar to what the Rift expects. Vertical aspect ratio, stereo side-by-side images!
So the question is, if you put spherical warping lenses on the front of it, could you optically produce images that would be Rift compatible? If so you could turn just about any video camera into a Rift camera. You could just feed the unaltered camera feed directly to the Rift allowing all types of immersive experiential videos to be recorded for the Rift. Anybody wanna try this out?
Or going a step further, it seems like you could pretty easily manufacture a custom lens package that would match the FOV and warping of the Rift perfectly. Something like this (I'm no optical expert so correct me if I'm wrong).
Also, here's a video recorded using the Loreo if any of you DIY Rifters wanna see how it looks...
[youtube-hd]
http://www.youtube.com/watch?v=doUeqq9bq9A
[/youtube-hd]