I am under Windows 7-64bit and use Firefox 7.0.1
The spacing between tickboxes is quite large, maybe you could make it a bit smaller to keep the page at a reasonable length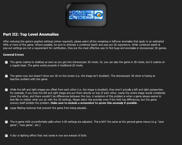 (i tried to attach this PNG shot to my post to this post but it failed, forum bug ?)
When checking a tickbox, the comments and screenshot options appear at the wrong place (I suppose they should appear below the entry). all the previous entries have their presentation modified.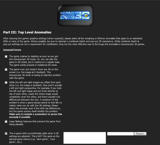 Also the comment and screenshot boxes should have small texts telling what they're here for.
To save some space, I suggest to add some default text already inside the boxes saying "comment (optional)" and "screenshot of bug (optional)" which would automatically disappear when you start typing in the boxes.
For the distinction between 3D Vision explicit, 3D Vision implicit and 3D Vision autonomous drivers, the distinction is indeed difficult to make, you are right nvidia does not usually publish the information, but I think that if we know, we have to make the distinction because it modifies tremendously where the responsibility and credits are due for how well/bad the game works, whether it suits Nvidia's marketing strategy or not.
However, finding a good way to fill this category could be difficult with the current way Game Grade works, it adds lots of questions to an already very long questionnaire.
The same issue occurs with the individual output issues. (and with those we'd even have to add stuff like "did you try this output yourself or do you just copy information from other users/official supported displays list"). It would get really tedious. Having to submit one outputs at a time through multiple reports would be the worst thing to do ! It would basically guarantee we'd never get the complete list of supported outputs for each game.
Solving this problem would require to take GG a step further. I remember in previous conversations explaining how the M3GA questionnaire and the games database were two distinctive things and how the final presentation for users browsing the database results had to change, how the whole interface felt outdated, how the information was too much "raw" and had to be summarized on a per-game basis where the information had to be crossed between reports and brought up to the summary page.
When you announced M3GA version 2 (Game grade) I supposed you meant that, but the current GG beta isn't what I expected, it's actually an updated and more advanced questionnaire. I will certainly help producing more accurate results, but the further we push this approach, the harder it will become to understand the results.
With a per-game summary page, you'd be able to add a separate questionnaire dedicated to adding game information which not everybody can provide in a single report like :
-list of native outputs (with detailed Nvidia 3D vision type of support if available)
-issues with some outputs (link to detailed report)
-special optimisations for a particular driver
-manufacturer or driver certification (3D vision ready, AMD HD3D ready)
-game patch or driver version requirements (if possible add the option to create report to tell what has been fixed by the update)
-important information (where the 3D options menu is located, what tweaking options are available)
-secret config/launch/console commands to tweak parameters (unlock convergence in convergence locked games)
-availability of MODS that fix bugs or improve the 3D experience. (if possible add the option to create report to tell what has been fixed/improved by the mod)
All that information probably won't be provided in a single report, so you need to be able to cross information between multiple reports.
In a second step, the crossing of information can also go the other way, by pre-filling the questionnaire to facilitate user reports.
The questionnaire could come forward and put right on the first page : "other users have reported the following bugs : this, this, this, this... do you also have these issues, to which the user would be able to answer quickly for each issue : "yes i have this bug" (the other report is right) / "yes but..." (modify the comments/add a screenshot) / "no i do not have this bug" (the other report is wrong) / "no I previously had it but it's now fixed" (the other report was right but is outdated)", and only after that having the full questionnaire if the user wants to add something.
This would allow to fill up reports much more quickly and help all bug reports to be more accurate : it would act as a reminder not to forget bugs you spotted at the beginning of the game but which you forgot by the time you finish the game and fill up your report, and it would help the moderator work : not only users would correct each other but you could use this mechanism to automatically find contradictions between reports and flag games which require more reports to find out who is right and who is wrong.
With this scheme, you'd also be able to extract a "user reliability" stat for internal use (it could probably be used to automatically solve contradicting reports, or if two highly ranked users contradict each other, be able to identify a hardware specific bug)
Additionally, if by crossing information you detect that the user is using an old version of the game and that issue the user is describing has already been described by other users as fixed, you could show a panel suggesting the user possible fixes (game or driver updates, or mods already listed on the game's summary page), to which the user would reply : "i haven't tried it" / "i tried it, and it does not work".
_________________
Passive 3D forever !
DIY polarised dual-projector setup :
2x Epson EH-TW3500 (2D 1080p)
Xtrem Screen Daylight 2.0, for polarized 3D
3D Vision gaming with signal converter : VNS Geobox 501