I use 3DVision glasses and a 85Hz DLP projector as my 3D system, it works great but I have to wear the glasses upside down to play games and it hurts my nose.
To solve this issue, I've programmed a micro-controller that synchronise on the IR signal from the 3D vision emitter and re-emit it reversed with variable delay.
It also outputs a DDC signal to drive my other shutterglasses.
If you want to build your own, here are the timings of the Infra-red pulses send by the 3D vision emitter :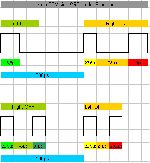 Next step : Add remote control operation.
[edit] I updated the graph with more precise measurements.