To use the 3D vision glasses upside up or different glasses with my 85Hz DLP projector, I built my own sutterglasses controller.
It synchronises with the Nvidia 3DVision emitter and vertical sync signal on the VGA port for more precision.
Here is the wiring diagram of my 3D system :
The color corrector is described here :
http://www.mtbs3d.com/phpBB/viewtopic.php?f=26&t=6054
" onclick="window.open(this.href);return false;
The controller currently works with Nvidia, Xpand X101 and vesa glasses like the Elsa wired glasses.
It features a delay and dark time adjustment with 3D vision glasses.
For the moment, I use the scroll wheel and buttons of an old mouse to change the settings :
The scroll wheel increase and decrease the setting displayed on the LCD, the two buttons of the mouse are for next and previous parameter, and the middle button is a shortcut to reverse the 3D.
All the circuit is build around an Atmega8 microcontroller, but I will switch to an Atmega 16 in the future to get an additional interrupt for the remote control.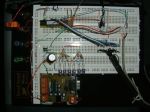 For the moment it is not very good-looking but I will also work on this
[edit]
Schematic :
Picture
kicad file
Source code :
Controller software
3Dvision simulator
[update]
I've made some photos of the finished universal emitter :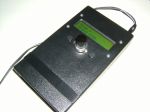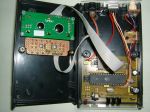 The small circuit between the rear panel and the main board is an optional circuit that toggle the power ON and OFF.
I switches the emitter ON after a push on the white button on the rear and it allow the emitter to switch itself OFF after 30min of inactivity or by selecting the off function on the LCD.
Source, schematic & PCB :
Software improvements :
- Buttons are filtered
- LCD backlight management
- OFF function and Auto-off after 30 min (need power switch circuit).