Stereoscopic 3D Gaming Standards & Advocacy Group Welcomes Top Industry Leader into Advisory Board, Meeting Schedule & Line-up Confirmed
Toronto, Canada (August 27, 2009) – What began as a surprise announcement at SIGGRAPH 2009 has quickly become an industry-wide movement to ensure the adoption of stereoscopic 3D (S-3D) gaming in consumer homes around the world.
"When I saw Need for Speed SHIFT in stereoscopic 3D at SIGGRAPH, I was impressed. The audience was blown away by how well SHIFT's immersive cockpit was represented by the 3D tech, and we see a great future for S-3D in games. We need an industry-wide standard for S-3D gaming, and S3DGA has the drive and experience to push this forward. All developers and manufacturers should participate," said Habib Zargarpour, Senior Art Director for Electronic Arts Inc. (NASDAQ: ERTS).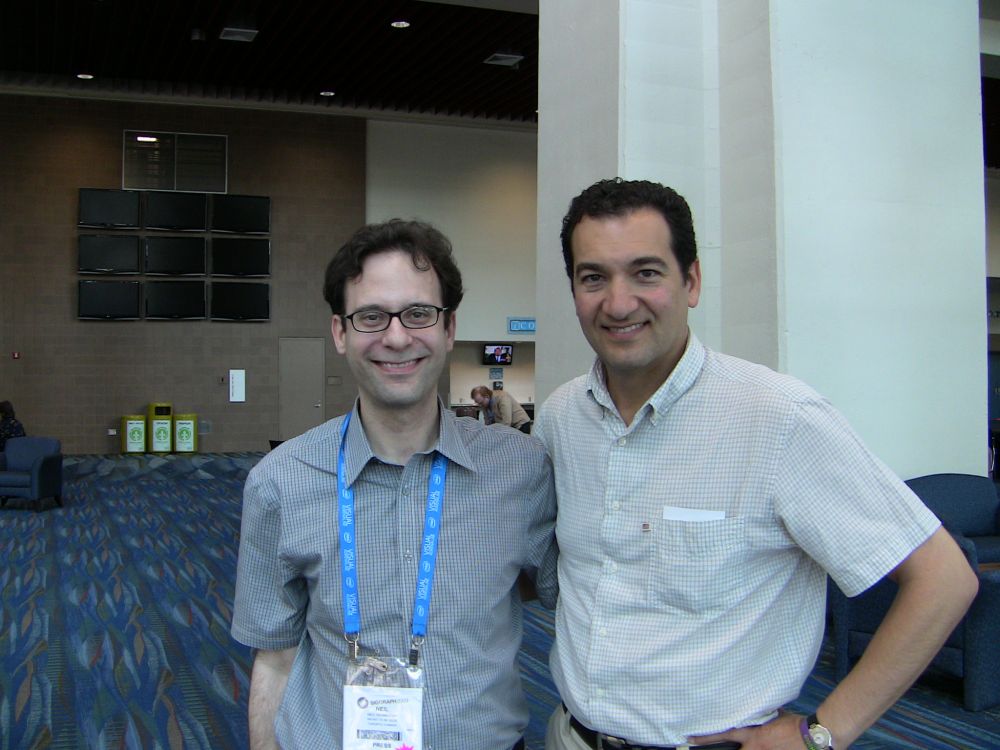 Neil Schneider, President S3DGA (LEFT), Habib Zargarpour, Senior Art Director, Electronic Arts
As a Senior Art Director for Need for Speed, Habib Zargarpour's game development credits also include Need for Speed: Most Wanted, James Bond 007: Everything or Nothing, and Need for Speed Underground. His diverse film background includes work with IMAX 3D, and a whole range of visual effects work for projects such as Star Wars: Phantom Menace, The Perfect Storm, Twister, Star Trek: First Contact, The Mask, and several more memorable films.
Neil Schneider, the President and CEO of S3DGA, is best known for his pioneering work on Meant to be Seen (http://www.mtbs3D.com), the world's leading website focused on stereoscopic 3D gaming and entertainment.
"When game developers purposely support just one or two S-3D solutions, the message is that stereoscopic 3D gaming is just a technology demo. We can do better! With XBOX, PS3, and PC gaming now available in S-3D, our industry has grown large and diverse enough to get well beyond this stage. It's an honour that Electronic Arts is helping S3DGA fulfill its mandate, and with the industry's backing, the S-3D gaming standard will happen," said Schneider.
An introductory S3DGA meeting will be held 5:30PM PST September 17th at the 3D Entertainment Summit. Meeting participation is free, and S3DGA meeting attendees qualify for a 25% discount on summit registration when they use the "S3DGA" discount code. Attendees are encouraged to RSVP via members@s3dga.com because space has grown very limited.
"I am overwhelmed by the progress made in the last year in the 3D gaming world, and we are excited to be part of the next logical step by helping launch The S-3D Gaming Alliance at this year`s 3D Entertainment Summit," said Bob Dowling, 3D Entertainment Summit Founder.
Confirmed meeting speakers include Electronic Arts, Blitz Games Studios, XpanD, DDD, and more. Additional members on record include Jon Peddie Research, iZ3D, TDVision Corp., and Sensio.
About The S-3D Gaming Alliance
The S-3D Gaming Alliance is an industry standards and advocacy group designed to accelerate the adoption of display technologies through stereoscopic 3D video games. S3DGA provides for standards discussions, consumer promotion, education, and awareness. Its membership is comprised of organizations and individuals with an interest in developing S-3D hardware and software solutions. Visit http://www.s3dga.com for more information about the organization and the upcoming meeting.
© 2009 S-3D Gaming Alliance. S3DGA and the S3DGA logo are trademarks of The S-3D Gaming Alliance. All other names, logos, and marks are the property of their respective owners.
Share your thoughts in our discussion forums.