The City Quakes: The San Francisco Earthquakes of 1906 & 1989
by Robert Bloomberg
The San Francisco earthquake and fire of 1906 was the worst national disaster in American history and the first to spark a world-wide media frenzy. Stereo card companies produced scores of 3D cards which brought the devastation into living rooms around the globe. This show includes photos never before seen in 3D, as well as dramatic images of the 1989 Loma Prieta earthquake.
Thu Apr. 2, 2009 – Sun May. 31, 2009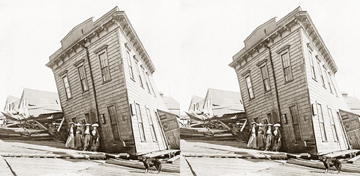 Image from vintage stereo card, 1906
For more information: http://www.3dcenter.us/exhibits.html#564
Share your thoughts in our discussion forums.