After staring my homework as to what s3D monitor would be my first & hopefully my only 120Hz display I came upon this MTBS thread " 120Hz Monitors/LCD's/HDTV " [url=http://www.mtbs3d.com/phpbb/viewtopic.php?t=2640:udiuq0sg]here[/url:udiuq0sg]. That got me searching for more Nvidia 3D Vision glasses compatible TV/Display solutions other than the CES 2009 22" inch models announced. I was hoping for larger than 32" size DLP / Plasma /LCD TV to replace my present TV 36" TV or my 30" PC monitor (once you've gone over 30" it's hard to go smaller).
To my surprise the title of this thread was learnt at the "Toms Hardware.com" Review [url=http://www.tomshardware.co.uk/3d-vision-stereo,review-31486.html:udiuq0sg]here[/url:udiuq0sg] "GeForce 3D Vision: Gaming Goes Stereo" for the Nvidia 3D Vision glasses. It gives this quote "According to Nvidia, none of them include the dual-link DVI inputs needed for 120 Hz, and their HDMI ports only accept a 60 Hz signal. Thus, your options are truly limited when it comes to choosing a compatible display."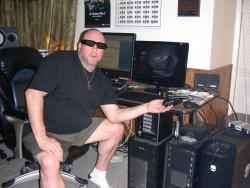 Maybe I was being thick (hoping that the current crop of 120 Hz would do) but I wanted to share this info just in case your about to purchase. Anyway it's not all bad news from this review as it obviously covers all the usual stuff as well as the other relevant issues including the SLi hardware tech, games tests etc so it's worth a read. If you absolutely need to know in a hurry which compatible TV/monitor are currently available then this other review [url=http://www.motherboards.org/reviews/hardware/1849_3.html:udiuq0sg]here[/url:udiuq0sg] has a fairly comprehensive . There is also NVIDIA's own compatibility list on their website.
Share your thoughts in our discussion forums.