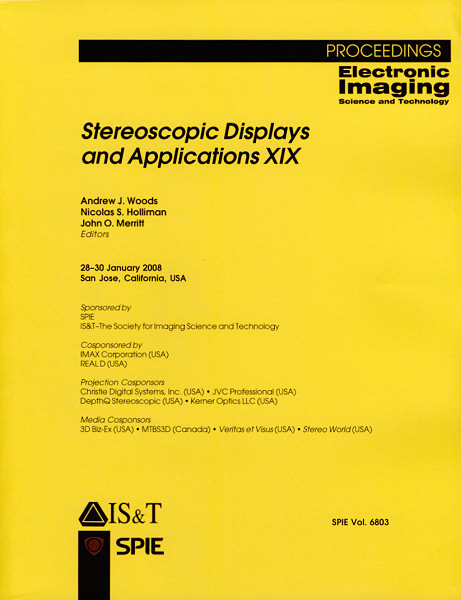 Last year`s Proceedings of the Stereoscopic Displays and Applications XIX conference
Today January 19-21 sees the opening of the above events in San Jose (CA). It is the oldest and largest event dedicated to state-of-the-art 3D in the Americas-Asia area. "Centered on research, the SD&A unites laboratories, universities and R&D units from all over the world. Each year, these scientific communities come to present their work and exchange with their peers around a conference cycle and an exhibition area. "
"This year's subjects include: display and autostereoscopy 3D cinema 3D TV volumetric displays 2D/3D conversion 3D cameras human perception"
This year "Dimension 3 expo, the International 3D Stereo Forum, "has chosen to support the Stereoscopic Displays & Applications event, on the occasion of its twentieth edition". the Dimension 3 expo is itself "the international forum on 3D stereoscopic images organized by Avance Rapide Communication. Screenings, Conferences and Exhibition. Dimension 3 is held from June 2 to 4, 2009, at the Centre National de la Danse in Pantin (near Paris)".
As we know Neil will be attending and actively involved so we look forward to his summary on his return.
Share your thoughts in our discussion forums.