Los Angeles` 3D Entertainment Summit was the venue for Blitz to show their S3D wares for the Xbox 360 and Playstation 3 games market. They boldly stated that their tech can "replicate the full HD 3D experience" as seen in 3D theaters.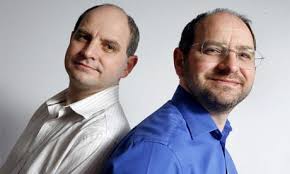 Philip and Andrew Oliver
Blitz Games co-founder and CTO Andrew Oliver went on to say that the games would be "even more immersive" now that their in-house S3D technology would be incorporated in their games. However i also went on to warn that the industry still needs to learn design issues associated with using 3D.
Read more about the 2-D to 3-D consumer switch ability that Andrew Oliver is inherent for a single game version model being successful, here:
http://www.stereoscopy.com/news/index.h … AyzzfMcxfz
Share your thoughts in our discussion forums.