As a precursor to the Game Developers Conference, The S-3D Gaming Alliance is very pleased to announce its latest affiliate member:

"We have to keep up with the times, and stereoscopic 3D gaming has a very important present and future. Game developers need a firm grasp of this technology, and this is a great opportunity for them to have a real say in how it moves ahead." – Jodi Bluth, Publisher, Animation Magazine
For those unfamiliar, Animation Magazine has a twenty year history, and covers all aspects of digital animation – including video games. As a special offer to S-3D Gaming Alliance and Meant to be Seen members, Animation Magazine is offering a free annual subscription (10 issues) of their publication in digital form.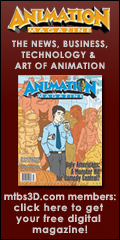 Just click on the Animation Magazine banner you see here, and fill in the appropriate information to subscribe. While you must be logged in to MTBS to take advantage of the offer, registration here is both free and instantaneous.
We are also pleased to report that our latest S-3D game review is out. Bioshock was a work of video game art, can Bioshock 2 meet up to the challenge? How does it perform in stereoscopic 3D? Today, we find out! Come back in a few hours because we put together some great video footage. YouTube is temporarily down for maintenance, so we just need to wait for it to clear.
There are more surprises to come. MTBS is going through some heavy maintenance, and some forum features have temporarily stopped working. Smilies, embedded YouTube videos, etc. are examples of this. We want to get some other things out of the way before we fix this. We think you will agree that it was worth the wait when things are complete.