"When I saw Need for Speed SHIFT in stereoscopic 3D at SIGGRAPH, I was impressed. The audience was blown away by how well SHIFT's immersive cockpit was represented by the 3D tech, and we see a great future for S-3D in games. We need an industry-wide standard for S-3D gaming, and S3DGA has the drive and experience to push this forward. All developers and manufacturers should participate." – Habib Zargarpour, Senior Art Director, Electronic Arts Inc.
The S-3D Gaming Alliance (S3DGA) is the official standards body and voice for modern stereoscopic 3D gaming. We are very honored to announce that Habib Zargarpour, as a representative of EA, has joined S3DGA's advisory board. As demonstrated at SIGGRAPH, game developers want to see industry-wide support for stereoscopic 3D gaming, and this is the first of many steps towards this goal.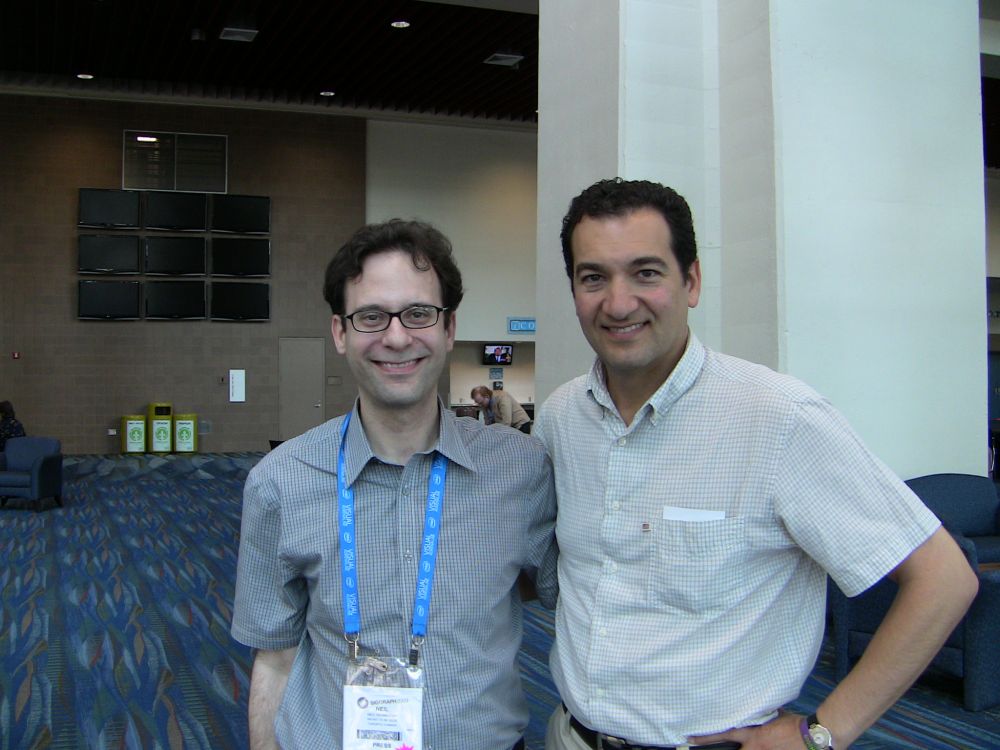 Neil Schneider, President of S3DGA (LEFT),
Habib Zargarpour, Senior Art Director, Electronic Arts
As a Senior Art Director for Need for Speed, Habib Zargarpour's game development credits also include Need for Speed: Most Wanted, James Bond 007: Everything or Nothing, and Need for Speed Underground. His diverse film background includes work with IMAX 3D, and a whole range of visual effects work for projects such as Star Wars: Phantom Menace, The Perfect Storm, Twister, Star Trek: First Contact, The Mask, and several more memorable films.
The first S3DGA meeting is taking place 5:30PM PST on 09/17/09 at the 3D Entertainment Summit. Meeting attendance is free, though space has grown extremely limited.
Confirmed speakers include:
Habib Zargarpour, Senior Art Director, Electronic Arts
Andrew Oliver, CTO and Co-Founder of Blitz Games Studios
Chris Yewdall, CEO of DDD
Ami Dror, Chief Strategy Officer, XpanD
Neil Schneider, President of The S-3D Gaming Alliance

Meeting attendees qualify for a 25% discount on 3D Entertainment Summit registration by using the "S3DGA" discount code. Meeting attendance will be confirmed. Please RSVP ahead of time by emailing members@s3dga.com.

For years, it has been assumed that game developers are not interested in stereoscopic 3D, that the classic chicken and egg problem between hardware and content could not be solved. S3DGA has demonstrated otherwise. In the interests of making stereoscopic 3D technologies successful in the home, it is now up to the S-3D industry to support the wishes of game developers and customers alike, and participate at the upcoming S3DGA meeting. We look forward to seeing you there.

Support participating game developers and industry, and share your thoughts in our discussion forums! Spread the word and make sure your favorite manufacturer, game developer, and S-3D technology developer is in attendance. This is what all the MTBS members have been working towards, and we couldn't ask for a better opportunity. Check your favorite S-3D blogs and media too as they should be covering this.

As an added bonus, we wish to congratulate another S3DGA member, Blitz Games Studios, for their release of Invincible Tiger: The Legend of Han Tao! This is arguably the first console video game for modern stereoscopic 3D solutions, and it runs on both XBOX 360 and Sony PS3 solutions. Andrew Oliver, CTO and Co-Founder of Blitz Games Studios is also on our advisory board. We have a series of S-3D screen shots in our gallery as well. While these images are only 1280X720 per eye, the game does play at a sharp 1080P resolution in stereoscopic 3D mode. Please congratulate the Blitz team and share your thoughts in our official Invincible Tiger forum thread!