UPDATED 7:25PM EST
We are back from Germany!
Our team has a lot of catching up to do, and we apologize for the limited story updates this past week. After FMX/09, we had very limited internet access during our visit to Munich.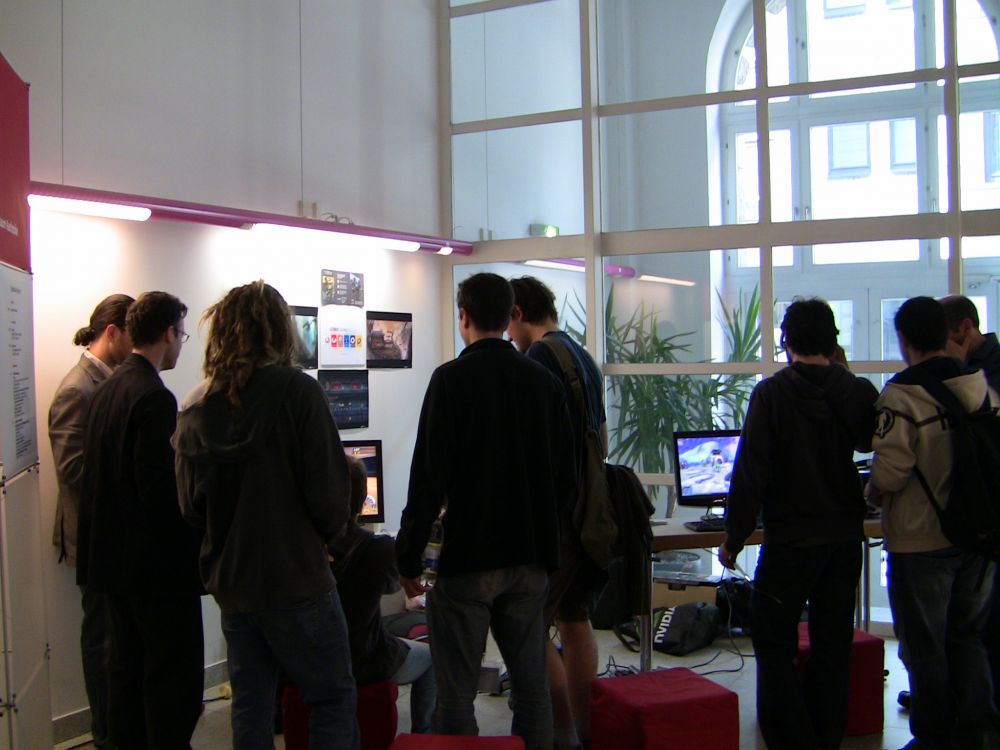 Equal spread of interest: iZ3D (left), Console S-3D (middle), NVIDIA (right)
We will have some videos to share shortly, but check out our editorial about what we walked away with once FMX/09 was over! All in all, a very successful conference. This could represent a key turning point in the direction S-3D gaming is headed.
One of the caveats of limited internet access was a goof-up at the Munich airport before we got on our plane. A bug in PHPBB caused a private message to go out to our membership, and sent repeated reminders to check for incoming messages to all our members. Of course, none of this should have happened, and by the time our plane landed, the problem spiraled further than it should have.
No harm done, and we are very appreciative that most of the messages that came in were helpful in notifying us about the problem.
NEWS UPDATE
NVIDIA has put out brand new 185.85 stereo drivers! These drivers will only work on the new NVIDIA GeForce 3D Vision Solution and Zalman monitors. These drivers also mark NVIDIA's official entry into Windows 7 stereoscopic 3D gaming support. Their software also supports Windows Vista 32 and 64 bit versions.
Additional benefits include support for Mitsubishi's new 2009 Home Theater TVs (Check NVIDIA's site for supported models), and new 3D Vision game profiles for:
– AC-130: Operation Devastation
– Battlestations: Pacific
– Battlestations: Midway
– Dark Horizon
– Dark Sector
– DCS: Black Shark
– Death Track Resurrection
– Demigod
– Elven Legacy
– EVE Online
– Exodus from the Earth
– Igor the Game (*** Igor the Game!!!! Sharky, are you paying attention? ***)
– Legendary
– Leisure Suit Larry: Box Office Bust
– The Lord of the Rings: Conquest
– Major League Baseball 2K9
– Men of War
– Monsters vs. Aliens
– Perimeter II: New Earth
– Rise of the Argonauts
– Spider-Man: Friend or Foe
– Spider-Man: Web of Shadows
– Stormrise
– Street Fighter IV
– Tony Hawk's American Wasteland
– X3: Terran Conflict (PC)