Meant to be Seen is proud to announce the availability of the U-DECIDE Initiative report!
"We were very pleased to sponsor the U-DECIDE report as it allowed us to get a real glimpse into how many people are interested in stereoscopic 3D in future products. What I did not expect was the breadth and depth of analysis performed, which offered a wealth of statistics and practical conclusions everyone can follow." – Lee Bamber, CEO of The Game Creators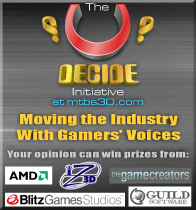 Featuring over 75 pages of data, almost 60 informative charts and tables, and the informed feedback of traditional 2D and experienced stereoscopic 3D gamers, U-DECIDE is the final word on the direction our industry is best headed according to the people whose opinions matter most – our customers.
Our most recent findings announcement is that 3D movies in the theater are not the primary motivator for positive customer opinion about stereoscopic 3D technology in the home. The true driver is revealed in our current press release.
"The MTBS U-DECIDE Initiative Report is not only packed with important findings about this new and growing venue for stereoscopic displays and applications – it is also written in a clear and clean style that makes it a pleasure to read. I highly recommend this research report to those working in this emerging area of S-3D entertainment and gaming in the home, and I congratulate Neil Schneider and his colleagues for a job well done." – John O. Merritt, Founder of the Stereoscopic Displays & Applications Conference and Merritt.com.
You can learn more about the initiative through our updated U-DECIDE page.