We have rounded up our CES coverage in three parts.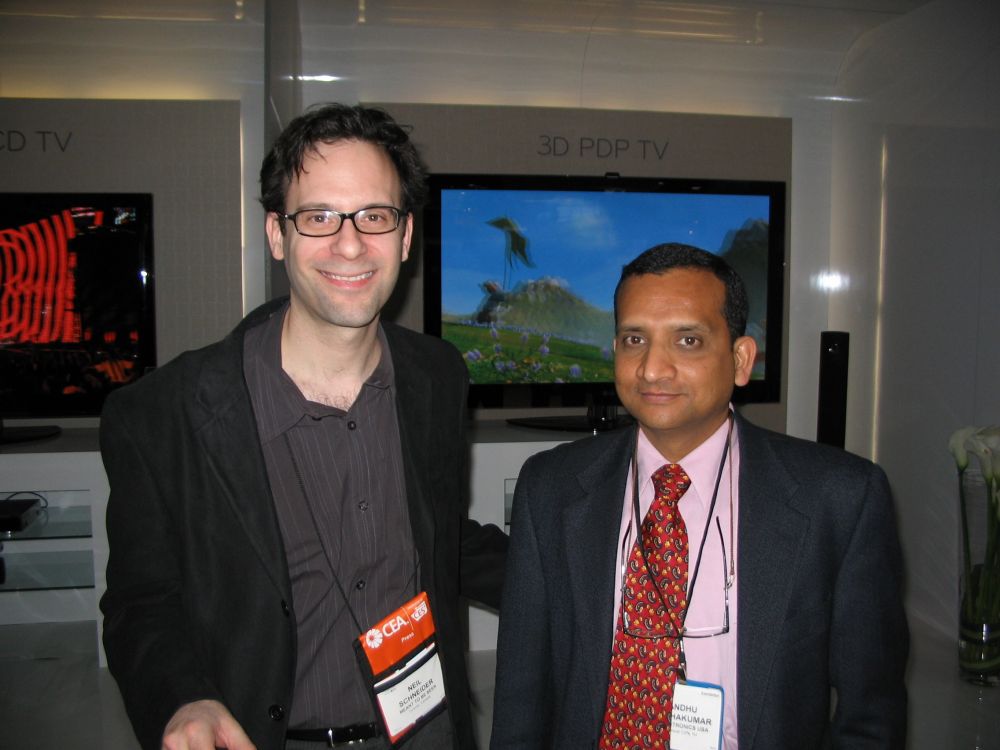 Neil Schneider, President & CEO of MTBS and
Nandhu Nandhakumar, SVP Advanced Technology, LG Electronics
Part One discusses the Vuzix Wrap 920AW and shares MTBS' commentary on the 3D Discussion Panel at CES 2009 (this is new). Part Two is a summary of the Hyundai and iZ3D CES displays, and Part Three outlines Sony, LG, and NVIDIA (this is new).
For those interested, MTBS is one of the media sponsors and will be moderating a special gaming panel at the upcoming Stereoscopic Displays & Applications Conference. We understand that it will be taped for Internet broadcast, and we designed it to get leading driver developers and manufacturers including iZ3D, DDD, Lightspeed Design, and NVIDIA to share their views on how to make the 3D gaming industry successful. There is still time to submit a few questions for the panel.
Now the biggest news of all! MTBS Nations at War 2.0 has been launched! The premise is simple. In real-time, you need to build a powerful city complete with a population and an army. Unfortunately, your city is surrounded by enemy cities run by fellow MTBS members. To survive, you have to bring your enemies down to their knees. Unlike its predecessor, you can build multiple cities and wipe enemies off the map…if you are strong enough.
Here is the updated feature list:
When you invite a friend you get earn a reward for all your owned cities. The more cities you have, the higher the total reward.
You can have more then one city.
There is a new special unit called The General and it can be used to create new cities.
Your first city is the primary city, and all the others are secondary. Secondary cities can be destroyed by other players.
NAW has a new invitation code that is only eight characters long.
Improved the map location system. The cities are distributed more equally on the map, and the map size increases automatically to avoid enormous distances between player cities.
Players earn experience points on all attacks for destroyed buildings.
The score limit has been removed.
NAW scores are displayed in MTBS forum posts. Now you will have bragging rights!
New Paper, Scissors, Rock system: each unit type has predetermined target possibilities.
Improved attack calculation system.
Improved game play dynamic.
Ajax chat system (same as in the MTBS forums)
New graphics (Special thanks go to SirC / Cris Villalobos)
20% faster unit training.
30% more defense strength for buildings.
Changed the attack/defense strength of most units.
New "delete all pm's" function.
Random weather system that impacts attack strength.
Full info in reports including destroyed buildings (before/after) and weather.