Happy New Year everyone!
2009 is shaping up fast, indeed!
First, the iZ3D 1.10 Beta 1 drivers are available for download on MTBS! Some key features include:
An experimental 3D Settings Wizard that helps new gamers get the best 3D results the first time.
Side by side output. This may help make recording possible.
Clipping Control.
Optimized Interlaced Support.
Several bug fixes, performance enhancements, and game profile updates.
Renewed trial period.

Download the drivers and post your findings in our forums.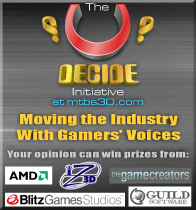 Today is the LAST DAY to participate with the U-DECIDE Initiative! Nearly 60 prizes are up for grabs including iZ3D monitors, ATI 4800 series GPUs, and video games by Blitz Games Studios, The Game Creators, and Guild Software. Surveys close tonight at 12:00PM EST, and winners will be announced on January 6th, 2008.
Finally, we would like to thank Mark Mikunas for teaching us how to create a 3D projector setup with old school NVIDIA 3D drivers. He will be writing some game reviews for us as well with modern 3D equipment. We think you will agree that he is a talented writer.
If you want to reminisce about 2008, check out our 2008 MTBS Year-End Review. Was it a good year? Share your thoughts in our forums.