"It's fantastic that MTBS has done such a great job supporting the S-3D community. They were the catalyst in Blitz going 3D on console, they helped connect us to the right people and generate lots of exposure, and their community is the widest door to the 3D marketplace. Becoming 3D ready couldn't be easier thanks to Meant to be Seen's help." – Andrew Oliver, CTO of Blitz Games Studios.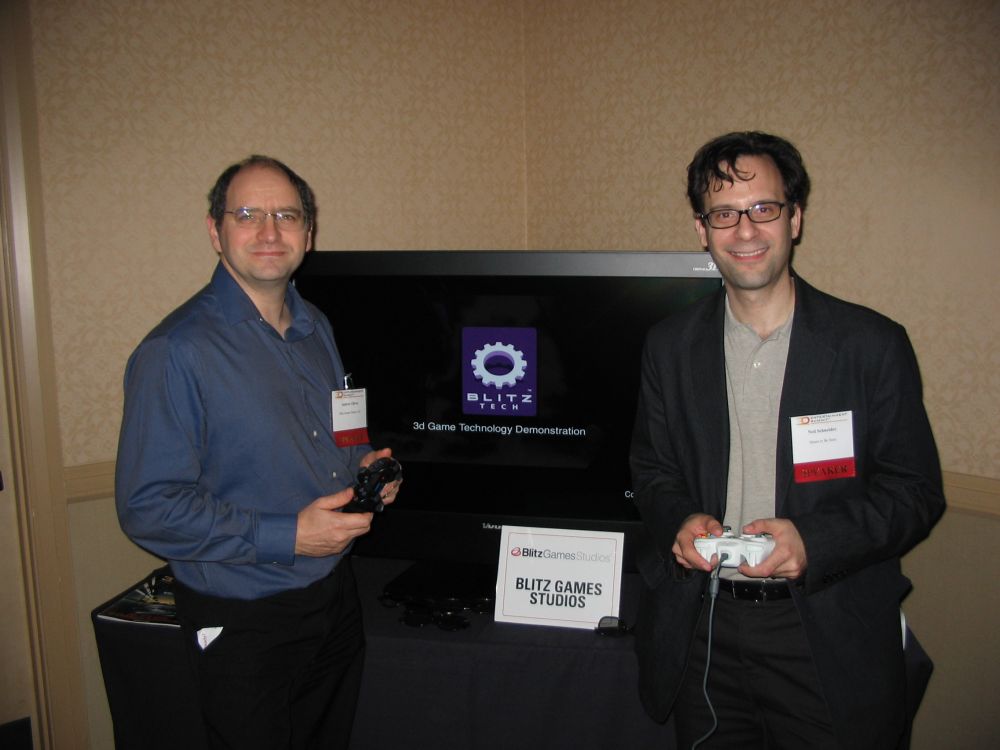 Andrew Oliver (left), Chief Technology Officer, Blitz Games Studios,
Neil Schneider, President & CEO of Meant to be Seen
We are very pleased to be joined by Andrew Oliver, Chief Technology Officer for Blitz Games Studios, the first console game developer to support stereoscopic 3D gaming! Read our interview with this console pioneer, and share your thoughts in our forums.
With the industry getting over its morning after buzz from the NFL 3D theater broadcast, it looks like the NBA is getting into the 3D game too. Lead-up events to the NBA all-star game are going to be broadcast in S-3D live on February 14th in 80 movie theaters across 35 states. This is based on a business relationship between The National Basketball Association, Turner Sports, and Access IT.
According to NBA Vice President Mike Rokosa, "it's a theatrical display today. Tomorrow, it's going to be in the home".
You think?
Last but not least, and we are surprised that MTBS members missed this, iZ3D has worked out deals with leading retail distributors Ingram Micro and the D&H Distributing Company. These are leading wholesaler companies, and this means we are going to start seeing iZ3D monitors in a retail store near you. More details to come I'm sure!