MTBS would like to thank Igor Masin, Pam Swartz, and Syd Bolton for their continued efforts on the mtbs3D.com website. There are still some odds and ends to take care of, but the upgrade to the MTBS forums is nearly complete.
New features include attachments and thumbnails in posts, better forum tracking if you want to receive emails when threads are updated, security features, a new chat window, better search functionality to find the information you are after, and much more. There is more to come including an upgraded MTBS Nations at War 2.0 and additional fixes.
The Ubisoft FarCry 2 review is complete. Does it meet the expectations set by its predecessor? We will find out!
We are looking forward to attending GAMMA 3D being put on by Kokoromi. They have been running a contest amongst independent game developers to create experimental S-3D games compatible with anaglyph 3D glasses. Titles up for display include:
AltiToad – Tim Winsky and Johanna Arcand
BlottoBrace – Antony Blackett, Corie Geerders, and James Everett
The Depths To Which I Sink – Jim McGinley
Fireflies – Lee Byron and Joannie Wu
Paper Moon – Infinite Ammo (Alec Holowka, Christopher Lobay, Ian Holowka, Katie De Sousa) with Adam Saltsman
super HYPERCUBE – Kokoromi/Polytron

GAMMA 3D takes place on November 19th at the Society for Arts and Technology (the SAT) in Montreal, Quebec, Canada. For more information visit http://www.kokoromi.org/gamma3d.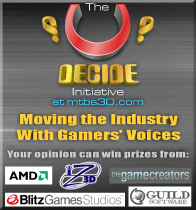 Remember to participate with the U-DECIDE Initiative. YAHOO! Tech posted a story recently that video game sales jumped 18% in the month of October relative to a year ago. We are interested in learning if gamer opinion matches up to the sales being demonstrated in the market right now. Will this trend impact stereoscopic 3D gaming? While the survey will remain open until January 1st, 2009, we are revealing preliminary results at the 3D Entertainment Summit on December 1st.