Congratulations to the Ubisoft team!

FarCry2 has sold over a million units worldwide in less than three weeks…probably because we keep talking about it! ;=) We are actively working to get this game reviewed in stereoscopic 3D.
The 3D Film and Interactive Festival announced this year's Pioneer Awards for stereoscopic 3D entertainment. Winners include 3ality Digital for U23D, nWave for Fly Me to the Moon, iZ3D for their interactive game display and software drivers and more!
"iZ3D is honored to receive this award. We believe in 3D and have tried to educate content creators on the benefits of stereoscopic 3D imagery to help tell their story. We support 3DFF's non-profit initiative to acknowledge up and coming independent 3D producers and directors, emerging gaming technologies and other new content creators," Thomas Striegler, CEO of iZ3D, LLC
On the website front, we've recently discovered new software that makes the MTBS Gallery easier to use. With a quick installation, members can right click on their favorite images, and immediately see them in S-3D instead of having to download pictures first, and open their viewer separately. We have written a detailed guide to explain how to use the software.
Finally, we'd like to thank Pam Swartz for creating a media page for us. MTBS has earned a lot of media coverage since we started, and she put together a visual archive of some of the press coverage we have received.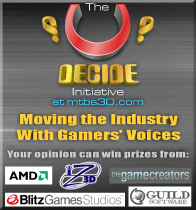 Just a quick reminder to participate with The U-DECIDE Initiative! Nearly 60 prizes are up for grabs including iZ3D 3D monitors, ATI GPUs, and a wide selection of video games. Your opinion never mattered more.
More news to come!