The Inquirer ran a great story today about stereoscopic 3D gaming, and we have never seen our members so excited!
Looks like NVIDIA's stereoscopic 3D solution is just around the corner with the ability to ship before the end of the year. Key advantages to their brand of shutter glasses include being wireless, USB rechargeable, and compatible with 100Hz CRT monitors, DLP solutions, and upcoming 120Hz LCD panel solutions (e.g. Viewsonic).
The article also talks about iZ3D's relationship with AMD, and even throws in a mention for The U-DECIDE Initiative at the end.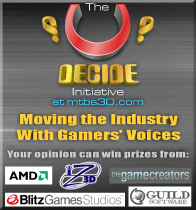 Time to update our acknowledgment list! We would like to thank the following sites for helping spread the awareness of The U-DECIDE Initiative:
The Inquirer
Gamesindustry.biz
Overclockers.com.au
Gamecyte
Sydbolton.com
Gamerus Cleverus
The Personal Computer Museum
CGArena
Every bit helps, and if you have a media or blog site, we'd like to add you to the list!
For those that participate, there are nearly 60 prizes up for grabs including 3D monitors, ATI GPUs, and a wide selection of video games. The pressure is on too because James Cameron and Jeffrey Katzenberg will most likely be watching us reveal our preliminary results at The 3D Entertainment Summit, so let's not disappoint!
Finally, we are in the planning stages now, and we are expecting next week to have another round of key announcements. Please come back regularly!