Some exciting news from The 3D Entertainment Summit!
Meant to be Seen has been one of their proud media sponsors for some time, and we are very excited to report that James Cameron has been slated as their keynote speaker! If you haven't registered yet, go to the MTBS Discounts section and get a $50 savings on registration (you will need to join MTBS to get a discount number).
For those unfamiliar, James Cameron is making the much anticipated film Avatar, and is co-developing the related stereoscopic 3D video game with Ubisoft.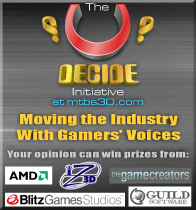 The pressure is on, because it appears that James Cameron and Jeffrey Katzenberg, CEO of Dreamworks Animation, will be intently watching as MTBS reveals the preliminary results of our U-DECIDE Initiative. Let's not disappoint! The opinions of gamers must be heard and understood!
MTBS would like to thank the following websites for acknowledging our efforts and helping spread the word of this critical study:
Gamesindustry.biz
Overclockers.com.au
Gamecyte
Sydbolton.com
Gamerus Cleverus
The Personal Computer Museum
CGArena
Please keep spreading the word about this initiative and filling out those surveys. Your opinion never mattered more.