We are still testing FarCry2 by Ubisoft, but for now, you can enjoy playing it in stereoscopic 3D!
There are still anomalies with underwater action and map icons, but the following quick-fix profile gets the sky to work properly with the 1.09 full release iZ3D driver. Add this segment to the profiles list in the file named "BaseProfile" in the iZ3D data directory:
<Profile Name="FarCry2″/>
<File Name="FarCry2.exe"/>
<DontCalculateInverseMatrix Value="1″/>
<Profile/>
Before you start playing…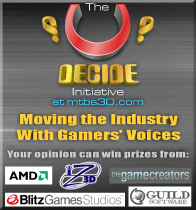 Remember to participate! Your opinions will help our industry move in the right direction. An added bonus is there will be a draw for nearly 60 prizes including ATI Radio GPUs, iZ3D 3D monitors, and video games from Blitz Games Studios, The Game Creators, and Guild Software.
So far, the responses have been positive and we are going to learn a lot from this report. Please help spread the word and encourage as many people to participate as possible.