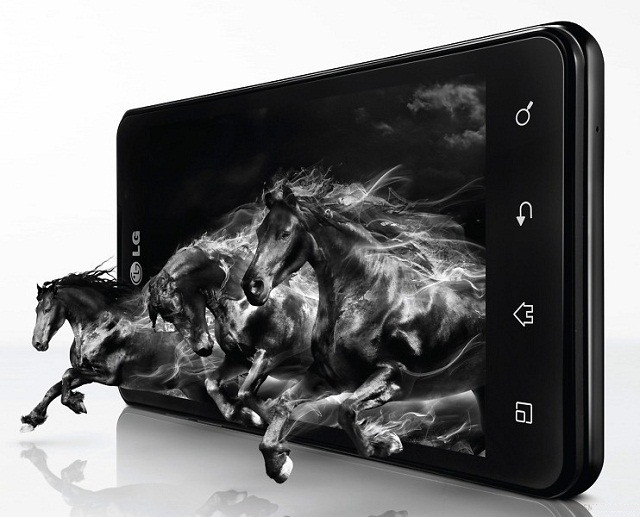 To much fanfare, LG has officially announced release plans for the Optimus 3D Max, an improved sequel to the Optimus 3D and (in all likelihood) AT&T's LG Thrill 4G. The big advancements include a much thinner casing, HSPA+ 21Mbps support, and "near field communication" features that allow it to change settings depending on location (e.g. office, home, car, etc.).
According to their press release, a maintenance firmware release will also add:
HD Converter to offer HD quality on a TV connected through MHL (Mobile High-Definition Link), when transforming Open GL-based 2D games and applications to 3D and viewing Google Earth;
Range Finder to calculate the distance between the camera and the subject as well as the dimensions of an object through triangulation;
Out-focusing Shot to enhance camera quality beyond that of other smartphones through image processing using depth information.
Here's the thing. At launch, LG's smartphone will include Android 2.3 (Gingerbread) – not Android 4.0 (Ice Cream Sandwich) that is already shipping with some of their competitors. LG has stated that version 4.0 will be released as a follow-up software patch, and they went through something similar with the original Optimus 3D. Unfortunately, the LG Thrill 4G (USA's Optimus 3D) still hasn't received it's Gingerbread update – despite announcements promising otherwise. That's a serious problem, especially since most of the 3D enhancements and battery life improvements require Gingerbread (for the original LG Thrill 4G).
The solution for some (desperate) users has been to root their phones, force Optimus 3D roms, and void their warranties. In our opinion, LG is going to have to set firm (and confident) release dates for software updates, or existing Optimus 3D/Thrill 4G will be hesitant to update to the next 3D innovation from LG.
To end on a high note, the Optimus 3D Max will feature Gorilla Glass 2. This is a big deal for smartphone users who are scared of scratching their prized possession.
Any Optimus 3D / Thrill 4G users out there? Share your thoughts below!