Nvidia just tapped our shoulder to tell us about their new mobile road map featuring the next generation of Tegra called Kal-El.  In addition to being touted as the first quad-core mobile CPU, it also features a 12 core GPU.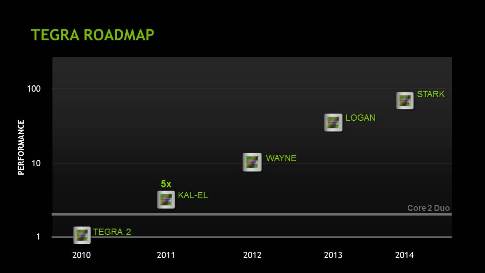 Their demo at Barcelona's Mobile World Congress included 2560 X 1600 playback, and promises enough power to drive displays as large as 10.1 inches at 300 DPI.
This processing power ties into our earlier story that Nvidia is planning to release stereoscopic 3D mobile drivers by the end of this year.
In contrast, Qualcomm has also been promoting its own mobile processor featuring quad-core technology.  Available in single, dual, or quad-core, Snapdragon will feature an Adreno GPU series with up to four 3D capable cores, and an integrated LTE modem.  They will also support 3D video (and photo) capture and playback.  Good to see stereoscopic 3D in the hearts and minds of the mobile markets.
Share your thoughts!