We are pleased to report that Nvidia has officially launched their 3DTV Play Software.  Free for existing Nvidia GeForce 3D Vision glasses users, 3DTV Play lets gamers use Nvidia GeForce 3D Vision drivers with modern stereoscopic 3D HDTVs on condition that they are HDMI 1.4 compliant.
Come November, Nvidia plans to release a paid version for gamers that don't own Nvidia's 3D glasses.  This is best suited for customers whose only 3D solution is a new 3D HDTV, or customers that don't want to move their Nvidia PC from the playroom (AKA office) to the living room.  This will retail for about $40 US.
There is wisdom in Nvidia's bundling plans as this will be included free with select Asus, Acer, Clevo, and Dell PCs.  As shown above, there is a notebook focus.  What better system to move between the office and living room at a whim?
In addition to video games, Nvidia's 3DTV Play also opens the door to 3D Blu-Ray compatibility through your PC complete with HDMI 1.4 compliance.  Compatible 3D Blu-Ray playback software will be required.
There are some caveats to be aware of.  PC gamers looking to achieve 50 to 60 FPS will have no choice but to play in 1280X720 because HDMI 1.4 does not offer similar refresh rates at higher resolutions in 3D.  For example, if you want to game in 1080P, you will max out at 24 FPS.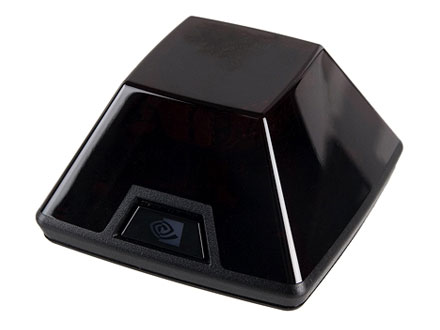 To get 3DTV Play to work, just download the latest Nvidia GeForce and GeForce 3D Vision drivers.  Once downloaded, plug the Nvidia Geforce 3D Vision emitter into the PC, and connect the PC to your 3D HDTV.  If your GPU doesn't have an HDMI output, your GeForce 3D VIsion glasses come with a DVI to HDMI coverter cable.  The software will do the rest.  Remember that you won't be using Nvidia's glasses, and will instead be relying on the glasses that come with the television.
It should be clear that gaming on 3D HDTVs is not exclusive to Nvidia!  You can also play games with DDD and iZ3D stereoscopic 3D drivers on your 3D HDTV on condition that it supports side by side mode.  The benefit is that you can game at 1080P and achieve the high frame rates.  However, it's a "squished" side by side mode (half horizontal resolution stretched to full), so there will be a minor loss of detailing.  These software options will work on both AMD and Nvidia graphics cards.
With the exception of M3GA, the visual expectations between driver providers is very different.  Since implementations and visual flexibility changes on a game by game basis, it's good to have choices to make sure your bases are covered for S-3D gaming compatibility and enjoyment on your 3D HDTV.  Our recommendation is to plan on buying more than one 3D driver solution for television gaming.
Have fun!