Just the other day, we put out a brief press release announcing some of the preliminary findings from U-Decide 2010.  This is the second time we have done an initiative like this (sincIe 2008), and it's very exciting to see that its results have captured the interest of respected gaming media around the world.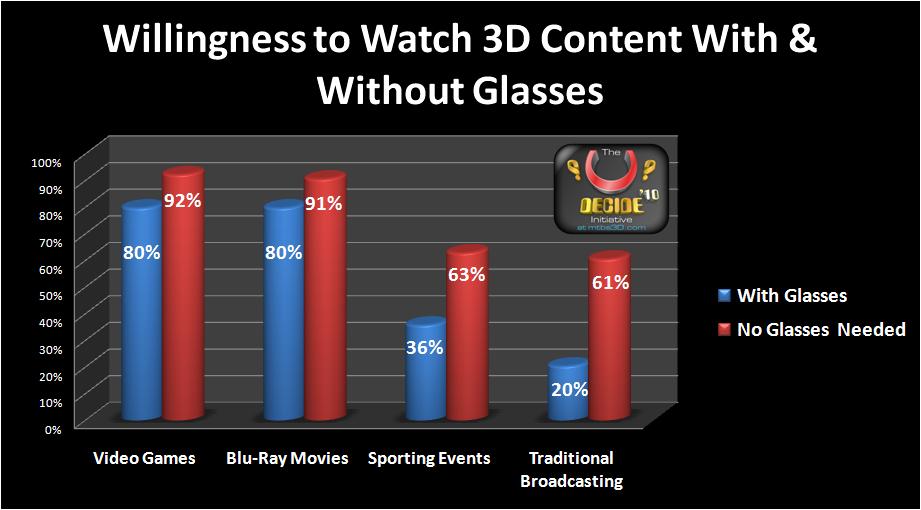 The findings being distributed are that stereoscopic 3D glasses are acceptable to gamers and gamers that already own an HDTV are interested in buying an additional 3D television within the next two years.  That said, we'd like to elaborate on some misnomers about the study, the methodology, and our intentions.

1. The Preliminary results included 2D gamers AND stereoscopic 3D gamers – NOT FAIR!
This is not true.  While we had 1,169 respondents in total, the preliminary findings are 100% based on the traditional non-stereoscopic 3D group – the people who don't yet own 3D equipment of their own.  In fact, the 3D group was surveyed separately with a customized line of questioning to delve into other aspects of stereoscopic 3D gaming.  This material has not been publicized yet.
So of the 1,169 respondents, 735 of them are traditional 2D gamers.  If we look at a comparable 3D study with 1,000 to 1,500 respondents, and separate the traditional consumers from the gamers, the gamer portion would still amount to about 700 to 800 gamers.  We wanted to focus 100% on gamer opinion.
2. You gave away a 3D HDTV, so that determined who would be interested in 3D!
U-Decide featured over 50 different prizes.  Panasonic's 3D HDTV and Zalman's 3D monitor were the only two 3D related prizes.  The Steelseries headsets and 40+ video games by Electronic Arts, Ubisoft, and Blitz Games Studios have no direct relationship to stereoscopic 3D gaming.
When the study was completed, we saw an opportunity to add additional prizes to reward respondents for their time.  So we added five DDD driver license keys and five copies of Magix Movie Edit Pro 17+ to account for 64 prizes in total.
3. Meant to be Seen hosted the study.  You're an advocacy group, so your dice are loaded!
The reason MTBS hosted the surveys is because we already possess one of the largest stereoscopic 3D gaming communities in the world.  There was no other way to accurately track the needs and interests of stereoscopic 3D gamers as a distinct group.
We understood the necessity for traditional 2D gamers to participate which is why our partners actively promoted the surveys on their websites or through other means.  Samples of unbiased partners included Computer Power User, Steelseries, Electronic Arts, and more.
The study was also featured in gaming and non-gaming press like The Vancouver Sun, Gamasutra, TGDaily, and several online blogs that mentioned the original press release.  It was also mentioned in the GDC Online website leading up to their 3D Stereoscopic Games Summit.
At no time did we encourage respondents to sway their opinions in one direction or another, or indicate that we had a public opinion goal in mind for their answers.  Not only would that be unethical, it would be a disservice to our partners and the final report's readers who need to accurately grasp what gamers want, which experiences will sell, and what their realistic product expectations should be.
As mentioned in the press release, 3D sports and broadcasting had very different results – and we will learn more about these areas when the report is complete.
Thanks to everyone who participated and helped make U-Decide 2010 possible!  We look forward to releasing the full report by mid-November.