This article was supplemented on 05/10/10 for accuracy.
FMX 2010 finished up in Stuttgart Germany yesterday, and unless there is a volcanic ash catastrophe, we expect to be back safe and sound by Sunday, with pictures on standby for Monday.  We hope to have some videos to share as well!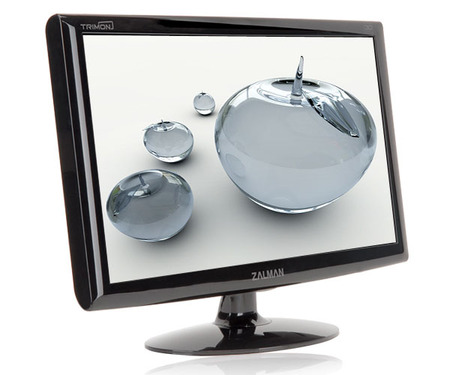 In the meantime, credit goes to GHG for getting driver news from Zalman regarding their new line of 21.5″ Full HD monitors (ZM-M215W), and upcoming 24″ and 32″ displays:
"…the new ZM-M215W (21.5" Full HD) 3D monitor is not supported by Nvidia. This is because Zalman has decided that there is not a reason to pay enormous licensing fees per year, when it is expected that new game titles will support 3D directly within the game, making 3rd party 3D drivers for gaming less of a concern for the future." – Jihoon Jo, Business Development Manager, Zalman.
While we will leave it to Zalman to determine which driver solutions will meet their needs best, we think it's premature to expect the majority of new game titles to support the interlaced format natively.  Everyone, NVIDIA and Zalman included, have a huge battle ahead for achieving widespread native S-3D support.  It's a battle everyone can win if the industry can all work together.  In the meantime, it's enough to know that there are qualified driver solutions beyond NVIDIA, and we don't expect this move to negatively impact Zalman customers.
EDIT: Jihoon Jo, Business Development Manager for Zalman, wished to make it clear to MTBS members that there is no ill will or disatisfaction towards NVIDIA or its software product lines.  In fact, Zalman is appreciative that NVIDIA had extended support for their 19″ and 22″ Zalman products beyond their license period as a service to their customers (NVIDIA's and Zalman's).
While S-3D gaming continues to grow, 70% of Zalman's product sales have been earned in the professional 3D cinema and research and development markets.  The "enormous licensing fee" remark was shared with this in mind, and was not intended to come across as sarcastic or negative in any way towards NVIDIA.