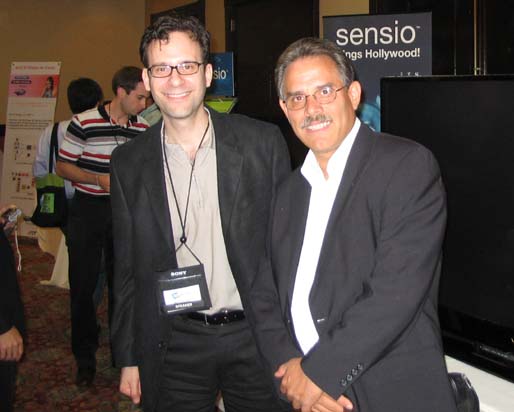 Neil Schneider, President of MTBS (left), and David Naranjo,
Director of Product Development for Mitsubishi Electric
David Naranjo is back to quickly answer your questions. You can read his original interview HERE. With Mitsubishi's LaserVue (Laser TV) technology just around the corner and Hollywood going 3D in a big way, it looks like they have a good thing going! Some of the questions were edited for clarity, and here are the answers:
1. 60hz (per eye) has been known to give me a lot of trouble on a CRT. Has the DLP transmissive material been designed to minimize the flicker?
There is no flicker since the glasses are shuttering 60Hz per eye. In the majority of cases, people do not experience eye strain nor any headaches.
2. Are there deals on the glasses in bulk? (two, four to five, and six to ten pairs?) Will two sets come with the system, or a rebate for purchasing discounted or free glasses?
There are currently several ways to purchase glasses. Further annoucements on additional solutions will occur in the Summer 2008.
3. Is Mitsubishi Electric researching a Passive Glasses (Polarization based) display system? Would such a system be cost-effective?
Mitsubishi has publicly shown autostereoscopic and passive glasses displays in Japan. This were primarily for commercial use. It is currently very expensive for these solutions.
4. Do you have an interest in mainstream-size 42″ and lower 3D support? Or DLP Projection support?
We have found that the S-3D experience is best accomplished with a larger than 42″ screen. Most consumers we surveyed commented that while a 40″ or even 50″ display looked ok with S-3D, the truly immersive 3D experience was best viewed on a larger than 42″ display.
5. Will we see a system priced below $2,000 sometime in the future?
Further announcements are forthcoming.
6. What are the model names of the current Mitsubishi HDTVs that support S-3D (3D Ready) with their resolution and size?
The 2007 Models are:
WD-57833 (57″ diagnal, 1080P)
WD-65833 (65″ diagnal, 1080P)
WD-73833 (73″ diagnal, 1080P)
The new 2008 Models are:
WD-60735 (60″ diagnal, 1080P)
WD-65735 (65″ diagnal, 1080P)
WD-73735 (73″ diganal, 1080P)
WD-65736 (65″ diagnal, 1080P)
WD-73736 (73″ diagnal, 1080P)
WD-65835 (65″ diagnal, 1080P)
WD-73835 (73″ diagnal, 1080P)
7. Does Mitsubishi plan on manufacturing their own LCD shutter glasses?
More annoucements will be forthcoming.
8. I became very excited when Mitsubishi Electric announced in 2007 laser HDTV technology that produced twice the brightness, half the weight, half the power consumption, and at a significantly lower price point of other HDTV technologies for comparably sized sets. The laser technology is the one reason I have stopped considering LCD technology and gone back to considering DLP-like technology. I am holding off my purchase of a large screen HDTV with S-3D capability until the laser products are available. Can you give me an estimate on consumer availability of Mitsubishi Electric laser HDTV (60 inches or greater) before the end of 2008? Where may I shop for these TVs?
Mitsubishi issued a press release on April 7 noting that Laservue will be shipping in the third quarter of 2008. Mitsubishi will introduce Laservue through select authorized Mitsubishi Diamond retailers.
Thanks David! As a reminder, if all goes to plan, Electronic Arts Korea is expected to make their follow-up appearance at the end of the week. If you have additional questions for EA, ask them HERE.