By Neil Schneider
FMX/09 in Stuttgart, Germany was a big success! The presentations were very popular, and I am pleased with how the NVIDIA, iZ3D, and console S-3D solutions were received by the end users.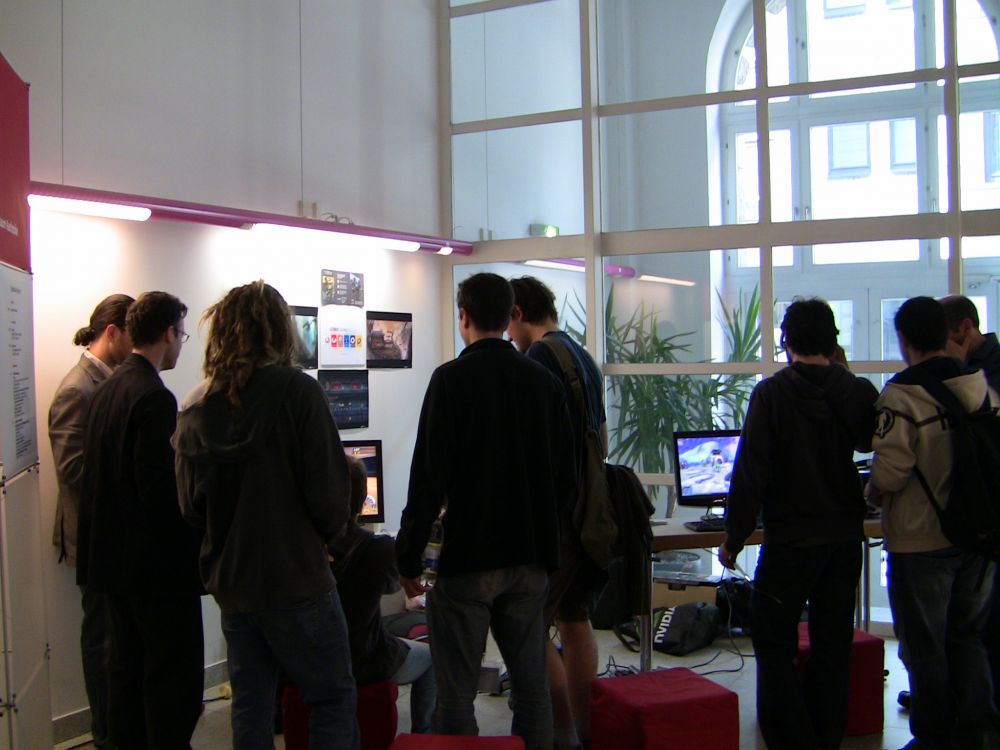 Equal spread of interest: iZ3D (left), Console S-3D (middle), NVIDIA (right)
First, there is no dominant technology in stereoscopic 3D gaming. During the technology demonstration, attendees sampled an iZ3D 22" monitor, an NVIDIA GeForce 3D Vision solution, and an interlaced 19" Zalman monitor running Blitz Games Studios' "Invincible Tiger: Legend of Han Tao" on PS3. Some preferred NVIDIA because it had reduced crosstalk, while others preferred iZ3D because they found the polarized image to be more comfortable. The Zalman 19" solution was disadvantaged only because it was physically smaller than the rest.
What I walked away with is that no matter how big or how small the companies are, they are all counting on game developer involvement in some way. For example, NVIDIA's number one challenge is out of screen effects. Accessed via the advanced options in their drivers, convergence or pop-out settings tend to undermine their S-3D experience because of visual anomalies.
According to Jens Neuschafer, Product PR Manager for NVIDIA, this is where the game developer relationships come in. With a few hours of minor programming, it's just a matter of adjusting the Z axis coordinates through a game patch, and NVIDIA's driver does the rest of the work. Even with a driver bridge in the game, this is not native S-3D support in the traditional sense. However, these adjustments sound like a very small hurdle to overcome, and are well demonstrated with Blizzard's World of Warcraft and upcoming Resident Evil 5 by Capcom Entertainment.
iZ3D's claim to fame was their new experimental glasses. Attendees were encouraged to try both the old and new glasses, and the improvements were very clear for everyone. Even without the updated software algorithm expected to be included with their next driver release, few raised concerns about cross-talk or ghosting. Even Brian Van't Hul, Visual Effects Supervisor for Coraline inquired about getting a unit for himself because he liked the image comfort for long term use.
The presentations themselves were informative too. Andrew Oliver's (CTO of Blitz Games Studios) demonstration of "Invincible Tiger: Legend of Han Tao" on the big screen was very popular, and the audience had the added bonus of playing the game on a PS3 during the technology demo. It would have been even more impressive had he used a full sized 3D HDTV instead of a 19" 3D monitor, but it worked just the same.
While recent media coverage seems to be propelling stereoscopic 3D gaming as something completely new, FMX/09 was comprised of a very sophisticated audience who knew better! During my presentation, when I asked how many people think of 3D gaming as a brand new technology, not a single hand went up. This is very good news because it means substance is going to drive this industry forward, not razzle-dazzle hype.
For me, I think it was the story behind the scenes that made for an equally interesting show. There is a strong divide forming in the gaming industry: those that get it and are taking serious steps to adopt or make S-3D adoption possible, and those that are covering their ears until the technology is thrust upon them.
I promised anonymity, so let me contrast two experiences:
First, I arranged for a private meeting with a senior gaming executive because I had a money making idea for him, and I wanted to measure his interest in getting involved. However, before I could even entertain discussing this, I wanted to get a measure of his interest in S-3D. Without that basic interest, there would be nothing to work with.
When asked about S-3D gaming, his reaction was "3D gaming is answering the question that was never asked. Maybe Jeffrey Katzenberg (CEO of Dreamworks) is asking the question, but nobody else is."
Suffice to say, while I spent the time to research his career and his endeavors before our meeting, he hadn't visited MTBS once. As we talked further, and I raised the results of our U-DECIDE Initiative, the response wasn't a man looking to learn something new or explore a new business opportunity. Instead, he was a deer in the headlights that was uncomfortably fidgeting in his chair. He just wasn't in his element.
I probably caught him off guard, and I could see how the whole experience would be uncomfortable. In a few months, when he has the opportunity to see the direction the industry is headed, I will make a point to talk to him again.
In contrast, I met another person who is a very senior executive in one of the leading worldwide game developers. He approached me after my presentation, and I learned that he is an internal S-3D advocate. We talked over coffee, and the message I got from him was that game developers are indeed moving ahead with this technology, and while recent moves in gaming press indicate preferences for one solution over another (e.g. Crytek for iZ3D, Capcom for NVIDIA GeForce 3D Vision), diversified hardware support is far more likely.
For example, his company has an entire lab devoted to making sure their games work with hundreds of hardware solutions and combinations. It was very refreshing to speak with him, both because he is very influential, and because he has a clear vision on where the technology needs to head and why.
So! What is the moral of our FMX/09 experience? The first is that it's important to work together. It was a very positive and powerful message to see iZ3D, NVIDIA, and Blitz Games Studios all demonstrating their weirs at the same table as a joint technology demo. People were taking lunch breaks and covering for each other, we had a chance to talk amongst ourselves and compare notes on important challenges that need to be overcome – it was all positive. This is the kind of thing game developers need to see because it means they are backing an entire class of industry, and not a single proprietary technology.
Finally, S-3D gaming is very much on the horizon. Some are directly involved in making it happen, while others will be involved, and just don't know it yet.
Special thanks go out to the FMX/09 team for putting on a great conference, and giving us the opportunity to demonstrate and discuss stereoscopic 3D gaming.
Share your thoughts on this editorial in our forums!