By Dr. Jon Peddie
We grew up with it, saw the wonders of the world with it, and now, it's over. The View-Master era has ended, or at least its production has. Last December, Fisher Price decided to call it quits on the venerable 3D viewer. The Mattel subsidiary of Fisher-Price says more than 1.5 billion reels have been sold. But View-Master brings in less than $10 million a year, compared with overall revenue of $5.92 billion for Mattel in 2008, so it had to go.
The View-Master viewer was first introduced at the 1939 World's Fair, and it was an instant hit – remember, this was before many people had even seen a TV let alone have one. The viewer ultimately earned a place in the National Toy Hall of Fame (which is in the Strong National Museum of Play in Rochester, New York.) Other toy icons that can be found in the National Toy Hall of Fame include Etch A Sketch, the Slinky, and Barbie.
The first View-Masters were manufactured by Sawyer's Inc. in Portland, Oregon. The stereo viewing as we know it today was invented in the late 1930's in Portland by William Gruber and Harold Graves, president of Sawyer's. They were a picture post card manufacturer and thought the 3D View-Master would be an extension to the picture card business, so logically the first View-Master photo discs were of scenic wonders. They sold the company in 1966 and it was sold and resold several more times.
Gruber put seven sets of images on a circular disk which was put into the viewer. The sets of images were taken with special 3D cameras which took two pictures at the same time with two different lenses. The lenses were separated by about the distance between two eyes.
The discs are four-inches in diameter and held 14 images (7 pairs) typically.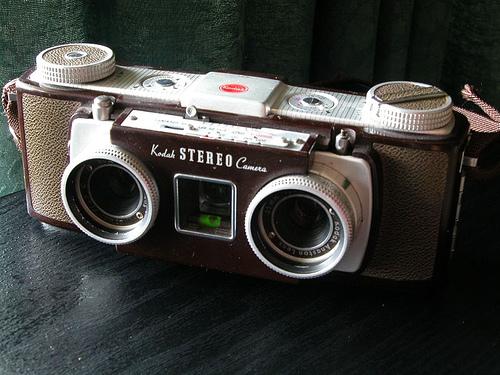 Kodak's 35mm Stereovision Camera
Kodak came out with a 35mm stereo camera in 1954 and built about 100,000 till 1959 when they stopped building them. It was based on a design by Arthur H Crapsey. It took a pair of 23x24mm format pictures at each exposure. The viewfinder was between the two lenses. It was the first stereo camera made by Kodak since the Stereo Kodak, Model 1 was last made in 1925 and no Kodak stereo cameras have been made since.
Today you can get digital 7.2 megapixel stereo cameras, and if you're interested in such things go visit: http://www.stereoscopy.com/3d-concepts/cameradig.html
The View-Master produced by Fisher-Price is even more of a collector's item now. You can find them for $7.99 – discs $6.99. And if you love View-Master there's a web site devoted to it and it has zillions of discs: http://www.3-dreview.com/
And if you have Personal, Non-Copyright protected View-Master Reels that you would like to be able to view on your computer, Old Photo (http://www.old-photo.com/index.htm) can convert your personal View-Master Reels to individual images. They will scan your 3D View-Master Reels at 3200ppi, enhance the images for you, make the slide shows and put them on a disk for you.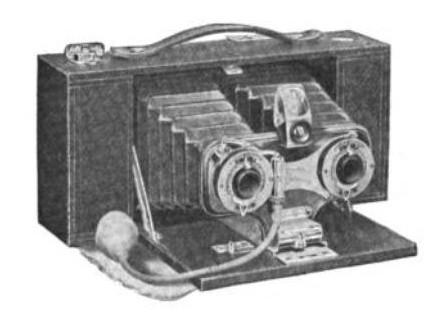 Kodak's Stereo Box Brownie – Corca 1905
So as we move into the stereo vision era (again) on PCs, movies, and someday TVs, we have to bid a fond ado to the original. Static images just don't excite kids anymore, and yet we still take a bazillion digital pictures and fill up our hard disks with them – why couldn't they be in 3D?
Thank you Dr. Peddie for this great article! Share your thoughts on Dr. Peddie's blast into Viewmaster's past in our discussion forums.