20 Years, Dinner With Lenny Lipton, The Killer Gaming Panel
Details

Created on Sunday, 01 February 2009 18:00
Last Updated on Saturday, 18 February 2012 14:04
Published on Sunday, 29 November -0001 17:23
Written by Neil Schneider
Hits: 4815
By Neil Schneider
Last week,
The Stereoscopic Displays & Applications Conference
(SD&A) enjoyed its twentieth anniversary! Twenty years, imagine that! What is amazing is that their twentieth year mark coincides with the mass market interest in stereoscopic 3D technology.
SD&A 2009 Banquet
Introducing SD&A 2009
For those unfamiliar, SD&A is very much an academic conference. While others put more of a focus on the marketing and positioning of 3D, SD&A holds more of an appeal to the theorists who are interested in determining the best way to make a stereoscopic 3D experience possible and to discover novel ways of using the technology. I will be the first to tell you that much of what is discussed at the conference is far above my level of expertise.
However, here are some highlights I would like to share with you:
Lenny Lipton, the Chief Technology Officer of RealD, gave a very informative keynote address at the conference. I was regretful that circumstances didn't give me the opportunity to stay through the entire presentation because he is a charismatic and fascinating speaker, and he is the man who invented LCD shutter glasses via the original CrystalEyes brand name.
From left to right, Ray Zone, Ian McDowall, Perry Hoberman, Lenny Lipton, Lanny Smoot
Dinner With Lenny
However, life has a funny way of working out. Pam Swartz (one of our writers) and I were honored to be invited to dinner by
Bernard Mendiburu
. Bernard's continually growing S-3D career includes being the lead Stereographer at Dreamworks Animation, Stereoscopic Layout Artist at Disney Feature Animation, and most recently, Chief Technology Officer for Trioviz, an updated anaglyph solution.
Little did we know that the table would be filled with the greats of modern stereoscopic 3D technology: Lenny Lipton, Ray Zone (THE Ray Zone), Perry Hoberman (Associate Research Professor, School of Cinematic Arts), Sebastian Sylwyan (AutoDesk), Jason Goodman (21st Century 3D), and Bernard of course.
While I stayed quiet during dinner, a debate ensued about whether or not video games can be considered art. Bernard suggested that unless the experience changes you somehow, it is just entertainment. Lenny was quiet during the debate, and would speak selectively. Imagine my surprise when he asked about the NVIDIA 3D solution, talked about how his kids love Grand Theft Auto, and expressed the artistic qualities of Spore. This was a high point of our trip.
Ray Zone is famous for his work in 3D comic books and converting comics to stereoscopic 3D. He had a story to share about the wisdom of not announcing doing things first. Using the example of someone who falsely claimed to have the first stereoscopic 3D tattoo, no matter how much you think you are first at something...more likely it is not the case.
Sebastian was the trouble maker of the group and was the one who started the debate in the first place.
Collin Brack & The Chick Magnet
We had the privilege of meeting Collin Brack who is both an active MTBS member, and clearly a brilliant stereographer.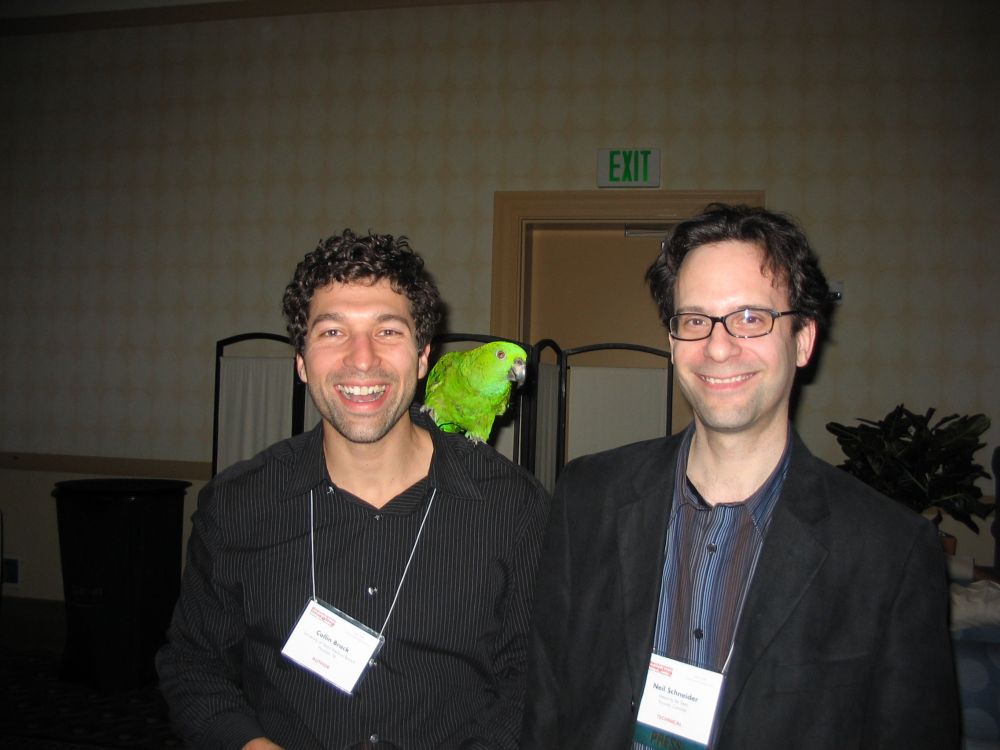 Collin Brack, Manager Software Systems Programming (left),
Neil Schneider, President & CEO of Meant to be Seen (right),
Biggest Chick Magnet in the Room (middle)
The above picture was taken at the SD&A gaming showcase. He has a medical specialty, and discovered a way to use S-3D to cut back on unnecessary CT scans. His group focused on a specific type of cancer that grows above the skin. When it is kept in check, it can be resolved through surgery, but sometimes can grow beyond that point.
Treatment requires a measure of size and volume. Originally, CT scans were used, but their downside is the patient has to absorb an unusually high amount of radiation compared to normal X-rays, and if this can be avoided, all the better. Collin devised a method to photograph the tumor in stereoscopic 3D, and the final image gives an accurate representation of everything the doctors need without having to take X-rays. Very innovative! Collin was one of the poster presenters at SD&A.
The parrot...he was just the party animal.
The Killer Video Game Panel
SD&A Panel: 3D Gaming - What's it going to take to go big time?
Against Ray Zone's wisdom, and to the best of my knowledge, this was the first time all the competing driver developers were at the same table. The panelists included from left to right:
Neil Schneider, President & CEO of Meant to be Seen (Moderator)
Bob Eminian, Chief Marketing Officer for iZ3D Inc.
Andrew Fear, Product Manager for NVIDIA GeForce 3D Vision
Julien Flack, Chief Technology Officer for DDD
Chris Ward, Lightspeed Design Inc.
Let me explain the significance of this for those unfamiliar:
iZ3D
makes stereoscopic 3D monitors. In addition to being very well received, they also write stereoscopic 3D display drivers that work on both NVIDIA and ATI graphics cards and support iZ3D, interlaced, and DLP checkerboard solutions.
NVIDIA
just launched their own brand of LCD shutter glasses and software that work with their class of GPUs, and most high refresh rate (120Hz or better) displays. They also work with DLP checkerboard and CRT solutions.
DDD
has their own Tridef stereoscopic 3D driver solution too, and they also have a 2D/3D conversion algorithm that has been implemented in several 3D HDTV solutions.
Lightspeed Design
makes the DepthQ 3D Projector. Chris Ward was a good addition to the mix because he is more selective in his market expectations in gaming.
For myself, I was very nervous about this panel. For days, I was concerned about how the panel delegates would respond to each other. Would they throw potshots at each other, or would they seek out the bigger picture? Would they spend ten minutes each side-stepping the questions and talking about their products, or would they focus on the challenge of earning the buy-in from customers and acknowledging their responsibilities in making the industry work?
First, all the presenters were in agreement that educating the customers are key. Either through retail or online, understanding and experiencing the benefits that stereoscopic 3D has to offer is very important. It was also understood that gaming is the first avenue in the home, and will be the driving force behind creating the demand and customer base necessary for at-home S-3D cinema to take off.
Chris Ward of Lightspeed Design shared an insight which was very well received. He raised a plastic guitar in front of the audience, and remarked that Guitar Hero sold fourteen million copies. "This is our future," he said. His logic was if the industry can sell millions of these guitars, what's stopping stereoscopic 3D from selling millions of glasses?
In contrast, while NVIDIA, iZ3D, and DDD are positioning themselves more as a mass market experience, Chris sees stereoscopic 3D also being far more premium gamer oriented. It makes sense because you can't dispute the big screen S-3D gaming experience projectors offer!
For me, what I was most pleased about had less to do with how the questions were answered, but more to do with the consistency of the answers. After Bob Eminian from iZ3D would answer a question, Andrew Fear of NVIDIA would answer almost the same way, and then the rest of the table would also fall in line. It got to the point where Andrew half jokingly said "Why do I have to answer after Bob all the time! I can't come up with new answers!"
This is the best part - the most important part. I asked the table: "In the interests of growing the industry and your products' success, do you think you can cooperate with each other on something more long term for 3D gaming that goes beyond this table? Why or why not?"
Bob Eminian of iZ3D said "We want to be around next year, and the only way to make that happen is to work together, so yes." (paraphrasing)
Andrew Fear of NVIDIA said "We also want to be here next year, so yes."
"We also want to be here next year, so yes", said Julien Flack of DDD.
"Yes," said Chris Ward, President of LightSpeed Design.
After some Q&A from the audience, it was clear that the room was floored. I was floored. Andrew Woods, the Co-Chair of the Stereoscopic Displays & Applications Conference had to prod me along to conclude the panel. Everything I was worried would happen didn't happen, and I think our industry should feel very proud of what was shared that day.
This begs the question...what now? Will the words translate into deeds?
MTBS has reached out to NVIDIA, Lightspeed Design and DDD. Other companies have expressed an interest in working with MTBS too. It doesn't take much to make a very big difference, and we are all clearly on the same side of the fence. Let's all make a point to be around next year.
A video of the panel was made, and I will share it with you as soon as it is available. Share your thoughts on this report
in our discussion forums
.