By Neil Schneider
2009 is just around the corner, and I'd like to take a minute to put 2008 in perspective.
I think 2008 was the year of the shake out and shape up. The "shake out" happened when NVIDIA changed their business strategy and decided to go proprietary with licensable S-3D drivers that only worked with direct partner solutions. Their 2009 step is going to be compatibility with high refresh rate solutions that are compatible with their own proprietary LCD shutter glasses.
For those unfamiliar, NVIDIA was first famous in the 3D community for supporting literally all the available S-3D solutions on the market at no cost to the manufacturers or the end users. LCD shutter glasses, HMDs, dual projectors and more were all taken off the support list. It was not a popular move at all, and 2008 had a very rocky beginning because of this. However, MTBS has always maintained the position that our industry needs to move forward, and 3D gaming needed a modern look and solution base to become successful.
The "shape up" credit is widely spread:
iZ3D LLC has taken on additional investors, and their monitors and drivers continue to earn popularity. They are actively working on ways to support the old school 3D solutions on the market, and are publicly beta testing a way to further improve monitor image quality through special glasses. Perhaps most impressive of all is they are now being sold and distributed through popular retail outlets as well as online which is no small feat.
iZ3D will be demonstrating several prototypes at CES including a a console compatible version, a 26″ unit, and a special flight simulator rig.

In 2008, AMD seemed to jump into the market kicking and screaming this year with their 4800 series graphics cards. We will see how they shape up in 2009 as their competitor tries to reclaim the top performance spot, but despite their financial challenges, it was a great product year for them in the GPU market. Most important of all, they have not only acknowledged stereoscopic 3D gaming in 2008 – they embraced it!
AMD developed a business relationship with iZ3D LLC, and while we will have to wait and see what comes to fruition from this, they are already joining forces by offering special rebate programs for ATI graphics card owners to get a $50 rebate on iZ3D monitor purchases. They have also contributed much needed equipment to MTBS for testing purposes.
NVIDIA made the shape up list too. They are releasing a 3D product with their own brand name and software, and have started to reach out to the community through MTBS – a first for NVIDIA. Andrew Fear invited MTBS to check them out at CES, so we will report back ASAP. Currently, their solution is expected to work with DLP and high refresh rate displays (e.g. Viewsonic, Samsung, etc.)
2008 was a very good year for generating interest in stereoscopic 3D gaming by game developers directly. At CES in January, we announced Unigine as the first game engine to natively support stereoscopic 3D technology without the need for a driver complete with an MTBS Native certification. This was later followed by The Game Creators implementing support in DarkBASIC Professional with more software add-ons to follow.

Mark Rein, VP and Co-Founder of Epic Games and
Neil Schneider, President & CEO of Meant to be Seen
Mark Rein of Epic Games joined MTBS center stage at SIGGRAPH to demonstrate Unreal Tournament 3 on a RealD projection system, and also accepted an MTBS Certification. A big turn-around from the often misquoted "that's dumb" remark he made about 3D that circled the Internet just a few weeks prior.

Andrew Oliver (left), Chief Technology Officer, and Richard Smithies (right),
Chief Financial Officer of Blitz Games Studios, first S-3D Console Game Developers
At the 3D Entertainment Summit, Blitz Games Studios demonstrated the first console games running in S-3D on both XBOX and PS3. We all know about the anticipated steps to follow, so 2009 looks very exciting indeed.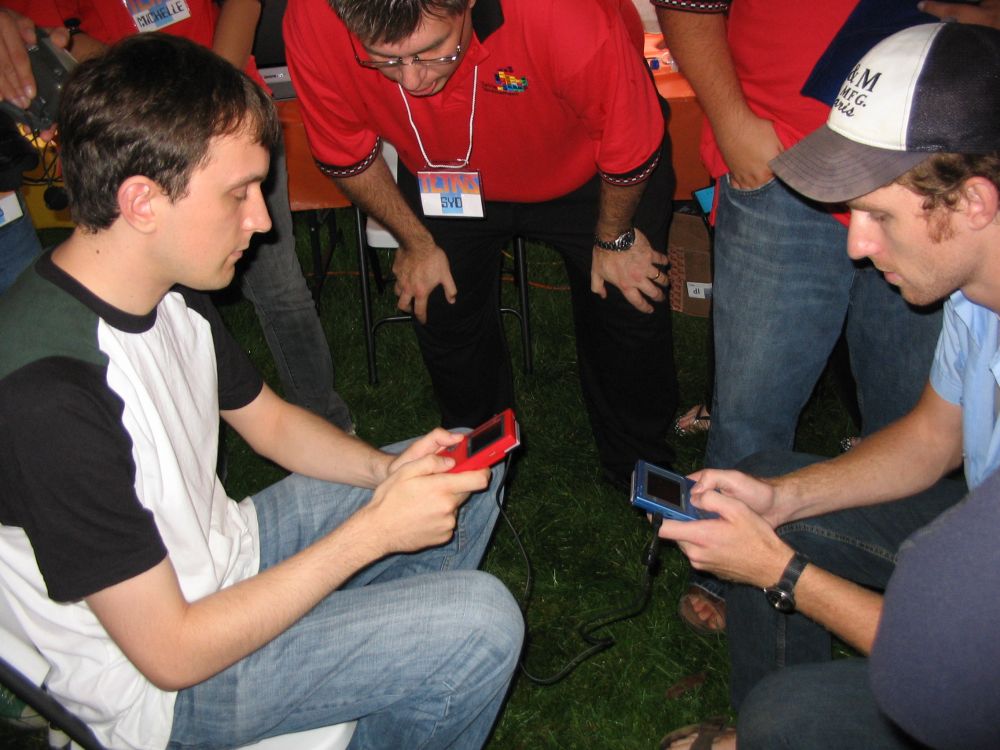 Eric Taylor & Matt Dafoe Fighting For the Top Spot!
Here at MTBS, we helped the Personal Computer Museum set the Guinness World Record for Tetris Tournament participants, and helped Hill Thompson launch Photoforms, a free 2D to 3D photo conversion software program for end users.
2008 marked the year MTBS took on a professional look thanks to Igor Masin, Pam Swartz, and Cris Villallobos. We even launched a Massively Multiplayer Online Game called MTBS Nations at War which is being updated and relaunched in 2009.
While the full results will be available in 2009, the industry got the smoking gun it needed to demonstrate stereoscopic 3D demand in gaming through the U-DECIDE Initiative. It also marked the first cooperation between manufacturers, game developers, and end customers to move the S-3D industry forward in a joint manner.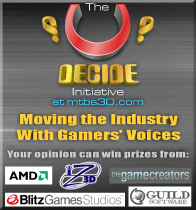 If you haven't completed the survey yet, please do so now. There are nearly 60 prizes up for grabs including iZ3D 3D monitors, ATI GPUs, and video games by The Game Creators, Guild Software, and Blitz Games Studios. Every opinion counts!
While we have a lot of work to do to grow the community, we are very pleased to report that we set a new traffic record this year of over 26,000 unique visitors in a single month. Our forums will be hitting 20,000 posts soon, and we have more than doubled our registered membership count since last year. Still, this is only a modest beginning of the direction we need to go.
That said, I predict exciting things in 2009 for the 3D entertainment market. Happy New Year to everyone, and thank you for your continued support.