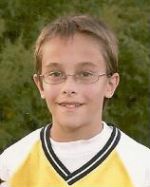 Eli Fihn is a gaming enthusiast who has become intrigued by the capabilities offered by 3D gaming. He is currently an 11-year-old who is home-schooled in central Texas. In addition to gaming, he enjoys soccer, swimming, reading, and playing with his friends. Eli is a contributor to the "3rd Dimension" newsletter put out by Veritas et Visus, and we are pleased to add his writing talent to our flock!
My favorite activity is playing games such as "Halo: Combat Evolved" and "Crysis". My parents would prefer that I play educational games, but for some reason educational games bore me (and most other 11-year-old boys, I think). My father recently got his hands on an iZ3D 22-inch monitor, and I will be discussing how the 3D performance makes the games I play more enjoyable.
Setting up the iZ3D monitor was a simple process, although "simple" describes our ignorance. After we got the monitor, all day long I was very excited to start playing games in 3D. We hooked the monitor up to a new computer recently bought just for the monitor, but it didn't work in 3D mode! The computer had two video outputs, as required by the monitor, but one of them was an HDMI port. The iZ3D monitor requires a graphics card with either two DVI ports or a DVI and VGA port, but HDMI is not yet supported. We brought that computer back, and got a Gateway GM5664 with two DVI outputs. But it still didn't work. We tried almost everything we could think of. After nearly two days, (and lots of frustration, although thankfully the monitor looks great in 2D-mode), we finally figured out that the iZ3D Drivers that came with the monitor were outdated. It was a simple matter to get updated Drivers – and we now have great 3D!
The amazing part about 3D gaming is that you seem (even more) indulged into the game. You get the feeling that you stepped right through the monitor, onto the playing field. I admit the first time I played "Halo: Combat Evolved" in 2D, I was disappointed. But when I turned on the 3D, put on the glasses, and started the game, I was jumping out of my chair with excitement. The 3D adds a whole new element into the gameplay.
One of the downsides to using 3D includes lower frame rates. Using "Halo: CE" as a test game, I used Xfire in-game diagnostics (http://www.xfire.com) and discovered that when 3D is turned on, the frame rate Dropped from 30fps to 10fps. I changed all the settings to either off or low, and found the same result. This can render some very detailed games such as "Crysis" or "BioShock" almost unplayable (at least until I convince my dad to buy a more powerful system). The computer I use has only 256MB of video memory, probably adding to the slower frame rates.
I've only been using the iZ3D monitor in 3D-mode for a day now. In the future, I plan to write about my 3D gaming experiences – both the positive and the negative. For now, I just want to say that 3D definitely makes the game more exciting and adds value to the entire experience. If you have any ideas about what you'd like me to write about, please let me know.
MTBS NOTE: Post your thoughts on this editorial HERE. Help Eli get the best experience possible, and share some writing ideas to help him get started.