Hello everyone!
I don't have to tell you that stereoscopic 3D (S-3D) gaming has an exciting future. Gamers who try it like it, we are starting to see the gaming industry take an active interest in S-3D, and Hollywood cinema is giving our industry a positive shot in the arm.
As with a lot of things in the news, one of our biggest challenges is the media. Stereoscopic 3D has a learning curve to get the best results, and one bad review or misunderstanding by a rushed journalist or product reviewer is all it takes to seriously hamper our efforts.
I'd like to point out some examples.
Sample 1:
G4 iZ3D Review (Video), Or Is It?
What's wrong with this review? First, they obviously have no clue how to adjust a game for S-3D. S-3D is not simply about separating two images. You need to attain a separation and convergence balance, and to do that, you need to understand how S-3D works. This is not a steep learning curve at all, but without it, you will not attain an impressive 3D result.
Second, perhaps the worst indicator of all, the application they are demonstrating the monitor with DOES NOT WORK IN S-3D!!! Why are they running it?!??
Third, SLI is required? NOT! I started running this monitor with a 7600GT, then a 7900GTX, and now an 8800GTS 512. SLI or cooperative GPU support is a plus, but not a requirement. They really don't know their market.
Sample 2:
iZ3D Monitor Deteriorates Into Misery Over the Final Product?!?
I already wrote about this review. So many words, so little value. Nothing about the 3D experience, nothing about the gaming immersion and experience. Just complaints about a drop in frames per second with desktop equipment that is too far out of date for reviewing modern games in 2D, let alone 3D.
Sample 3:
Least Worst 3D Gaming Display?!?
Our members brought this one up. I said it before, and I'll say it again: a complete waste of bandwidth and screen pixels. I don't mind a bad review, but Michael McWhertor, if that's his real name, clearly had little intention of offering up a real review, and his only goal was to cause harm to help boost traffic to his otherwise indistinguishable website.
Remarks about slow traffic at the Zalman booth on the 4th day at CES. Who is honestly around on the 4th day of CES?!?? I was there for the first three, and the Zalman booth was 100% busy. Too busy for even me to get a good photo opp. Well, maybe one or two: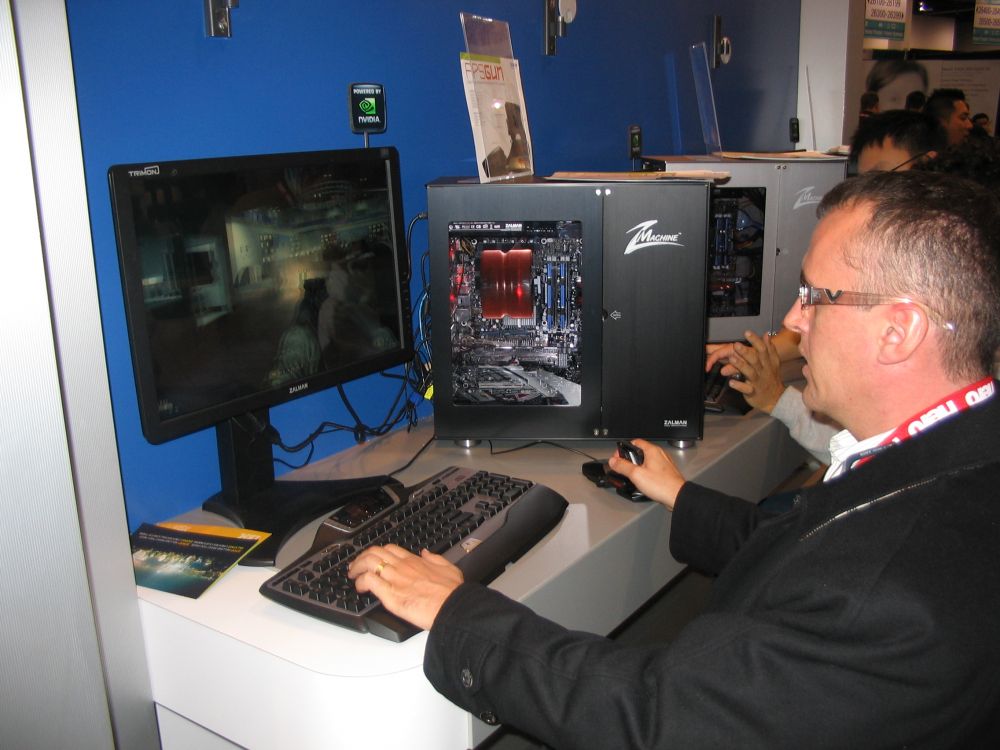 See?!?? Very Busy Zalman Booth! Lineups To Try the Monitor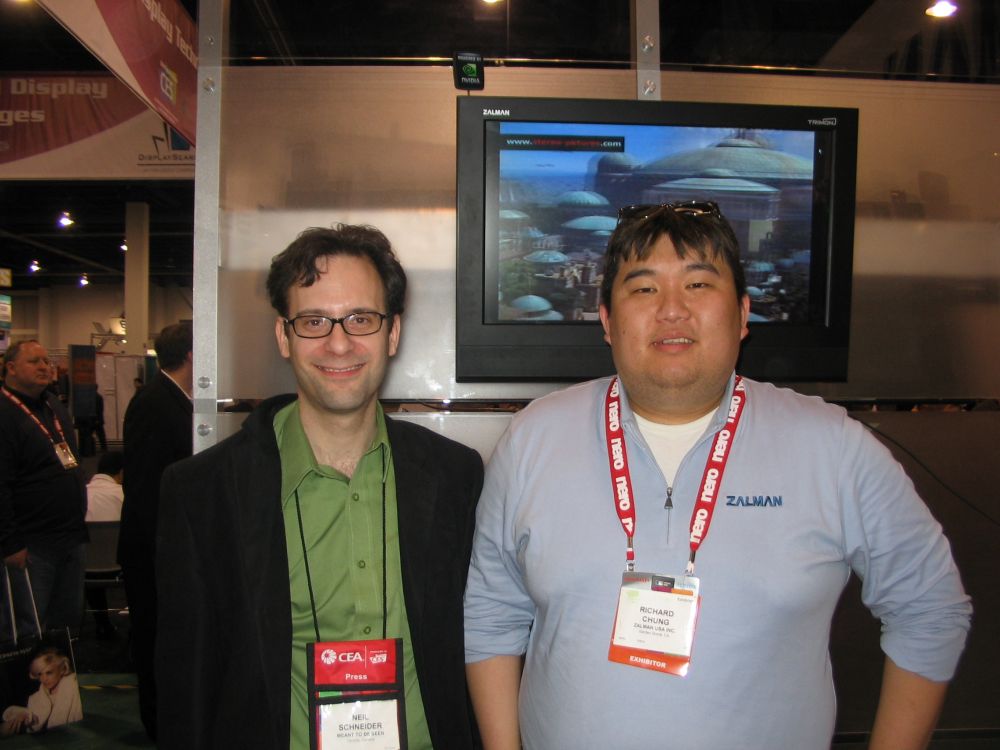 Neil Schneider (President of MTBS) left, Richard Chung (Product Specialist, Zalman) right
So, what are we going to do about this?
Well, first off, it's not always the reviewers fault. Some of them sincerely tried by contacting manufacturers for help, and who knows what games they tested or how their expectations were set. Up until recently, the secrets of good S-3D gaming have been known only by a chosen few ("When you can grab these polarized glasses out of my hand, Little Player, only then will you be a master of S-3D gaming").
These aren't even reviews! They are at best guesses and assumptions based on things the reviewers don't even understand. We need to change that, and quickly.
Therefore, we are going to build a special MTBS section to educate reviewers and consumers on how to properly use stereoscopic 3D equipment, what to look out for, and how to cut out unnecessary frustration. Once the section is up, I am hopeful the manufacturers will direct reviewers here before they even think about putting pen to paper for a circulated review. As it stands, these reviewers are doing a disservice to the industry and most importantly, their readers.
There will be no excuse for reviews like these when the proper tools are in place.
Post your comments HERE.