If you don't have a 3D display, choose "no glasses" and "left image only" in the YouTube 3D viewing options.
At E3 Expo, MTBS shared news (shown above) that ImmersiON and VRelia are joining forces on a new line of head mounted displays. This news was formalized in a press release last Wednesday, but there is far more to the story than meets the eye…er…eyes. MTBS again caught up with Manuel Gutierrez after E3 Expo to get more info and to clear up some of the confusion around the branding and company history. Here goes!
The Relationship to TDVision Corp.
TDVision Corp. has a long history that predates Meant to be Seen. Manuel R. Gutierrez founded the company in Mexico in 2001, and in the US in 2003.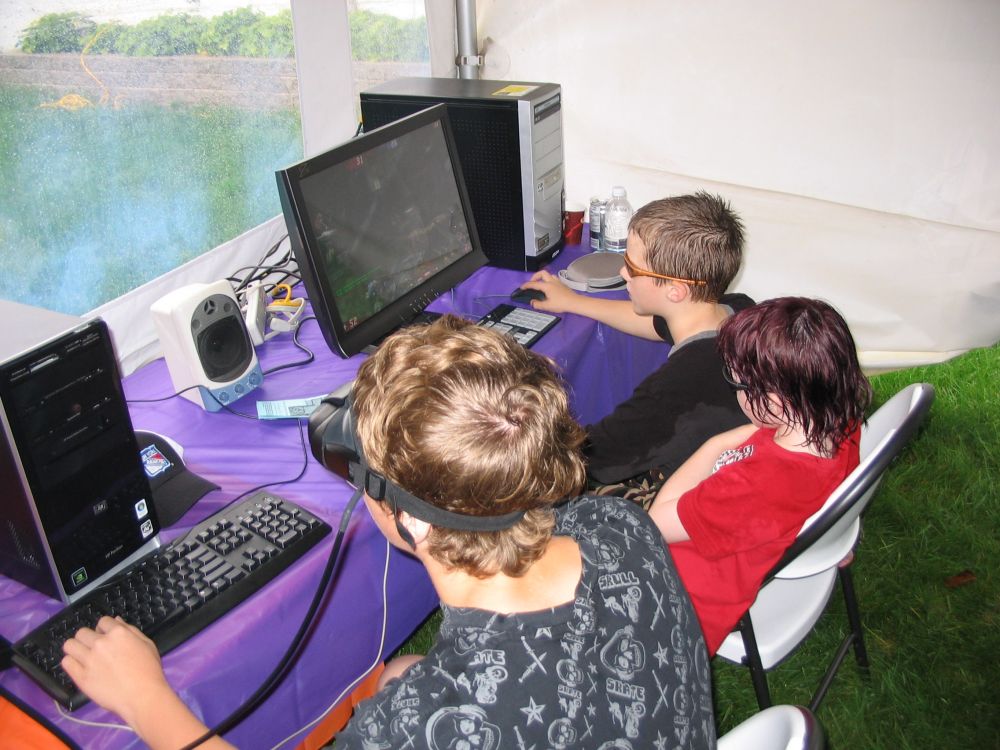 It is true that they were trying to enter the head mounted display market several years ago. Their early HMD prototypes did exist – we know because MTBS still has one! 😉 According to Manuel, TDVision sold hundreds of these prototype/devkit units to the Military.
TDVision had developed infrastructure from acquisition (TDVCam), encoding, gaming, decoding and visualization (TDVisor), and they realized the importance of having enough content to drive the interest. They decided to focus most of their energies into the Codec and their place in the 3D Bluray standard.
TDVision figured that if there was no content, then there was no point in releasing their HMD. There was also the preference of some of the movie studios to stick with the "TV family experience" instead of moving to a "personal device", and this forced TDVision Corp to focus on driving 3D televisions instead of head mounted displays. Game developers were equally hesitant to support stereoscopic 3D through head-mounts, so further TDVisor development was put off until later.
With the advent of HMDs by Oculus, Sony, Technical Illusions and others, the industry interest has changed, and the conditions and the technology are clearly ready to embrace VR on HMDs, HUDs and wearables. Manuel decided to relaunch the HMD initiative under a new company: ImmersiON. After some key strategic meetings, it was possible to match the ImmersiON roadmap with VRelia's development to create ImmersiON-VRelia.
The ImmersiON-VRelia Roadmap
Manuel Gutierrez (CEO of ImmersiON) and Jose Antonio García Marín (VRelia's CEO) decided to fuse their initiatives into one single partnership.
ImmersiON and VRelia are officially partnered and acting as one to create HMDs together. While this partnership was originally framed as focusing on the professional market, they are working together in the consumer space as well.
First, they are developing a smartphone based HMD called the "GO version" – a snap-on accessory that uses the cellphone screen and tracking. However, this article focused on getting info on the unit(s) called the "PRO Version" because they have their own embedded screens and tracking systems that will be applicable to PC gamers. They are both compatible with nearly all sources, and will work with the ImmersiON AlterSpace application that is in development.
Their roadmap features three classes of head mounted display:
I. Beta Testing Unit (available in 4 to 6 months)
The ImmersiON-VRelia "BT (Beta Tester) units" will be VR-Only devices that require a PC to work. This is for their Early Adoption Program (EAP) or Beta Tester Program (BTP), and the units will be injection moulded – not 3D printed.
The ImmersiON-VRelia "BT unit" will feature 1080p per eye initially and the target is 2K per eye for the follow-up versions. These units will have 120 degree FOV.
The beta units will not feature augmented reality cameras yet, and we didn't discuss connector types or pricing.
II. "PRO G1" (avilable within 6 to 12 months)
This will be the actual "Pro" HMD release, and it will feature augmented reality cameras as showcased in the render. Similar to the beta version, this HMD will connect to any HDMI source including PCs, Tablets and Mobile phones.
This has not been publicized until now, but according to Manuel, they have achieved 160-degree field of view on their workbench.
III. "PRO G2" (available within 12 to 18 months)
The PRO G2 will feature both virtual reality and augmented reality cameras. In addition to having PC connectivity, it will be able to run autonomously with an Android platform and feature connectivity with nearly every format.
Pricing
Even though we were advised of the expected pricing for the "PRO G1" device, all we can say for now is that the units will be directly competitive with other consumer targeted devices – within reason given the nature of the specs.
Positional Tracking
This is where the fun begins. The industry is in agreement that the best VR experiences are those that feature positional tracking which capture the nuances of how your head is positioned relative to your body. Positional tracking represents far more information than what is provided by just capturing the raw head rotations, and this is needed to minimize the chances for motion sickness.
The big players are all using some kind of infrared or optical positioning system which requires that the user is in direct sight of a fixed camera. This means extra hardware and a limited range of movement / a space to work in.
ImmersiON-VRelia wants to achieve the same thing without the need for an external camera, but still maintain near zero latency as is required for a great VR experience. What is their magic bullet?
Do you remember Grush? This is a successfully backed Indiegogo product that features a motion tracked toothbrush. The idea is that the Grush toothbrush will tell parents if their kids have fully brushed their teeth in an entertaining way for children. To work, Grush needs to quickly capture every little movement with little to no latency. Grush's 9DoF motion tracking sensor is an unreleased part, and will be making its VR debut in the ImmersiON-VRelia HMD product lines.
Standards / Formats
The ImmersiON-VRelia HMDs will be using standard connectors and can accept most if not all 3D formats. With the exception of interacting with the head tracker, very little is expected to be proprietary. They are planning to have a direct connection to their Alterspace VR environment for content selection and experience distribution, but this isn't required to make their hardware work.
Final Thoughts
MTBS has been at this a long time now, so we're always concerned about magic pixie dust and vaporware. ImmersiON-VRelia is basically promising the ultimate spec for an affordable price in a relatively short period of time. It's also a lot of work to release one head mounted display let alone several models.
However, let's look at the facts. VRelia has a demonstrated history and was showing impressive prototypes at GDC 2014 that featured high resolution dual panels. Grush exists, and its motion tracker is definitely a plausible tool for making positional tracking work in VR. The owners of ImmersiON have been in business a long time, and we know their VR software tools exist because we had seen them several years ago.
Similar to the other market leaders, it wouldn't surprise us if there is some scheduling slippage. That's just the nature of doing something like this. We also don't know if it's necessary to release so many options so close together. However, having known them for years and having sampled VRelia in person, they've got a real shot at releasing a good VR product.
We'll be getting a beta unit as soon as it's available, and look forward to reporting back.