By Neil Schneider

Introduction
While AMD is not in the business of making 3D glasses or displays, the Samsung Syncmaster S23A750D is an important part of their ecosystem because it helps them demonstrate that their GPUs are every bit as competitive as Nvidia's, and promotes the potential of industry-backed standards.  Formerly an Nvidia partner, Samsung's latest 3D display is not Nvidia 3D Vision compatible, so there are probably some politics attached to this product as well.  How does it stack up as a 3D gaming display?  Today we find out!
This is the first time I'm personally writing a review like this, so you will forgive me if it's not filled with colorful spectrum graphs and such – that's just beyond me.  However, I've seen a lot of displays over the years, and I'm hopeful that what I share will be helpful in your buying process.
Throughout this review, you will find pictures of games captured with my stereoscopic 3D camera through the Samsung glasses.  The images are much grainier than what you would actually see, but they do give a fair assessment of the crosstalk you can expect while using the solution in 3D mode.  Nearly all the images are in cross-eyed mode which means the left eye is on the right, and the right eye is on the left.
The first inescapable remark I would say about the Samsung is that it has a very sleek and polished design.  It's a one piece unit which requires no assembly beyond plugging in the cables.  Instead of having hard-press buttons, the bezel has a touch sensitive surface for accessing the menus and core display features.
At 23", it's a little smaller than the 24" displays I've grown accustomed to, but good things come in small packages!  Behind the bezel are DisplayPort 1.2 (DP), HDMI 1.4, power, and audio-out connectors.  Unlike other displays which require you to unnaturally plug connectors bottom-up, this is much easier to access.
Featuring a 1920X1080P panel with LED backlight, this is the brightest unit I have come across to date.  The colors are so rich and clear, I can find little fault in the display.  There was a dead pixel in my review unit, but that's normal in most cases.
For those that can spot the difference, 2D mode has 120Hz functionality which makes animation and movement seem smoother than it would at the standard 60Hz rate.  This functionality is only available when your PC is connected through the DisplayPort connector.  HDMI users are limited to 60Hz.
One of the challenges with LCD panels is if you aren't seated directly in front of them, the color profile or visual characteristics can change.  In the advanced features of the display, Samsung has a proprietary "Magic" menu which offers special settings to adjust according to where or how you are seated in front of the display.  I haven't found the settings particularly useful because I'm always seated properly, but they are there if you need them.  Settings that do matter are the color tone options, though I find they benefit the 2D operation more than anything else.
The S23A750D comes with one pair of LCD shutter glasses.  I wear glasses all the time, so anyone concerned about wearing these on top of their regular pair have nothing to worry about.  I found them to be comfortable and aren't distracting.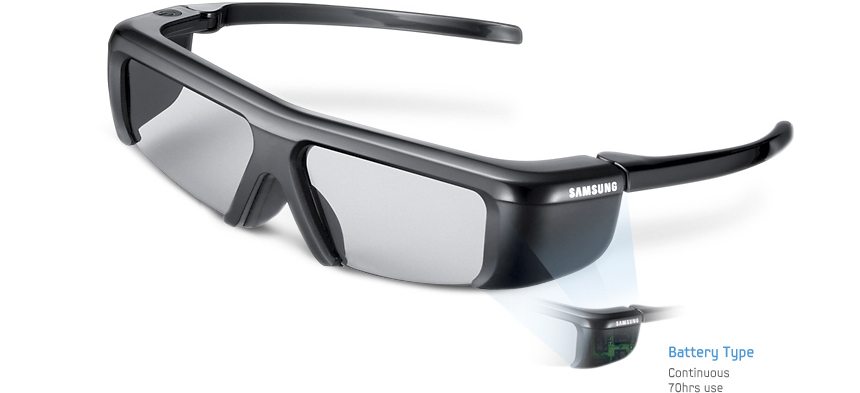 The glasses are based on Bluetooth which is a big deal.  I regularly run 3D exhibits, and it's a big problem if there are multiple pairs of shutter glasses on the table with different displays because they can interfere with each other.  In this case, the glasses sync up with one display and one display only (even when there is more than one Samsung on the table).
While they aren't rechargeable, the 2025 battery should give you about 70 hours of life per round.  Since the glasses are based on Bluetooth, this also limits you to the Samsung Syncmaster branded glasses as third party manufacturers won't be able to sync up.  According to Samsung, it's a whopping $60 to get an extra pair of glasses (yes, I'm being sarcastic…just $60 for glasses).
For those unfamiliar, LCD shutter glasses are transparent LCD panels.  When active, the lenses change from transparent to black to block out all the light.  So, when the left eye is black, the right eye is transparent, when the right eye is black, the left eye is transparent.  Meanwhile, the display is alternating the left/right image in tandem: left, right, left, right, etc.  This process happens so fast (120 times per second), that your brain can't detect what is happening, and instead sees a stereoscopic 3D image.
There are slightly different methods for this.  For example, some use a double flash technique that cuts the brightness down further, but also reduces the level of crosstalk.
In the case of Samsung, their goal was to let as much light through so that the difference in brightness between glasses and no-glasses viewing would be slim.  It's a very complex algorithm, but from what I gather, it looks something like this (credit to X-Bit labs for mapping this out):
Left eye and right eye is open.
LCD shows nothing.
LCD shows right image, right lens stays open, left lens suddenly goes black.
LCD shows nothing, right lens stays open, left lens opens again.
LCD shows left image, right lens closes, left lens stays open.
LCD shows nothing, right lens opens again, left lens stays open.
Process repeats
In the case of the S23A750D, the result is very positive in more ways than one.  First, the level of crosstalk is minimal – and I will explain how to get the best results in that area shortly.  The second benefit is when the monitor is in 3D mode, the difference in brightness when the glasses are on and off is miniscule, and I don't think fellow gamers will complain.

There is a tradeoff, however!  In 2D mode, the Samsung has vibrant color and you can't help but be impressed.  In 3D mode, even with the glasses off, there is a sudden blandness to the picture quality.  I think Samsung is trying to use a ghost busting technique where they cut down on some of this richness and contrast in favor of less crosstalk between the left and right images in 3D mode.  It's a definite tradeoff, but it's acceptable given the clarity and comfort in what you see.  Also, while the difference in brightness between glasses on and off is very low, it's also a little deceiving.  Once the monitor is in 3D mode, the whole brightness of the screen seems to dim down, and is not the same fireball it is when using it in standard 2D mode.
MTBS needs to develop something more independent and less branded, but for now, we used DDD's 3D image test to do a quick comparison of the crosstalk in the left and right eye.  The above image isn't in cross-eyed mode, so the left really is the left, and the right really is the right.  This was taken with my 3D camera, and I can confirm that the image is correct in showing that there is more crosstalk in the right eye than there is in the left in very high contrast scenarios.
I have included cross-eyed images of games taken from the 3D camera throughout this review, and I think they demonstrate that in real-life scenarios, the amount of ghosting is extremely limited even in the most challenging scenarios.
The Samsung features on-the-fly 2D/3D conversion that extrapolates a left/right view based on visual cues.  I have never been a strong proponent of 2D/3D conversion because it isn't nearly as good as properly rendered stereoscopic 3D material, and I don't want gamers to think that it's a replacement for the real thing.
That said, it's not bad.  I'm taking an educated guess that Samsung's implementation is based on DDD's conversion algorithm, though it isn't as complete.  For example, with the TriDef player, you can control depth as well as out of screen effects – but the conversion in the monitor only has a depth adjustment.
It's a good add-on feature if you are watching from sources that don't have the ability to do 2D/3D conversions.  Good examples could be a standard DVD or Blu-ray player, a console game, or maybe even a straight feed from your camera to the display.  It's a mixed bag of results, so you will have to experiment on your own.
The S23A750D has some quirks for sure.  First, some adjustments need to be done before you go into 3D mode.  Once in 3D, a lot of settings will be locked out, and it's a pain to have to go back every time.  I also found that in rare instances, I will get an error message in Windows 7 that my display mode isn't being recognized properly in my desktop – and this seems to happen without real cause or warning.
For those looking for the best results,  change the monitor's response time from "fast" to "normal" before going into 3D mode.  The faster the response time, the more ghosting you will see.  Changing to "normal" won't negatively impact the brightness, and the ghosting will be reduced to almost nothing.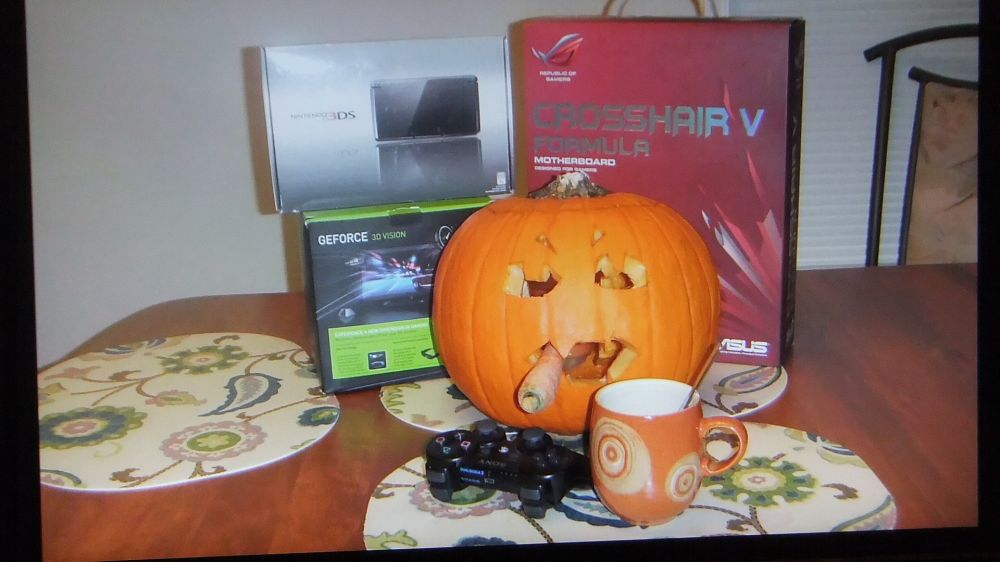 I also mentioned before that the 3D mode loses some luster compared to the 2D equivalent.  While I tried to demonstrate this with the above pictures, it's a lot more pronounced in person.  I would have liked to see more options in the display to compensate for this.  The good news is that while the monitor's color settings don't add much in 3D mode, PC users can create a custom color profile in the AMD Catalyst driver.  The result won't be perfect, and it will take a lot of experimentation on your part, but the image can be improved by reducing the color temperature setting and/or increasing the saturation levels within the graphics driver.  I have not seen an increase in crosstalk when doing this, so no harm done.
To make things a little easier, you can put the monitor in 3D mode first by pressing the "3D" button and forcing a "Pageflip" mode.  It doesn't require software to be running, and it will let you adjust according to what you see on the screen.
The software of choice for the Samsung is DDD's TriDef Ignition drivers.  The only way you can get 1920X1080PX60FPS per eye is through  the DisplayPort connector.  At this time, DP is primarily supported by AMD graphics cards, which means the drivers of choice will either be DDD or iZ3D.

I'm not going to go into a stereoscopic 3D driver review because that's more a measure of existing game compatibility, and readers can learn more about that with GameGrade3D.com.  From the point of view of ease of use, the latest round of drivers from TriDef immediately recognized the Samsung display, and I haven't had any major problems to report on.  It's more the little things that set things back.
For example, the default TriDef media player just recently added side by side (SBS) support.  This is great, because SBS is the defacto industry standard for 3D pictures on the Internet.  Unfortunately, it's not yet possible to make side by side the default 3D format for viewing in their player.  For example, I can view one image in 3D, but the moment I change pictures, I have to reselect the side by side mode every time.  The remaining option is to rename my 3D pictures with a hyphenated side by side indicator so the program would recognize the format.  I think it can be a lot easier than this.
I contacted DDD about my experience, and I'm hoping future revisions of their player will be more convenient in this area.  I don't think it's a major change to an otherwise excellent player.
The good news is MTBS' friend Kirill Gavrilov heard my request (my plea!) to add HD3D support to sView – his freeware 3D viewer/player.  It's still in the alpha stages, but it has already made my life a million times easier by giving me fast access to my side by side images.
I rearranged a lot of computer equipment to test this out, and I'm very disappointed to report that I couldn't get this monitor to work with Nvidia's 3DTV Play software.  I get an error at the point of driver install, and as I already have a set of Nvidia GeForce 3D Vision glasses, it isn't a licensing issue.
I reached out to the Nvidia team for some kind of explanation or fix for the bug, and even delayed releasing this review so they had an opportunity to send some kind of reply – but I haven't heard back.
It's public knowledge that Samsung had no intention of getting direct support from Nvidia for their latest round of displays, and that was set in stone when they limited connections to DisplayPort for 1080P 3D gaming.  However, HDMI 1.4 is supposed to be an established standard, and it's unclear why the display isn't working in this mode with Nvidia's 3DTV solution.  I think it would be a competitive advantage for Nvidia software to support all HDMI 1.4 devices, and I'm hoping a fix will come down the pipe eventually.
EDIT: We just received an email from Nvidia with an official response:
"NVIDIA has an extensive 3D ecosystem of products, offering users lots of choices. We support 3D monitors using our 3D Vision products and HDMI 1.4 3D TVs with 3DTV Play.
The current Samsung 3D monitors are not NVIDIA 3D Vision Ready certified and are not supported by NVIDIA 3D Vision or 3DTV Play software. NVIDIA recommends 3D Vision Ready, tuned and certified monitors from Asus, Acer, Alienware, Viewsonic, Planar and BenQ for the best 3D quality and game compatibility." – Andrew Fear, Senior Product Manager (Nvidia 3D Vision)
Say what you will about Sony and their take-all own-all approach, their console works in 3D on every HDMI 1.4 display we have tested – including the Samsung S23A750D monitor.  In fact, my first run with this was at Digifest and X-Summit a few weeks ago as part of a 3D exhibit.

One thing I like about the display is that you can have two simultaneous inputs and switch between them.  So I could easily have a PC in the DisplayPort connector, the PS3 in the other, and switch between them at the touch of a button.  
One of the big trends in the mobile world is connecting your smart phone or tablet to your TV.  It's great for watching movies or streaming off the Internet without having to bring a whole PC into the living room.
In this case, the Samsung easily recognized my LG Thrill 4G (AKA Optimus 3D), and was able to show my 3D content from the device.  I think there is a real opportunity here for 3D gaming content that can scale to 720P 3D as it makes for an easy mix between display and hardware on a whim.  Is it a practical option?  As the games and technology gets better, there could be a real future in this.
Having used this display for some time, and having had the opportunity to show it off at exhibits, I think this is one fine piece of equipment.  It's definitely brighter than what I have grown accustomed to in shutter glasses, and the crosstalk is negligible.

I don't know if it's possible for Samsung to issue a firmware update for a display after its on store shelves, but there are some bugs that could be ironed out.  It won't hamper your enjoyment of the display, though it's odd to find bugs in equipment like this.
The biggest challenge with the hardware is its available software support.  TriDef is doing a great job and AMD is pushing their standards with success.  It's just that there are some basics that need to be developed further like being able to capture 3D screenshots in HD3D games, or having to wait for easy side by side compatibility which has been a standard for years.  These are all short term hurdles, mind you – but they do need to be acknowledged and solved.
All things being equal, AMD users can't fail with the Samsung Syncmaster S23A750D as it delivers a rewarding 3D gaming experience.  Nvidia told us that they are planning on sending us their Nvidia 3D Vision 2 glasses and display to cover their side of the 3D camp, and we are looking forward to putting it through a new battery of tests!  In the meantime, please share your remarks below.