By Neil Schneider
I like to think of myself as a gadget guy.  After starting with a series of simple generic devices to store my address book, I later upgraded to Palm Pilots, and by accident, I ended up owning a third generation iPod Touch.  The iPod started as a required purchase for speaking at a conference, and I just liked it so much, I couldn't part with it.  While I'm big on the PDAs, I never chased down a fancy cell phone or smartphone because outside of the occasional emergency or when I travel to the US and need to be reached on the go, my needs aren't that great.
Over the past few months, there has been a lot of talk about 3D smartphones by LG Electronics and HTC – and with good reason.  Most of these devices are glasses free, and given their portability, they could play an important role in helping make 3D popular through word of mouth.  Now that MTBS has been doing hardware reviews and 3D is becoming an important part of mobile technology, we just had to try some of these gadgets out.
Today, we are reviewing LG's Thrill 4G Smartphone (AKA The Optimus 3D Smartphone).  The Thrill 4G is based on a 4.3" glasses-free parallax barrier 3D screen featuring 480×800 resolution.  Pushing the pixels is a 1GHz dual-core TI OMAP4 chipset and Android 2.2.2.  For the shutterbugs amongst us, the phone also sports two 5MP cameras for either 1080P 2D filming at 24FPS, or 720P 3D filming at 30FPS.  An 8GB mini-SD card comes built in.
Compared to my peashooter iPod Touch, the LG Thrill 4G is huge!  It measures about five inches high, two and a half inches wide, half an inch thick, and weighs close to six ounces.  It's easy to handle and fits well in my jacket or shorts pocket, but it's definitely bulkier than anything I've owned before.  Fortunately, the Thrill 4G compensates by packing a punch.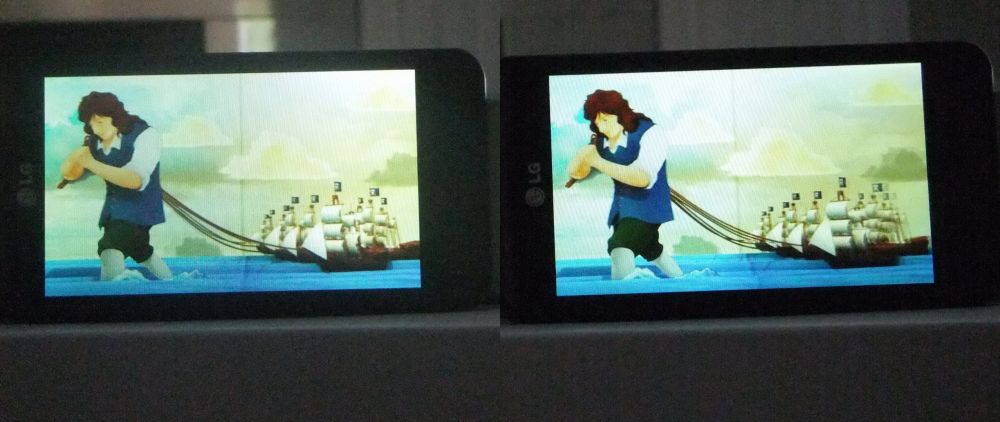 Priced at $99 a piece (with 2 year plan), the phone comes with a charger and mini-HDMI to HDMI connector for viewing content on the big screen.  The out of the box software support is also very good.  Bound to the AT&T Network, it already includes several branded utilities that don't necessarily require AT&T connectivity to use, and Gameloft has a few 3D games bundled with the device.  If that isn't enough for you (and it won't be!), the Android Market makes it far too easy to load your device up with free applications.
While I know this is a hardware review, I think the software support and how well the hardware runs the software is equally if not more important.  Having owned an iPod for a few years and having been surrounded by the snobby Apple enthusiast mentality, I was stunned to see just how much I was missing out with the IOS platform.
My first observation is that Android applications are far closer in features and capabilities to their PC counterparts than they are on the Apple platform.  For example, on the iOS version of Skype, it doesn't let me view or send smileys.  Emailing on iOS is also cumbersome because it doesn't let me use all the features of my webmail provider.  On Droid, Skype looks and feels almost identical to PC with nearly all the same features, and with a special application, I now have the email flexibility I didn't have before.
I know they are making money hand over fist, and Apple can say what it wants about the future of HTML5, but it really hurts their platform when they don't support Adobe Flash.  After being trained to expect the mediocre, it was really cool to see MTBS in mobile form with all the banners showing up the way they should.  In fact, websites looked less like "mobile versions", and appeared much more like their desktop equivalent.
While the box included the cables and phone, I was stumped that it didn't come with a CD of some kind.  With Apple, you have iTunes to back your goods up on your computer.  Where does your data get backed up with Android?  To the cloud, baby!  After confirming a Gmail account, your material gets backed up on a distant server.  You can still connect it to your computer for some things, but the important stuff is actually handled through your Internet connection.
The Thrill 4G has GPS functionality as well, and while the included software requires a subscription fee to use, there are some fun options you can get from the Android Market.  The hardware supports voice recognition, and you can download a free personal assistant named Edwin.  In plain English, you can ask Edwin "Where is the closest movie theater" or "What is the weather like in Toronto", and after doing a quick Google search or accessing other online resources, Edwin will tell you (vocally) what you need to know.  Edwin and I even shared a moment that is posted at the end of this review.
I know that one of the big selling points behind the LG Thrill 4G is that it features a glasses-free stereoscopic 3D screen, but I think its 2D display should be credited first.  While my opinion may change as I see more and more mobile devices, I was immediately impressed with how vibrant and clear the screen was the first time I saw it.  It works well during the day and at night, and includes a power-saving feature that detects the ambient light in the room so it can determine the best mix of image brightness and battery life.
The screen is sleek, and the method used to interact or gesture with the touch screen is almost the same on Android as it is on iOS, so there wasn't a big learning curve involved.
To view in stereoscopic 3D, the display has to be viewed in portrait mode.  What LG did well, they did very well.  Right away, you are blasted with out-of-screen effects to remind you that it's a 3D display, and the interface is designed to accentuate the screen's depth.  As long as objects are small enough or aren't scaled to larger sizes, the graphics don't look blocky or pixilated.  If you are viewing the screen in the sweet spot, there is little to no ghosting or crosstalk between the left and right views.  Move outside the sweet spot – which is too easy to do – and you've got yourself a double-image mess.  While it's a setback that is overcome with practice and steady hands, it exemplifies the limitations of current glasses-free 3D technology.
For me, there is a real practicality to LG's offering.  When people ask about 3D, it's a real downer when I have to tell them they need to have a 3D HDTV or special 3D display to see it.  Or, if I'm in a narcissistic mood and want to show off some of our YouTube 3D videos, it's a pointless exercise because again, I need a special display to show off.  Heck!  Even if I want to show 3D game samples, it's an exercise in futility.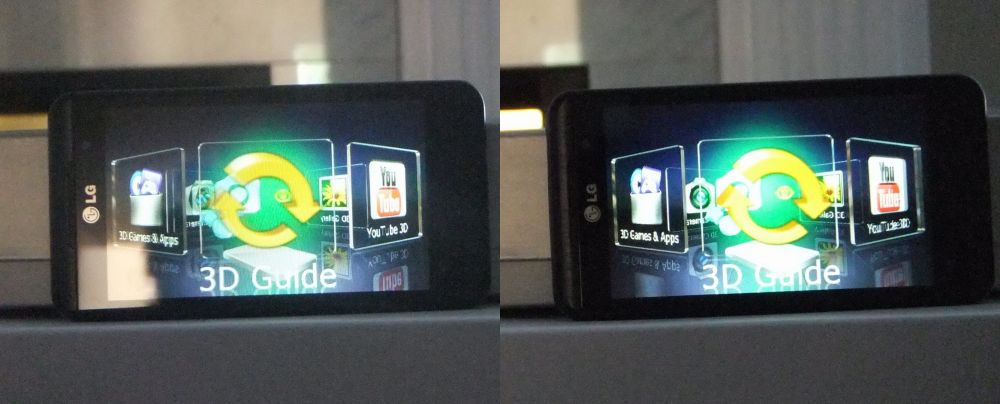 The LG Thrill 4G lets me do it all, and more!  It has a YouTube 3D applet that immediately lets you watch 3D movies on the go.  Unlike iTunes which needs every little 2D video file tediously converted to its magic platform, Android will gobble just about every file you throw at it.  I can easily have 3D movie samples played back on the device both online and off, and things look good!  I wish I had a device like this sooner as it would have made my job a lot easier.
If you need a bigger display, the LG Thrill can easily be connected to your 3D HDTV via HDMI 1.4.  If you have 1080P 3D content, things look good.  However, if you try playing the included games in 3D, or content that was intended for the much smaller and lower resolution screen, the up-scaled result looks blocky and pixilated.  Unfortunately, the included 3D film content only plays on the LG screen, and doesn't let you watch through HDMI 1.4 on the big screen.
One thing that is cooler than I expected was the 2D/3D conversion.  I have never been a fan of 2D/3D conversion because it tends to be a moderate 3D experience compared to true 3D camera rendering.  Out of screen effects tend to be few and far between, and things can have an unnatural curvature where they clearly shouldn't.  I've been experimenting with different content, and I think the results are better than average.  I don't know why, but LG's on the fly movie conversion seems to be more effective than converted stills.  It may have something to do with the fact that nothing stays the same on the screen for too long a period, so the 3D successes stand out more than the 3D failures.

While it's amazing to see what you can get in small packages these days, it's important to have realistic expectations.  LG's 3D camera lenses are just under an inch apart which is very low compared to the more committed 3D cameras like the Fuji W1/W3 models which are three inches apart.  The concern is that if the separation level is too low, it will reduce the level of depth you can achieve in relation to what your eyes are capable of perceiving.
I was surprised to see that when I played the LG images and videos back on our 50" 3D HDTV, there was more than enough separation to go around.  I'm guessing that the LG compensates somehow with an extra convergence adjustment.  We'd be interested in hearing what our members think of the results.  We're happy to take more pictures and videos upon request.
The camera features an LED flash, but this only works in 2D mode – not in stereoscopic 3D.  I have no idea why this is the case because I'm unaware of any special synchronization needs when using a flash.  I know the Fuji 3D cameras get an odd 3D shadow with the flash on, so maybe LG was trying to avoid a similar problem.
In 2D mode, the camera is capable of capturing full 1920 X 1080P resolution at 24FPS, and 720P at 30FPS in 3D mode.  For best results, I recommend against using the steady-cam feature in 3D mode because it made the videos fall out of sync between the left and right views while playing back on PC, and this made the videos uncomfortable to watch.  For cellphone users wishing to video conference, there is also a low-res camera on the face of the display (Yes!  Three cameras on one cellphone!).
The LG Thrill 4G comes bundled with a few games by Gameloft.  Nova is a space-age first person shooter, Asphalt 6 is a third-person racer, Lets Golf 2 is a Nintendo-ish golf game, and Gulliver's Travels is a digital pop-up story book to help demonstrate the smartphone's 3D capabilities.
Asphalt 6 and Lets Golf 2 were my favorites.  It was striking to see the golf course first appear with a lot of depth, and the simplicity of the game kept me coming back.  While Asphalt 6 is equally fun and had a lot of potential, I think the depth-only effects took away from the game's thrill factor – especially as a demo product for a new 3D device.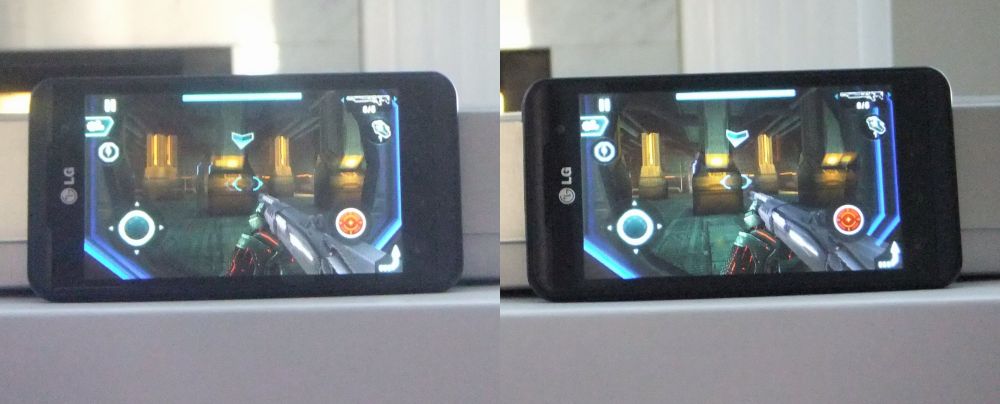 Nova is fun too, but it takes a lot more practice because you have to hold the screen completely still to maintain the 3D effect.  Still, I've never played a first person shooter on a mobile phone before, so that was a cool experience.
All the games offered a way to control their separation levels, but lacked convergence controls.  LG knew enough to make their menu systems pop-out and blast out the 3D – I would have liked to see the same from the included games.  No matter, as I'm sure several more S-3D games are on the way.
I would estimate that the Android mobile games are running at a DirectX 7 or 8 level, which is a good breeding ground for OpenGL stereoscopic 3D drivers.  For those unfamiliar, stereoscopic 3D drivers let you take existing 2D games and play them in true 3D – and there has been talk of this capability coming to LG's 3D smartphones.  We'll have to wait and see!
Finally, for those concerned that the Nintendo 3DS is directly threatened by hardware like this, I'm now uncertain this is the case.  Mobile games look good for what they are, and of course they will continue to be successful in a big way.  However, without committed joysticks and control buttons, it's distracting to have these beautiful graphics covered by rubbing thumbs and fingers.  Committed 3D gaming systems don't have this problem, so there is definitely room in the market for both options.
It's no accident that call quality falls so low on the priority list with this review.  The phone is bound to the AT&T network which we don't have here in Canada, so I was unable to actually test the LG's cell phone component.  However, I was able to make several Skype calls through our Wifi network, and receiving and sending quality was excellent.
The LG Thrill comes with a standard 1500mAH battery, and while I haven't used the smartphone as a cell, it still has to be charged at least once to twice a day.  Things that gobble up battery power include the GPS, cell phone standby, wifi, and more.  Android provides several power saving adjustments, and you can download extra utilities to get more juice out of your phone's battery if needed.
All in all, I was really impressed with the LG Thrill 4G.  While my Apple iPod Touch has become a glorified calculator, I can't stop myself from downloading new Droid applications!  It serves a real purpose by giving me the means to actually show 3D content on a whim, and it has even more promise with talk of stereoscopic 3D game drivers in the not-too-distant future.
I'm a bit of a puritan in that I prefer to take all my pictures with a committed 3D camera which is 100% designed for that purpose.  The images just look better, and when it comes to recording life, I want the best quality out there.  However, for mobile shutterbugs who are big on sharing pics and videos on Facebook and YouTube (3D), you can't go wrong with this product.
As I mentioned at the beginning of this review, my opinions will likely change as I see more devices, more screens, and improved software support.  However, as the device I can't get myself to put down, the LG Thrill 4G gets a recommended buy rating from yours truly.