By Kris Roberts
Optoma
Grilli3D LLC
Fourth Dimension Displays
Trioviz
Vefxi
Conclusion
This is part two of my foray into E3 2011.  This time, I place a stronger focus on the exhibitors that don't get to shine in the gaming press as often as the others.  Were there some diamonds in the rough?  Let's find out!
Optoma
www.optomausa.com
Optoma is a projector manufacturer that makes business as well as home theater and gaming projectors.  Their booth showcased the new GT750 projector, a 720p DLP unit that supports HDMI 1.4.  This is very significant, because up until now, you could only get HDMI 1.4 support in much more expensive 1080p projectors, or have to purchase costly adapters such as the Optoma 3D-XL for older DLP-Link projectors.  Having an affordable 720p projector is a great fit for the current consoles and PC games with HDMI.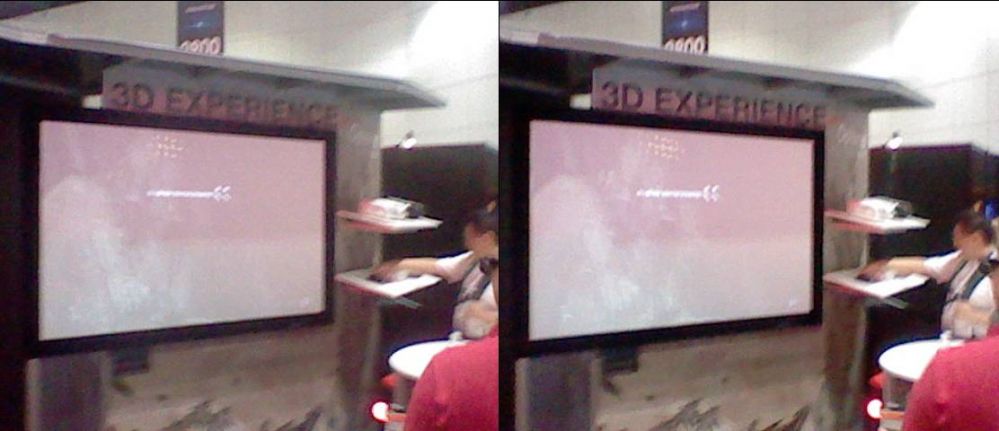 The active shutter glasses are IR and it has an emitter you can place where it makes sense in your setup.  The glasses are Optoma branded, though it's not clear if they are compatible with other displays or projectors.
The GT750 model can connect directly to the PS3 and play games in Stereo 3D.  In this case, Optoma was demonstrating Killzone 3 with the Move Sharp Shooter rifle attachment.  You can also use it for PC games with either AMD HD3D (using the glasses that come with the projector) or Nvidia's 3DTV Play or 3DVision solutions.
Grilli3D LLC
www.GRilli3D.com
Grilli3d sells a membrane that you put on your iPhone/iPod/iPad like a screen protector which has lines on it to create a parallax barrier.  This lets you see content in 3D if it is displayed with an appropriate vertical interlace.  In this case, they were showing video content from 2D movies converted on the fly to 3D with the CineXPlayer3D player.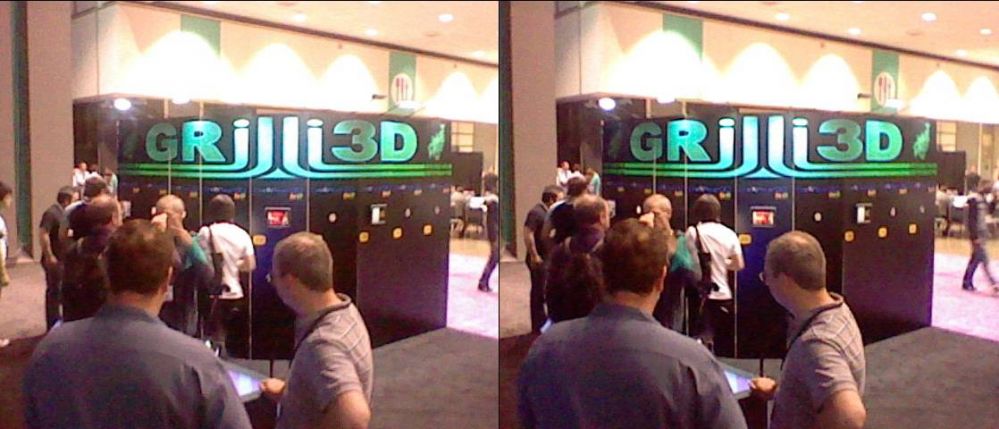 I personally have limited interest in automatic 2D/3D converted content.  Yes, you can run algorithms on a 2D image and come up with some 3D information, but I have yet to see anything that convincingly resembles a true dual camera stereoscopic 3D rendering.  Speaking from experience, good quality 3D for games and video requires conscious attention, and ideally, talented art direction.
Video games that were never intended to run in 3D are compelling because they are rendered in true stereoscopic 3D by middleware software drivers (e.g. DDD, iZ3D, Nvidia).  Unfortunately, 3D that is derived from 2D video content doesn't work as well, and I'm not sure it will last beyond being a novelty or with content produced long ago.  I think Grilli3D and products like it will have a more successful run as more true 3D content is made available.
There does appear to be a Grilli3D plug-in for the Unity development platform so hand held applications could support 3D directly.  It would have been great if they had something to demonstrate at the show.  I think there is a lot of promise with this – I know I would probably be willing to experiment with it.
We will have to wait and see how practical these 3D membranes are.  For example, when I installed a screen protector on my iPad, there were residual bubbles under the skin – and the iPads on display at the Grilli3D booth also had this dust and bubble problem.  I'm pretty sure these imperfections disappear after the being installed for awhile, but it's something the membrane makers should be aware of or acknowledge somehow to their consumer base.

Fourth Dimension Displays
www.fourthdd.com
Fourth Dimension Displays is a Scottish company that makes display elements for head mounted systems and other displays where you are looking right at a small panel close up.  Their booth had a demo of an HMD with a motion/orientation sensor, and their displays were driven by a powerful PC running GTR2.  Their current panels are DVI, and support up to 1200×1024 now.  They expect to support even higher resolutions soon.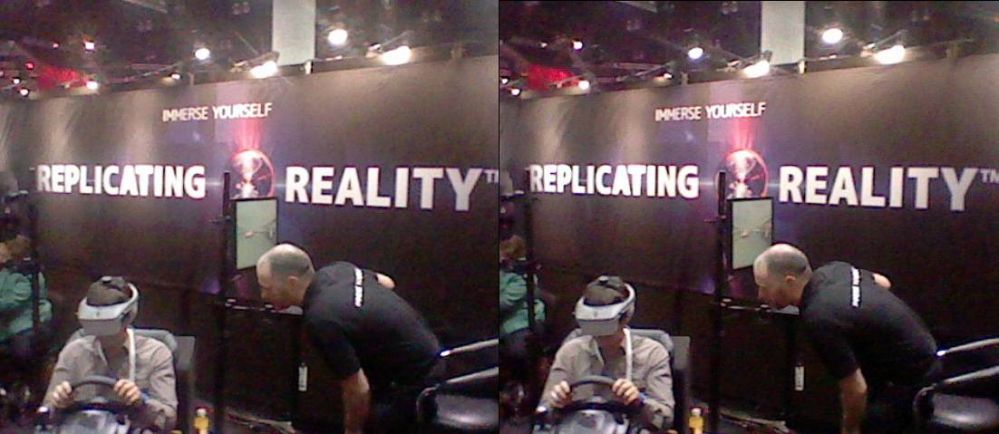 I have tried all kinds of Head Mounted Displays in arcades and at trade shows, and I have been disappointed by them.  For me, their bulk and discomfort makes them uncomfortable to use for extended periods of time, but I also know that committed S-3D gamers swear by them.
HMDs are usually hyped as being like a private movie theater, but I have yet to share this experience.  Instead, I feel more like I'm looking at a very small screen through lenses that magnify and focus.
Fourth Dimension Displays doesn't actually make HMDs – they just manufacture the small screens for head mounted display makers.  Even though their demo featured an HMD with a motion/orientation sensor, it was just intended as a sampling of what their displays are capable of.  That said, as the resolution of the displays go up and the bulk required goes down, I think we are are on the cusp of an HMD that is both comfortable and will provide a fantastic image!  We will have to wait and see.
Until then, I would like to see more augmented reality displays that blend what is there in the real world with computer generated overlays.  There is a lot of video game potential with this, and we have already seen a small sampling of this demonstrated with the Nintendo 3DS (e.g. Faceblasters).
TriOviz
www.TriOviz.com
TriOViz uses green and magenta anaglyph glasses and a depth buffer approach to enable stereo 3D on any TV.  They have a few games running now (Batman Arkham Asylum, Enslaved, and Battle for Terra 3D).  I think that their color choice of green and magenta provides a superior color fidelity and flesh tone recreation than traditional red/blue glasses.
Trioviz has a number of positive features working in their favor over the current active, passive, and auto-stereoscopic 3D solutions.  For example, you can use it with any display (as long as it's calibrated/accurate enough to match the colors in the lenses).  In addition to the glasses being very inexpensive, multiple viewers can easily watch the same display without being dependent on specific viewing angles.
If there was a way for Trioviz to get support within the Nvidia "3D Vision Discover" mode, or with DDD and iZ3D's anaglyph modes, there could be a great deal of promise for 3D gamers looking for inexpensive ways to take an interest in this technology.
Trioviz's software support provides developers with a low performance cost way to enable stereo 3d, but it uses a depth buffer approach which does have shortcomings in terms of artifacts – and it's not a true stereoscopic 3D gaming experience.  While some leading game developers have been clambering towards Trioviz and technologies like it (e.g. Epic Games), I would prefer to see more game developers adopting true stereoscopic 3D rendering because it is a much more convincing experience.  Perhaps Trioviz' SDK includes true stereoscopic 3D gaming features that game developers can also take advantage of.

Vefxi
www.vefxi.com
Vefxi makes a line of hardware video converter boxes.  One for education, one for home, and a high-end model.  The features and pricing are a little different between versions, and they all offer real-time 2D to 3D conversion via hardware.  
There are already 2D to 3D software solutions, and it's unclear why it would be advantageous to invest in a hardware equivalent.  The feature I am most excited about is that the high-end versions have the ability to take a proper 3D input signal and provide two HDMI outputs – one for each projector.  That could be useful for dual projector setups which have otherwise not been directly supported by the Nvidia, AMD's HD3D, the PS3, or 3D Blu-Ray players.
This was the first time that E3 was covered by MTBS, and I can tell you…out of experience…that it was exhausting this year.
Now that I'm an outsider looking in, it's hard to say what E3 is really about and who its prime audience is.  E3 started as a way for the large scale buyers to meet with the video game publishers.  Buyers are the guys that make decisions about how many of which titles need to be purchased for stores, what the publishers are working on, determine what is going to be popular, and make the big deals.  Maybe this is still a big part of what goes on behind closed doors, but it's not as obvious anymore.
The amount of money and effort that is going into the booths and presentations (particularly by the big names) must be tremendous.  E3 was so crowded, so loud, so bright, and so exaggerated that I'm not sure how the exhibitors were getting a direct value out of it – at least in the traditional sense that E3 started with.
In previous years, I went as an industry attendee.  Working for a video game company qualifies for the "industry affiliation" and you get to go for free.  Lots of the people I have worked with go, and my impression is that many people in the crowd are developers of some kind.  I admit that it's fun to see the spectacle, walk around in a daze, and occasionally pick up a controller and try out some of the games.  None of the participating rank and file developers like me affected purchasing decisions or could really strike any kinds of business deals.
This year I went with a media pass and the goal of covering as much of the stereoscopic 3D content I could find for Meant to Be Seen.  It really is different going to a convention like E3 with a mission rather than just going to see what is there and hanging out with people you know or have worked with in the past.  With this new perspective, I do think that E3's new focus is the media rather than the buyers.  The idea is that if the publishers can get the media excited enough about their upcoming games, and if the media can convey that excitement to the public effectively, that will create the buzz and anticipation needed for the buyers to jump on board outside of E3.  This is just an educated guess, of course.
Unfortunately, I do think there is a chasm between the 3D technology pushers and the 3D content makers.  When I walked into a booth that had games on display in stereo 3D, I usually watched people play it for a while, asked them what they thought about it, and then asked the people running the booth if there was someone to talk to specifically about their 3D games.
Most of the time, the people playing the game were positive – "it's cool" was the most common response.  From the people running the booth, there was usually someone who could talk to me about the game in general, but they didn't have any specific information about 3D.  That's not to say they were not positive and interested in talking about the 3D version, it's just that from their point of view, it was one feature out of many that made their game cool – not something particularly remarkable on its own and not something all their games had.
I am personally excited about stereoscopic 3D games, and have had a blast playing more games released this last year with 3D support than ever before – so I am appreciative.  It's just that I would have liked to see more games that not only ran in S-3D, but also made progress in finding innovative ways to enhance the game play mechanics with stereoscopic 3D technology.
I will conclude by saying that while I found a fair bit of 3D gaming at E3, and there was a lot of enthusiasm from technology makers like AMD, Nvidia, Sony, Nintendo, and more, the other side of the coin – the game developers – still need to put more work in.  A lot of progress has been made in the industry, and I look forward to seeing if things balance out further by E3 2012!