By Kris Roberts
Introduction
AMD
Nvidia
RealD
Sony
Sega
Konami
Warner Brothers
Conclusion
As a professional game developer, I have been attending E3 since 1999.  Back then it was mostly PlayStation and Nintendo 64 games with the Dreamcast as the hot new "Next Generation" console.  The technology and production value for games has changed a lot since then, but when I stand back and look at it, the E3 spectacle has been surprisingly consistent over the years.
This year's show was very well attended, and it's as much of a sensory overload experience as it ever was.  While it was way too easy to get overwhelmed at E3, I've tried to find as much 3D stuff I could.  Before you read this article, I know the pictures suck!  I decided to try something fun this time around and use the Nintendo 3DS to get the conference pictures.  I'm afraid that in this case, 2D picture taking still rules until I get a better 3D camera.  And so our journey begins…
AMD
www.amd.com
The AMD booth had several demos running that were showcasing their HD3D and Eyefinity technology.  There were two stations set up with Deus Ex running in stereo 3D (one on a desktop monitor with active shutter glasses, and the other on an HDTV and passive glasses).  The Eyefinity demos were 2D, but had multiple viewports as well as a panoramic multi-projector blended display which was really cool.
I got to speak to Robert Hallock who is a systems engineer working on both the HD3D and Eyefinity solutions.  We started off by talking about how the AMD HD3D technology would work in various situations:  Desktop 120Hz 3D capable DVI/Displayport monitor, Living room HDTV with 120Hz HDMI 1.4 support, and home theater with dual projectors and polarized filters/glasses.  
In each case, it's clear that AMD has a workable solution, and is pushing for an "open ecosystem" where consumers can have confidence that their equipment will work with AMD graphics cards in 3D.  In situations where the game has native stereo 3D support, the video card will work directly with the display.  Otherwise, middleware drivers from DDD or iZ3d will do the 2D to 3D game conversion.
According to Robert, AMD is actively reaching out to game developers to encourage native 3D stereo support in the games, and is working with their middleware partners to improve support for the games that require conversion.  AMD wants developers to push the envelope as much as possible and HD3D is seen as a premium feature (like DirectX 11) that can add a lot of value and showcase the power/performance of their graphics cards.
Unfortunately, AMD's marketing efforts aren't as clear.  It's been awhile since I owned a PC with an AMD/ATI graphics card, so I haven't been tracking their progress as closely as Nvidia's.  Browsing the AMD website, even though there is information about HD3D in the "AMD Technology" section, the "Gaming" section didn't have any obvious links or references to it: http://www.amd.com/us/products/technologies/amd-hd3d/Pages/hd3d.aspx
Unlike Nvidia (GeForce 3D Vision), AMD is working to build support for stereo 3D as a feature of their graphics cards, and not to sell an AMD glasses add-on or specific accessory.  Say what you will about Nvidia's one-glasses-solution marketing platform and the industry confusion it has created, they have been effective at raising consumer awareness for stereoscopic 3D gaming.
What is the catalyst of AMD's marketing message?  The core message seems to be that if you own a contemporary Radeon graphics card and have a 3D display that you can attach to that graphics card, then you can enjoy stereo 3D.  S-3D gamers upgrade their performance equipment more regularly than traditional hardcore gamers, so maybe this is enough for AMD to take an interest in this market.
Marketing aside, I'm glad AMD had stereo displays set up in their booth at E3, and it's good to hear about their efforts working with developers to get more games to support native 3D stereo.  Maybe it's an indicator that AMD needs to strengthen its marketing efforts, because while I knew that AMD had a 3D stereo solution, I didn't know the details or how well established it was.  Note to AMD: strengthen your marketing push to gamers and stereoscopic 3D gamers!
Nvidia
www.Nvidia.com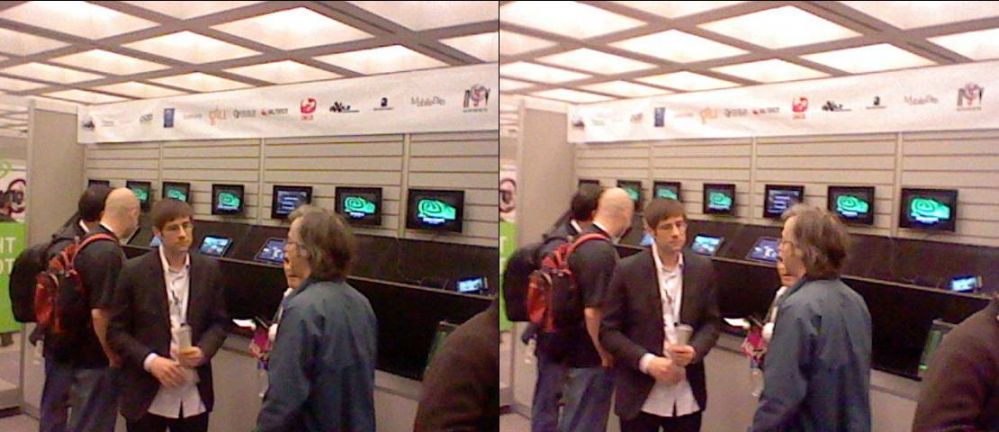 I met with Leslie Pirritano who works in PC games marketing at Nvidia.  She showed me three new titles: Alice Madness: Returns, Duke Nukem Forever, and Dungeon Siege 3.  The games look great (especially in stereo 3D) and particularly in Alice there are some game play mechanics where she shrinks and grows.  This has a neat shift in 3D that helps accentuate the effect and accentuates the player's visual perspective of the scene.
I was hoping to see the new wired 3D Vision glasses in person, but sadly they did not have any on hand.  From the press release it wasn't clear to me if the wired glasses were an accessory to the standard 3D Vision kit or a stand-alone product that would enable 3D Vision support.  I was happy to learn that they do indeed work with either a system that already has the wireless emitter or on their own.
Nvidia's new Youtube 3D video support is huge – especially for enabling people to share stereo content they made themselves.  Unfortunately, the current HTML 5 implementation only works with Firefox, and I wasn't able to get any details on how likely or quickly we might see Internet Explorer support.  
A large part of the Nvidia meeting area was dedicated to showcasing their Tegra mobile devices.  It's clear that there is a lot of Nvidia momentum towards enabling 3D on mobile devices and working with developers to produce content.  Asking about the possibility of stereo 3D support didn't illicit any spontaneous announcements, but they did talk in general terms about how the device itself can support refresh rates sufficient to support an active shutter glass solution consistent with 3D Vision or alternatively going with an auto-stereoscopic approach.  I guess we'll have to wait and see…
We also talked about their PC driver convergence controls, out of screen effects, and how some of the developers allow the players to adjust the settings while others do not.  I tried to convey that it's generally a hot topic for discussion when new games come out as players really want to be able to adjust the full 3D experience.  The word from Nvidia is that it's ultimately up to the developers to set the features and decide whether to expose settings to the player or not.  While Nvidia works with the game makers closely, they think the best route is to provide feedback directly to the developers via their customer service and support forums.
RealD
www.reald.com
I met some of the guys from RealD for the first time last year at E3, and it was good to talk to them again.  RealD has a great deal of experience and knowledge about how to craft good 3D, and they really want to share this with game developers.   Not only does RealD make projection equipment and glasses for commercial theaters, they also have direct involvement in the production of 3D media and a pretty long history on the real-time 3D graphics software side too.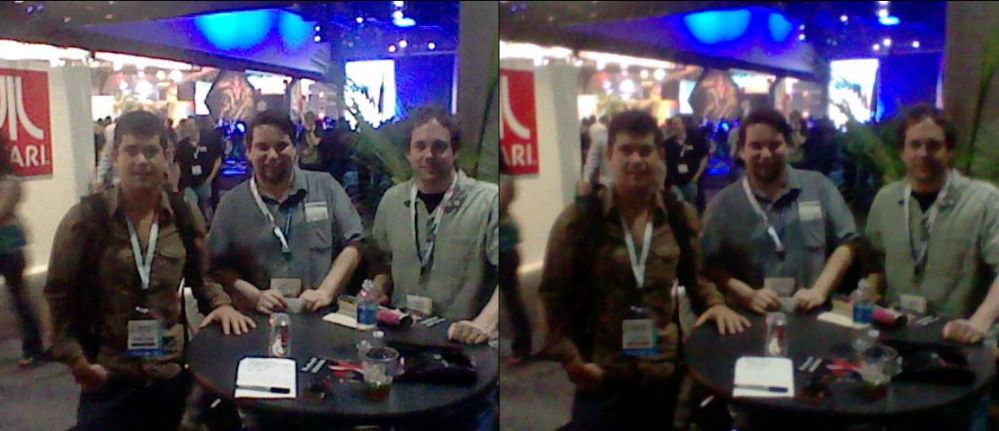 One of the areas they work to help game developers is with the management of the depth budget.  They have a robust set of patented algorithms that work with a dynamic camera control mechanism.  By analyzing the positions of the visible objects in the scene each frame, the system can adjust the cameras to maximize the presented 3D depth and make sure that it's used effectively.  
The advantage of this approach in a real-time 3D game is that the implementer has direct control over the camera orientation and what is being displayed.  The advantage is well demonstrated when toggling between a static camera and one that that uses RealD's algorithms.  It's not a magic bullet because it still requires good art direction to establish the general parameter ranges.  It's also not a replacement or alternative to stereoscopic 3D driver support.  Instead, this is just a method of adjusting the cameras based on the actual contents of the scene, and expanding the tools developers have to make compelling 3D.
Sony
www.sony.com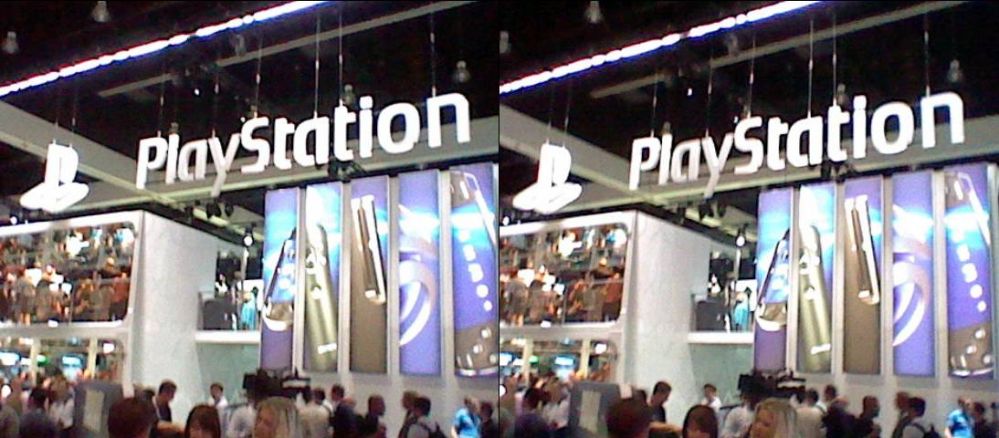 Sony easily had the most 3D displays of any of the exhibitors I saw on the show floor.  Their Resistance 3 multiplayer demo had a line of systems running the game in 3D.  They were also showcasing The House Of The Dead: Overkill with both the Sony Move and stereoscopic 3D on two systems with comfy couches in simulated living rooms.  Ratchet & Clank All 4 One, Sonic Generations, and Captain America Super Soldier were also set up on a number of systems.  
I personally really liked House of The Dead, particularly after my experience playing Killzone 3 with the Sharpshooter gun accessory for the move.  It did take me some experimenting with the sensitivity and speed settings for the Move to get it to aim and behave the way that felt right for me, but once I had it dialed in – I really liked the added sense of immersion of holding the gun and looking (and shooting) in 3D.
Ratchet & Clank All 4 One was probably the most fun pick-up-and-play game  I saw in 3D, and the social aspect of four player co-op is going to make it very popular (especially with my boys ;=)).
I looked around the booth and did not find their new 24″ 3D display.  I have read several write-ups online about it, but it was not evident on the show floor – at least in the public section of the booth.  While there has been some speculation that it can support two player gaming with each gamer having a distinct 3D view, I think this is unlikely.  A 120Hz display can easily have two players see a unique 2D image at 60Hz for sure, but a true 240Hz display would be needed for a 3D version of this.  Even if the 240Hz refresh was accomplished, the loss of light would be tremendous – I just don't see it.  This is only my opinion though – I'd be happy to be proven wrong.

Sega
www.sega.com
The Sega booth showcased three titles that were also on display at Sony: Sonic Generations (PS3, XBOX360), The House Of The Dead: Overkill had two systems set up in co-op mode, and The Captain America Super Soldier area had a statue and other stuff from the movie as well as a system running the game on the PS3 in stereoscopic 3D.
I felt a little let down by Sonic Generations.  It's clearly going back to the side scrolling Sonic of yore, but the game play seems relatively slow compared to the hectic speed frenzy of its predecessors.  While the 3D looked good, I think it was a strange artistic choice because it was only window dressing for a fundamentally 2D gaming experience.  On XBOX360, even though the 3D changes the aesthetic of the game a little bit, it seemed to suffer from a drop in performance – and it wasn't a worthy trade in this case.
Konami
www.konami.com
Konami had Silent Hill Downpour running in 3D, as well as a row of four Nintendo 3DS stations showing Metal Gear Solid Snake Eater 3D.
Silent Hill Downpour has a lot of great environmental effects with rain, fire, standing water, and random debris floating around.  Compared to the 2D version, I think the 3D might be doing a better job of making the player feel like they are actually interacting with the environment and in a real space.   
I didn't spend as much time with 3DS Metal Gear, though I admit to never being able to get into the previous releases in the franchise.  According to the Konami representative, the game content is nearly identical to the PS2 version of Metal Gear Solid Snake Eater.

Warner Brothers Interactive Entertainment
www.wbie.com
Warner Brothers had several Mortal Kombat systems in old school arcade style cabinets with one of them showing the game in stereo 3D.
I think it's cool to see high profile games like the very popular new Mortal Kombat supporting stereo 3D, though I'm a little concerned about the decision to take fundamentally 2D games like this (and Sonic) and put them in stereo 3D without changing any of the game  play to make practical use of the new S-3D functionality.  It just seems to be a wasted opportunity.
Did you think this was all that E3 had to offer for stereoscopic 3D gamers?  HAH!  We are just getting started!  Tomorrow, we will talk about the exhibitors that everyone else seemed to miss.  Everything from 2D-3D conversion to stereoscopic 3D projection, E3 had it all!
In the meantime, share your comments below!