By Andres Hernandez

Introduction
General Hardware Review
Multimedia Performance
3D Gaming Performance
Conclusion
The Vision 3D series from ASRock aims to provide a premium stereoscopic 3D multimedia experience in a small form factor.  This HTPC line benefits from full 3D support from Nvidia, making it compatible with both Nvidia GeForce 3D Vision and their 3DTV Play software drivers.  This is best suited for customers who recently purchased 3D HDTVs and are looking for nearly instant compatibility with Blu-Ray 3D, stereoscopic 3D gaming, and general 3D multimedia support for photos and video.  Desktop PC users will have the same benefits when pairing the Vision 3D with an Nvidia compatible 120Hz 3D monitor.  Audio does not take a backseat, though, as this unit supports THX TruStudio Pro 7.1 channel surround sound.  However, when all is said and done, does this HTPC really have the chops to be the center of your home theater system?  Today we find out!
The first thing I can say about this Vision 3D HTPC is that the build quality is excellent.  The exterior of the unit is solid anodized aluminum, and it's built like a tank.  Even though the top is made of plastic, it has a nice glossy finish which only adds to the polished aesthetic.  The slot-loading Blu-Ray drive maintains the clean appearance.  If looks are important to you, this will fit nicely in a stylish home theater setup.
There are a few different models available in the ASRock Vision 3D series, and the unit we're reviewing is the 135B.  Among other things, it sports an Intel Core i3-370M processor, an Nvidia GeForce GT 425M graphics card, a Blu-Ray combo drive, 7.1 channel audio, USB 3.0, 802.11b/g/n Wi-Fi and HDMI 1.4a 3D compatibility.  Detailed specs are listed below:
Intel Core i3-370M 2.4GHz CPU
4GB DDR3-667MHz RAM
Nvidia GeForce GT 425M GPU
500GB 7200RPM 2.5" HDD
Gigabit LAN
802.11b/g/n Wi-Fi
3x USB 3.0, 5x USB 2.0
4-in-1 card reader
7.1 channel audio with THX TruStudio Pro
HDMI 1.4a
DVI
S/PDIF
eSATA II
Blu-Ray combo drive
General tasks are a no brainer with this unit.  With Windows 7 64-bit, this unit has more than enough power for web browsing, photo viewing, and watching HD YouTube videos in a snap.  Navigating through the Windows desktop is smooth, and there is little to no delay with day-to-day tasks like browsing the hard-drive and opening files.  It's definitely not the fastest computer out there, but it's more than adequate for casual computing.  You can see the results of the PCMark Vantage benchmark below which details how this unit stacks up.
While an operating system isn't included out of the box, the package does come with a license for CyberLink PowerDVD 10.  Once installed, hooking this up to your 3D HDTV and watching a Blu-Ray 3D movie in full 1080P won't be a problem.  Thanks to the GeForce GT 425M GPU, Blu-Ray 3D playback is hardware accelerated which means that everything is nice and smooth.  Some of the movies I watched included Tron Legacy, The Ultimate Wave Tahiti 3D, My Bloody Valentine 3D, and Cloudy with a Chance of Meatballs.  Aside from having to get an update to play Tron properly, everything looked great and played back perfectly in full 1080P 3D.
PowerDVD 10 has a feature that will up-convert standard 2D DVDs or video files into stereoscopic 3D, but I found the results to be lackluster.  In contrast, viewing true stereoscopic 3D content results is a very satisfactory experience.  Of course, the included 3D Vision Video Player is supported, as is Stereoscopic 3D Player (purchased separately).
The HTPC really shines with multimedia content, and watching all sorts of 3D videos with this 3D Vision unit was problem free.  Thanks to available software support, 3D photos were equally viewable with common formats like JPS and MPO.  Even YouTube 3D works great thanks to their new HTML5 player and Nvidia's recent driver updates.  Of course, traditional multimedia tasks like playing music or 2D videos work perfectly too.  For example, I was able to stream content from Hulu, and also watch YouTube videos in full 1080P HD quality without any problems.
One interesting feature is the use of Windows Media Center.  This was well supported for all 2D tasks, but was also integrated with PowerDVD to allow playback of Blu-Ray 3D movies as well as converting standard DVDs to 3D (again, with questionable visual results).  Unfortunately, support isn't yet available for playing 3D video files or viewing 3D images in the Windows Media Center mode.  To accomplish this, you have to close Windows Media Center and open another application like the Stereoscopic Player.  It would be nice if Nvidia could find a way to integrate their photo and video applications into the Windows Media Center as CyberLink has done for Blu-Ray and DVDs.
A nice touch is the media remote that is included in the box.  This remote control has all the buttons you will need for playing a Blu-Ray or other video content.  It's fully supported by PowerDVD 10 which makes controlling content a snap, and really provides the kind of easy experience you'd expect from a home theater component – especially when watching videos.
The remote's support is not limited to PowerDVD as it worked with the Nvidia 3D Vision Video Player and the Stereoscopic Player, though the features were a bit rudimentary.  In particular, controls are limited to "play", "pause" and "volume", while remote controlling the fast-forward and rewind is only possible with PowerDVD.  There is also a little green button in the center that will launch the Windows Media Center that makes it easy to navigate through your content.  While 3D support in Windows Media Center is limited to what is offered by PowerDVD (or similar programs like TotalMedia Theater), there is a good deal of traditional 2D content users will enjoy.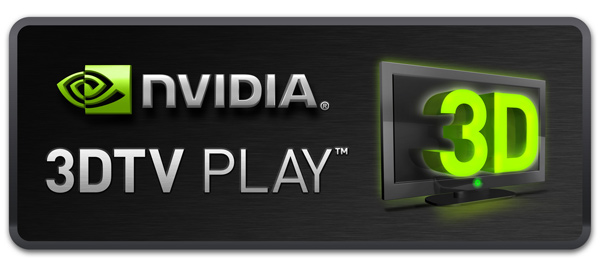 Since this device is intended to be used with HDMI 1.4a compatible devices like 3D HDTVs, I will be limiting the tests to 720P output.  This is the peak resolution available for 3D gaming at 60 frames per second under HDMI 1.4a.  1080P is technically supported, but it only works at 24Hz per eye, and this isn't a realistic option for gamers.  Future chipsets will break this barrier, but not in time for this model of PC.  That said, even though the picture quality is a little soft, 720P mode still looks good and the sense of 3D depth is retained.  The Vision 3D machines aren't designed to be high-end gaming powerhouses, so running at 720P makes the most sense for gamers.
I tested a number of different titles on the Vision 3D HTPC including Batman: Arkham Asylum, Crysis 2, Left4Dead 2, Resident Evil 5, and Unreal Tournament 3.  Although I had to adjust the game settings for best performance, the machine handled well and provided an enjoyable stereoscopic 3D gaming experience.  To achieve this, I usually lowered all the settings to the lowest possible, and then increased some to medium for a slightly better image.  3D screenshots are provided below to give examples of the quality to expect with this machine in stereoscopic 3D.
Although largely tied to your choice of display and glasses, the 3D effect worked nicely on my testing setup using the Acer HN274H and the Nvidia 3D Vision glasses.  If you have never seen a stereoscopic 3D game, then it is difficult to describe the experience.  Once you put the glasses on, it's like a piece of you enters the game's landscape.  Although advertisements may lead you to believe objects will be flying out of the screen at your face, it's really more like looking through a window into another world.  More-so than with 3D movies, 3D gaming provides an extremely convincing and immersive experience.  If you already own a 3D kit, I know I'm preaching to the choir!
My favorite games to play with the 3D effect are probably third person action games like Resident Evil 5 or Batman: Arkham Asylum.  Something about the composition of a character in the foreground against a detailed background lends itself to the stereo 3D experience.  However, just about any game will benefit from 3D and Nvidia supports hundreds of popular titles with their 3D driver.
Although many games were playable in 3D on this setup, it was just barely so for some of the more intensive ones.  Older games like Half-Life 2 played great, but newer titles like Crysis 2 were just too power hungry and hovered on the line of playability.  For this reason, if 3D gaming is your main reason for buying this machine, the Vision 3D might not have enough processing power to meet your needs.  As you can see in the graph below, this machine is very capable of gaming in 3D provided you are willing to lower the settings – but you will be missing out on the full visual potential of modern video games in stereoscopic 3D.
ASRock has managed to produce a fully functional 3D HTPC in a very small form factor.  Enthusiasts looking to build (or upgrade) a home theater could easy pair this up with an Nvidia 3D Vision compatible projector and have an impressive 3D setup for under $1,500.  If you already have an HDMI 1.4a compatible 3D HDTV, then this is a great addition with a wider selection of software than you will find on a stand-alone Blu-Ray player or similar device.  Blu-Ray 3D looks and performs great on this solution, and light 3D gaming is a real plus.
If 3D gaming is your top priority, consumers would be better served by a high-end dedicated desktop machine.  For everything else, this Vision 3D PC is a respectable package that is a step above other offerings – especially since it's one of the only 3D capable HTPCs on the market!