By Neil Schneider
The S-3D Gaming Alliance and its partners are pleased to reveal the preliminary results from The 2010 U-Decide Initiative.  Here are some key features:
Data collected from July 7th to October 1st, 2010
Jointly partnered and promoted with Panasonic, Electronic Arts, Ubisoft, Steelseries, Zalman, Blitz Games Studios, Computer Power User, and Meant to be Seen.
Purposely targeted to gamers (console & PC)
1,169 respondents (735 traditional 2D gamers that don't own 3D equipment, 434 experienced stereoscopic 3D gamers that do)
These preliminary results are 100% based on the 2D gamer portion to avoid skewing.
This is a tiny sampling of the data collected.  A full report will be released in November, 2010.
75% of respondents are based in North America, 15% are from Europe, and the remaining 10% span the world.
According to the Entertainment Software Association, over 50% of adults play video games.

3D Glasses or NO 3D Glasses?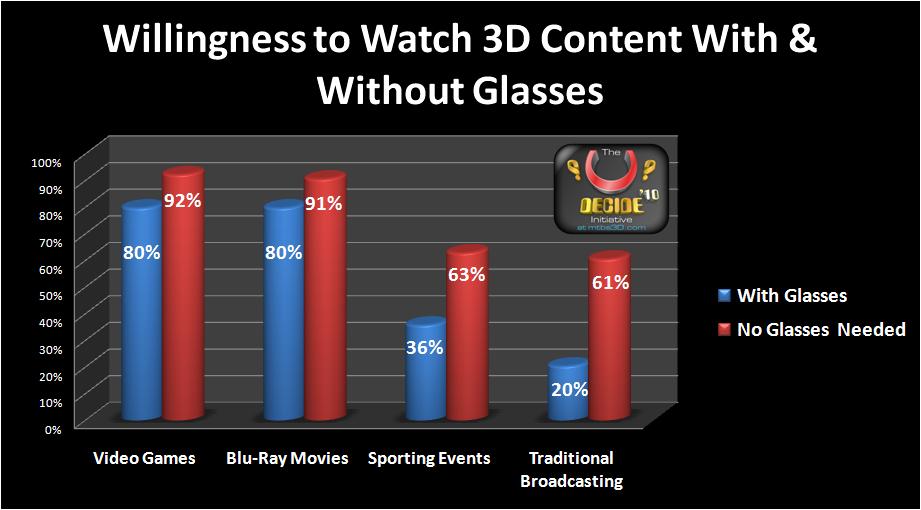 While pundits and general interest 3D studies are all up in arms about the need for glasses-free technology, these statements continue to go unfounded among gamers.  According to traditional 2D gamers who don't yet own 3D equipment of their own, the use of glasses is an insignificant deterrent for 3D gaming and 3D Blu-ray movie content.  It's only for 3D sporting events and traditional television broadcasting that glasses mark a steep difference in the willingness to watch 3D content.  It seems many of the original findings from 2009's U-Decide Initiative still hold water.
Will 2D Gamers Buy a 3D HDTV?  Yes and YES!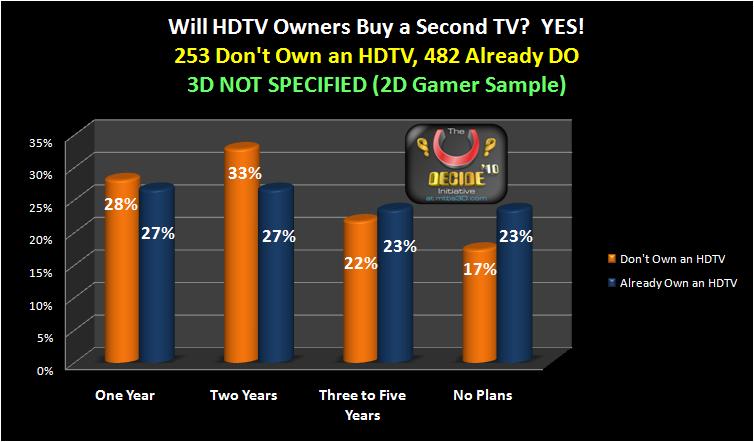 The above chart is based on the 2D gamer purchase plans for HDTVs.  This is not 3D HDTV specific.  For pundits and analysts that believe consumers won't buy a second HDTV if they already own one, U-Decide had the advantage of possessing a disproportionately larger sample of gamers that already own an HDTV.  As shown above, owning or not owning an HDTV has a very limited impact on interest levels in making a future HDTV purchase.
Stereoscopic 3D is considered a high interest HDTV feature for 57% of respondents, 19% were neutral, and 24% were at a low interest level.  The above chart is based on the 57% high interest level group combined with 50% of the neutral group.
Will 3D Impact Game Developer Bottom Lines?  YES!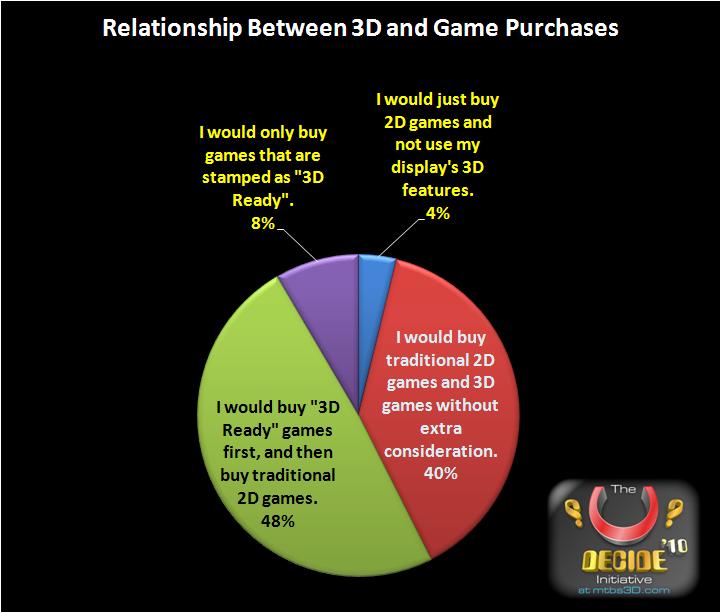 If game developers think that they can wait until the last minute to be 3D Ready, they should think again.  According to almost 50% of respondents, when gamers own a 3D HDTV they will give preferential treatment to 3D Ready games.  In fact, 8% say they will only buy 3D games.  We expect this trend will grow more and more dominant as 3D gaming awareness grows.
We will share more results tomorrow!