Meant to be Seen Finalizes Results of U-DECIDE Initiative, More Than Triples Performance

Meant to be Seen Finalizes Results of U-DECIDE Initiative, More Than Triples Performance
Toronto, Ontario – January 6th, 2009 – Meant to Be Seen, the foremost authority group on stereoscopic 3D (S-3D) gaming and home entertainment has announced the completion of the U-DECIDE Initiative, the most credible study of what customers think of 3D entertainment technologies and why. Neil Schneider will be present at the Consumer Electronics Show, and meetings can be scheduled through MTBS' press contact listed below. A brief synopsis of the additional contents of the U-DECIDE Initiative report will be made available at iZ3D Inc's meeting room #25118M in the Gaming Showcase downstairs, South Hall 2, Las Vegas Convention Center.
"While CES is going to be filled with a lot of ideas and wishes for the 3D industry, dreams can only be made into reality if demand can be demonstrated. We now have the smoking gun to accomplish this from the only people whose opinion matters – our industry's customers," said Neil Schneider, President & CEO of Meant to be Seen.
Stereoscopic 3D refers to the ability to display true volumetric 3D content through 2D media. Examples include explosions that pop out of the screen, and a sense of depth that makes viewers think they can reach inside the display.
Made possible with the assistance of AMD, iZ3D, Blitz Games Studios, The Game Creators and Guild Software, the U-DECIDE final report will determine what customers think of 3D entertainment, and will dispel the leading myths and assumptions about the technology.
Customer opinions were captured in two separate online surveys. One was for traditional gamers who don't yet own 3D display equipment, and the other was for experienced stereoscopic 3D gamers and consumers. Each respondent was required to answer 26 multipart questions, and there were well over seven hundred surveys completed (60% 2D, 40% S-3D gamers).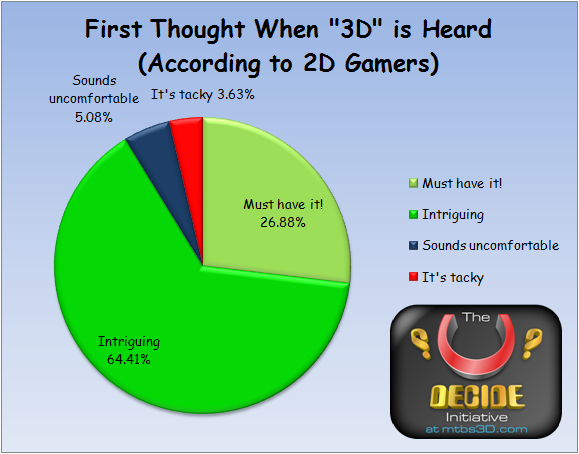 A staggering 65% of 2D respondents find 3D "intriguing" and 27% more say 3D is "must have" technology. Less than 4% think 3D is "tacky", and just over 5% think it "sounds uncomfortable" – very low compared to what is often assumed of consumers.
3D glasses are regularly cited as a handicap to the at-home 3D market, yet only 12% of 2D customers object to 3D glasses for video games – content that is widely available today. This climbs to almost 30% for 3D broadcast television, with Blu-ray movies falling in-between with 16% glasses objection. Experienced 3D customers are more forgiving with just a 3% objection level for video games, 4% for Blu-ray, and 12% for broadcast television.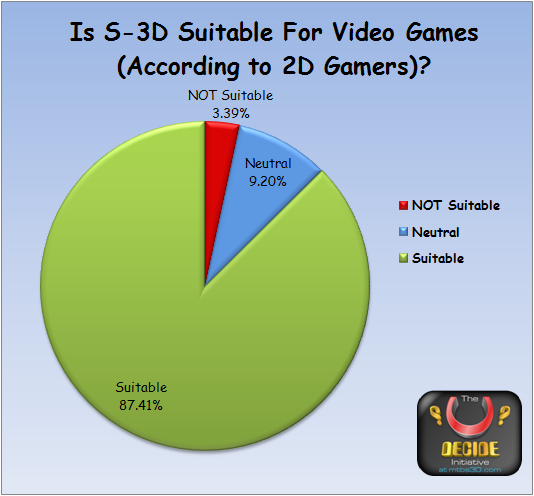 All respondents were nearly unanimous about video games with an 87% suitability rating by 2D, and nearly 96% rating by experienced 3D gamers. Without yet owning the technology for themselves, 93% of 2D customers want game developers to officially support true 3D in their games, and this climbs to 99% amongst 3D gamers. Suitability of 3D Blu-ray movies and 3D broadcasts were far more selective, and an in-depth analysis will be found in the final report.
Other findings include brand awareness of twenty different products/companies in the 3D marketplace according to both 2D and S-3D gamers. For example, the awareness range for products with 2D gamers was 4% to 54%, and Meant to be Seen scored over 40% amongst 2D gamers. This climbed to over 60% amongst S-3D gamers in a possible range of 8% to 68%.
Leading brands surveyed include iZ3D, NVIDIA, Mitsubishi, Samsung, RealD, Dolby 3D, DDD, Philips, Texas Instruments, Viewsonic and more.
"This is a bombshell. First, the game developers are only now waking up to the possibilities of 3D and the manufacturers are disproportionately spending their resources on the home 3D cinema market. Second, there is clearly a disconnect between what customers think and what many believe they think. And third, the content makers are weighing their futures on distant glasses-free technologies that consumers aren't asking for. It's clear that the sooner we all listen to our customers, the better," Schneider explained.
Nearly 60 participant winners have been drawn for a wide selection of prizes including iZ3D 3D monitors, ATI GPUs, and a wide selection of video games by Blitz Games Studios, The Game Creators, and Guild Software.
Graphics charts are available for download from mtbs3D.com in the U-DECIDE sub-menu, and the complete report is expected to be available for distribution on January 26th, 2009.
Committed MTBS partners and qualified game developers who accept complementary MTBS Certification can get the report for free. There will be a 5% discount to MTBS members (free registration), and interested parties can email udecide@mtbs3D.com for more information on the report's contents and pricing. This release is a small sampling of what has been learned.
MTBS is pleased to report that 2008 was a record year with its monthly traffic growing almost 360% in less than 12 months, and more than doubling its registered membership in the same period.
Non-proprietary and independently owned and operated, Meant to be Seen is made possible by unrestricted education grants from iZ3D Inc. and TDVision Corp. Non-proprietary in nature, MTBS welcomes additional industry involvement to help grow the popularity and effective use of consumer stereoscopic 3D technologies.
For more information, visit http://www.mtbs3D.com or contact:
Carol Warren, Principal
Antarra Communications
Tel. 714-891-3660
Cel. 714-865-6735
Toll Free 866-268-2772
Email cwarren@antarra.com