Glasses and Additional HDTV Purchases are A-Ok According to Potential 3D Gaming Customers
Toronto, Ontario (October 18, 2010) – The U-Decide Initiative is an industry wide effort to survey console and PC gamers to determine what customers want, which gaming experiences will ultimately sell, and what the near future buying patterns will be. U-Decide 2010 was made possible by The S-3D Gaming Alliance (S3DGA), Panasonic, Electronic Arts, Ubisoft, Steelseries, Zalman, Blitz Games Studios, Computer Power User, and Meant to be Seen.
"According to the Entertainment Software Association, over 50% of adults play video games. U-Decide 2010 provides a laser focus on this influential consumer market space," said Neil Schneider, Executive Director of The S-3D Gaming Alliance.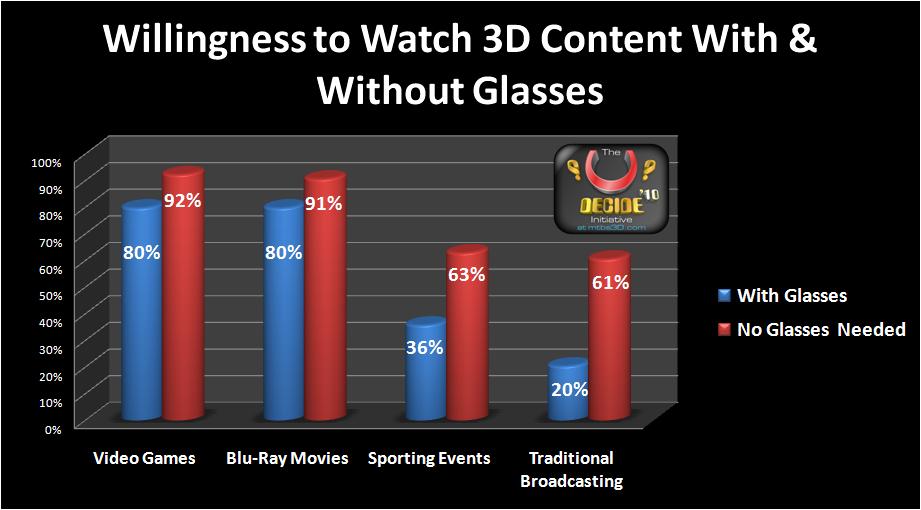 U-Decide 2010 had nearly 1,200 respondents. 735 traditional non-stereoscopic gamers that don't yet own 3D equipment (only 2D), and 434 experienced stereoscopic 3D gamers that do. These preliminary results are 100% based on the 2D group to prevent skewing:
80% of gamers are willing to wear glasses to play video games and watch 3D Blu-Ray movies. When glasses are no longer necessary, the participation level only climbs about 12% in both content categories.
36% of gamers are open to watching 3D sports, and 20% are willing to watch 3D broadcasting if glasses are required. When glasses are no longer necessary, the willingness level climbs to 63% for sports and 61% for traditional broadcasting. The full report will determine how actual 3D experience impacts these figures.
65% of the sample already own an HDTV, with over 35% of them looking to buy a 3D HDTV within the next two years.
"If you are concerned about the impact Stereovision-3D is having on the gaming market, then you should check out U-Decide's latest findings, and consider becoming a supporting S3DGA member," said Dr. Jon Peddie of Jon Peddie Research.
Additional facts about The U-Decide Initiative:
This is a tiny portion of the data collected. The full report will be released in November 2010.
Preliminary results shown at GDC Online to launch 3D Stereoscopic Games Summit.
About 75% of respondents are based in North America, 15% are from Europe, and the remaining 10% span the world.
Features a diverse sample of console and PC gamers.
Non-stereoscopic and experienced 3D gamers were surveyed separately with customized questioning to reflect their experience and unique perspectives. To date, U-Decide is the only study that has effectively done this. Subjects covered in the full report include:
Breakdown of console and PC demographics and current spending patterns.
Nature of gamers and their interest level in 3D technology.
Amounts gamers are willing to spend on 3D display equipment and software.
Sales expectations for 3D HDTVs, computer displays, notebooks, mobile solutions, and more.
Analysis of stereoscopic 3D gaming demonstrations and which are most effective according to customers.
Obstacles preventing 3D hardware purchases according to display type.
Purchase plans for 3D HDTVs, notebooks, displays, HMDs, and mobile solutions (e.g. Nintendo 3DS, cell phones, etc.).
Demand level for 3D with different video game classes, and which 3D experiences gamers are looking for.
Consumer satisfaction with leading brands and classes of 3D displays and software.
Gamer interest in alternative content in 3D movie theaters.

And much more!
Qualified S-3D Gaming Alliance members will receive the full report for free. Non-members can receive a 20% discount on condition that the report is purchased prior to release on or before November 15th, 2010. Non-members please contact Neil Schneider for purchase details.
Game developers and companies interested in helping shape the future of stereoscopic 3D gaming please visit http://www.S3DGA.com for membership details. Preliminary U-Decide Initiative findings can be found at http://www.mtbs3D.com under the U-Decide tab. Learn more at Meant to be Seen and The S-3D Gaming Alliance websites.