Ok, I confess; I'm weak
http://usb.brando.com/gadmei-p83-3d-pmp-player_p02359c051d015.html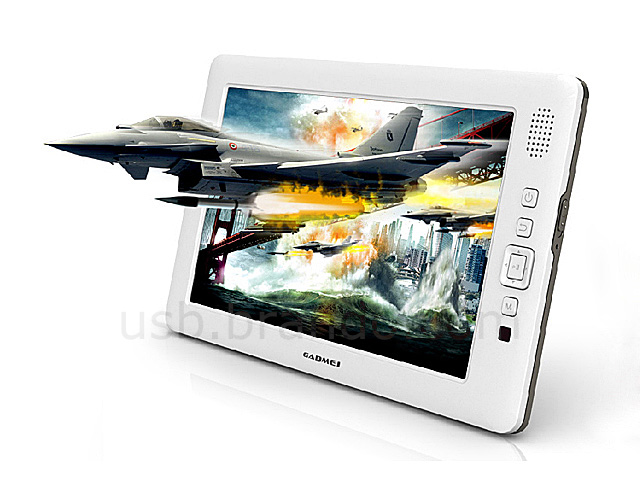 I decided to take a chance on this thing - I figured that for the price, it was worth the risk (especially when you convert the price into Pounds). I didn't have high expectations for it, but I was curious, so I gave it a try.
It arrived a couple of days ago, and I am very impressed by it; the quality is far better than I was expecting. The screen produces a very decent stereoscopic image, with good resolution. There is a little bit of ghosting present, especially if there is a large divergence in the image, but I have seen far worse, with more expensive displays. As with all autostereoscopic displays you have to get the viewing position exactly right, but once you find the sweet spot, the 3D image is bright and crisp and very satisfying. The resolution is higher than the Fuji picture frame (which is a lot more expensive) and it also works with a greater range of file formats.
So far, I've loaded a selection of my own 3D photos onto it, and also about eight feature films (Toy Story 3, Avatar, Monsters vs. Aliens, The Hole etc) and everything works beautifully. Thank god it takes SD cards up to 32GB, because the internal memory is only 4GB!
My only serious criticism of the player is that there is no option to adjust the parallax; that would have been a very useful feature. Most of my 3D films are recorded from the Sky 3D channel, and they are not perfectly aligned when you record them (because of the bleed around the edges of the screen). In Stereoscopic Player, this can be corrected with a couple of keystrokes, but that is not possible here. I had to re-encode the video files to align the left and right images (which was rather labour-intensive) but once done, the results were dramatic. (My friends and family were blown away - now they each want one
) If your video files are already correctly aligned, this will not be an issue, but it would still be a nice feature for a future firmware upgrade.
The player is about the size of an eBook reader, but it's a little bit heavier, and you really start to notice that once you've been watching a film for awhile. You have to hold it in one position to maintain the stereo, and your arms can get tired if you aren't careful.
Loading my 3D photos onto it was a little bit of trial and error; if the photos are jpegs it needs them to be half-frame side-by-side. They supposedly have their own proprietary 3D format, but all the documentation is in Chinese (in the box and on their website) so I was none the wiser about that... I eventually settled on using the Fuji .mpo format, and it plays those with no problem at all.
I'm really pleased I took the risk on this thing. If anyone is looking for a very nice little photo and video player, you can do a lot worse!