New features:
1. Head Tracking with webcam.
2. Need For Speed SHIFT Profile
3. Above/Below mode (for movie capture with FRAPS, and conversion via Stereo Movie Maker).
Tridef Ignition 4.1 Drivers
Share your thoughts and findings!
Regards,
Neil
_________________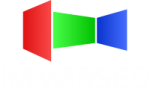 - First major East Coast conference for immersive technologies like VR, AR, 3D, and more.
- Non-profit, government backed (Canada Media Fund, Ontario Centres of Excellence)
- IT HAPPENED, and it was AMAZING!