Hello everyone,
Feel free to post game profiles and gaming experiences with DDD Tridef Ignition drivers. Please feel free to download a
free trial
of their software. These drivers are best suited for interlaced and DLP checkerboard solutions, and additional output options are in the works.
Regards,
Neil
_________________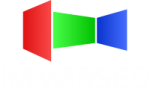 - First major East Coast conference for immersive technologies like VR, AR, 3D, and more.
- Non-profit, government backed (Canada Media Fund, Ontario Centres of Excellence)
- IT HAPPENED, and it was AMAZING!